As reality TV goes, the Great British Bake Off must be the sweetest show with plenty of sugar, bunting and I suspect lashings of ginger beer being drunk behind the scenes. Behind the nostalgic ode to the eccentricities of middle-class-middle-England village fetes is a seriously supportive competition between amateurs who love to bake rather than wannabe celebrities seeking fame and fortune.
Sure, some previous competitors carve out new careers for themselves as professionals or cook book authors but mostly the stars of the show go back to their day jobs and being home-bakers. Now if that's not keeping it real, I'm  not sure what is.
As someone who has struggled with various perspectives of baking over the years I fully appreciate the dramas that unfold in the Bake-Off tent. How misread recipes, lack of know-how and artistic inadequacies can leave you physically exhausted and mentally tortured. Yet when the conditions are right and you're in the baking flow producing a physical structure that both looks and tastes good can be one of the most satisfying things to do.
My cake baking is more intermittent these days much to the disappointment of my husband who sees not serving cake with afternoon tea as a sacrilegious act. Although I would never make the cut for GBBO I have been perfecting the art of the loaf cake over winter using a basic recipe a tweaking to bring a little variety to the plate.    This edition was classic date and walnut I enjoyed best when indulged with one of my favourite blue cheese.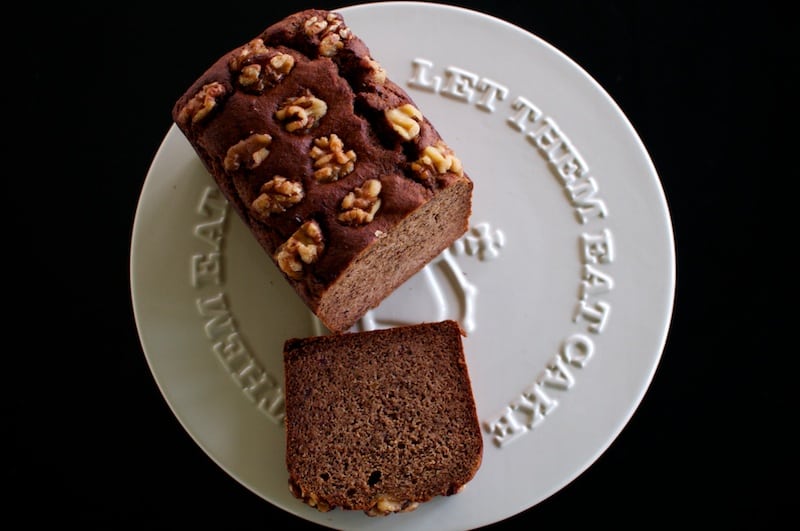 Date and Walnut Loaf
2 Cups of Ground Walnuts (Lightly toast the oven first and when cool whizz them up in the food processor until they are like fine breadcrumbs)
1 Cup Almond Flour
5 eggs
1 cup of dates (used dried dates or you could use the rather more expensive but sweet medjool dates)
1 tsp cinnamon
1 tbsp apple cider vinegar
1 tsp baking soda
Pinch of salt
Pre-heat the oven to 160 degrees C and line a loaf tin with baking paper.
Put all the ingredients into a food processor and blend until smooth.  It takes a minute or so for everything to blend into a smooth pourable batter.
Pour the cake batter into the prepared loaf tin.  Bake for 40-60 minutes (mine took 60 minutes) or until the a skewer prodded into the cake comes out clean.
Lift from the loaf tin and cool on a wire rack.
Serve on it's own with a steaming brew or for a luxurious treat with a crumbling of creamy blue cheese.