Tomorrow marks the passing of another season when we will slip officially into winter.  This takes away any legitimate reason for any of us in New Zealand to moan and gripe about the cold, wind, rain or any other form of inclement weather. After all it's winter and that's what you'd expect. I shall have to tread carefully too as this time in two weeks I will be basking in British summer instead
I am resisting all temptation for further comment on what that might entail and instead draw comfort of the memory of the summer of 1976.  And if that doesn't show my age.  OK, I shall stop digging……
For now its all soups, casseroles, lit fires and the heavy weight duvet on the bed. Not to mention opaque tights, base layers, gloves and scarves. Even the bassets have on the coldest days been sporting their rather fetching all weather overcoats. That said, the beautiful thing about New Zealand being a cold country with a hot sun is that even on winter days there is nothing better than afternoon tea and cake sitting out in the veranda taking in the rays. For a little extra winter kick I've started to get back into making ginger cake as I slowly rebuild my baking efforts towards mastering low slung cakes.
I took inspiration from one of New Zealand's rising food stars who writes a prolific blog, Petite Kitchen, with a focus on healthy food mostly without.  You know, without wheat, gluten, sugar, dairy etc and, if my food writing group is to be believed, is on a roll in the latest food fad.  I shan't get into that now as time is short, I have friends coming for dinner and a certain basset is pawing at my leg and politely pointing out that is it 3 minutes until he expects his dinner to be served.
For now consider treating yourself to a warming winter loaf complete with nature's own warming spice Ginger.  This is one of the easiest ginger loaves made without the juggling spoonfuls of molasses but instead creating your own sweet stickiness from dates instead. No heavy weight stirring needed either just lean in like modern day domestic goddesses and rely on your food processor instead.
So armed with a shot of inspiration I adapted one of Petite Kitchen's recipes to make a gorgeously gingery loaf with a hint of sweet and a touch of heat. It's been a long while in coming but today I'm blogging this as as part of Sweet New Zealand a monthly blogging bake off created by Alessandra Zecchini and hosted this month by one of my online friends Sue who also is a prolific food blogger at Couscous and Conscienssness.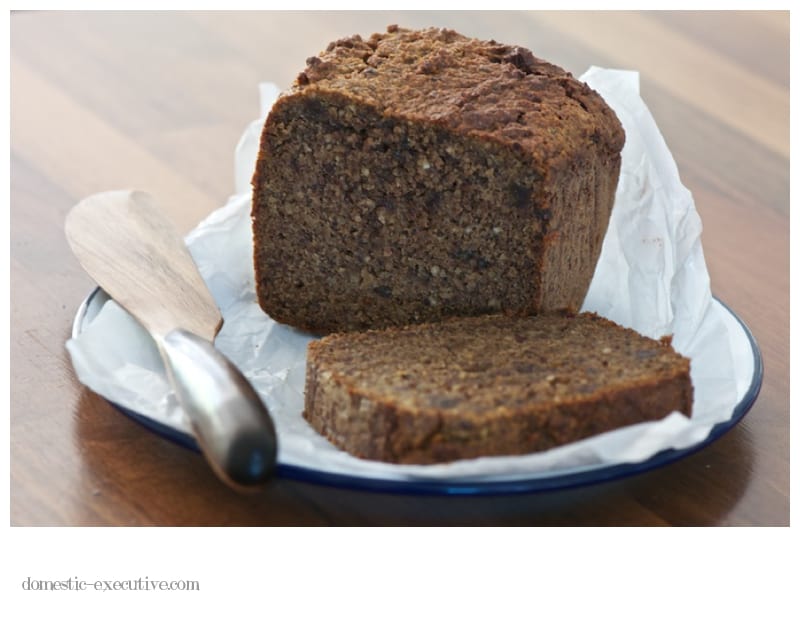 Hazelnut Ginger Loaf
2 Cups of Ground Hazelnuts (whizz them up in the food processor until they are like fine breadcrumbs)
1 Cup Almond Flour
5 eggs
1 cup of dates (used dried dates or you could use the rather more expensive but sweets medjool dates)
2 tsp ground ginger
1/4 cup crystallised ginger (I used no sugar version)
1 tsp cinnamon
1 tbsp apple cider vinegar
1 tsp baking soda
Pre-heat the oven to 160 degrees C and line a loaf tin with baking paper.
Put all the ingredients into a food processor and blend until smooth. Â It takes a minute or so for everything to blend into a smooth pourable batter.
Pour the cake batter into the prepared loaf tin. Â Bake for 40-60 minutes (mine took 60 minutes) or until the a skewer prodded into the cake comes out clean.
Lift from the loaf tin and cool on a wire rack.
Enjoy with a large mug of steaming tea.