Water tank bursting rain is upon us for a few days.  The temperatures have plummeted and the winds are wild enough to create sleep depriving booms under the veranda. However hard I tell myself that rain is a good thing for the land I can't help feel deprived of summer.  Call me old fashioned but I rather like the sun to shine during the summer months.
Cold enough to add a layer and replace the jandals with socks it was also a day to ditch the salads in favour of something more warming. Just was well as the last remaining cauliflower was crying out for harvest.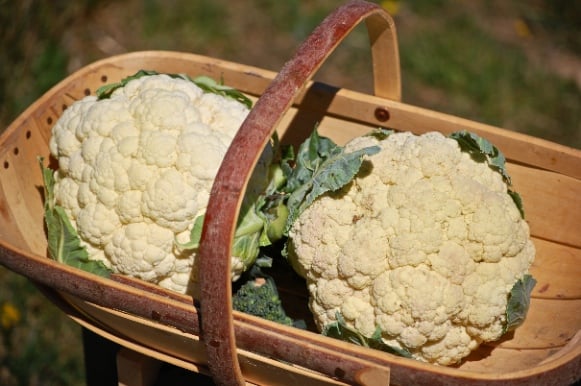 The humble cauliflower has become a regular feature in our kitchen since I started growing them.  We've ticked the boxes several times on cauliflower soup and cauliflower cheese not to mention cauliflower in curry.  So time to look for something more adventurous.  MT saved the day finding a twist on his signature dish risotto in the Jamie Oliver Italy cookbook. I was busy writing New Year cards and failed to take any pictures of the process and the end result.  You'll just have to take my word that the dish was just as Jamie describes it "absolutely delicious".
Just as I was thinking about cutting back on my cauliflower plants I now see it as a mission to find more ways to each this humble curd.  I love growing cauliflowers – they give and architectural twist to the vegetable plot and their creamy whiteness brings calm and serenity amongst the wild ways of other plants.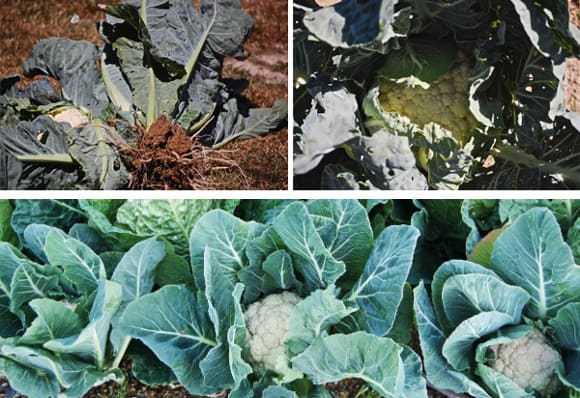 Reading up the Cauliflower in my Nigel Slater, Tender book he recommends spicing the cauliflower up, frying in batter or eating it just as plain salad.  Perhaps when the weather warms up again I'll give a cauliflower the salad treatment.  For the moment though we're happy in the warm embrace of cauliflower and cheese the Italian Way.
Looks like the wet is set to stay for a few days – deep joy.  Just as I was about to unleash my seedlings to their new home.  Still, lots of books to read and plenty of photo processing to be done.  And, I might actually get my New Year Cards written and in the mail!