The kitchen has been at the heart of my relationship with my in-laws almost from the start.  Of course my, now, husband was a common bond but we truly bonded over cooking together.
In the days when I commuted the 200 miles between Sunderland and Bedworth to spend weekends at my in-laws where MT was living whilst working in Coventry, we'd invariably spend time together in the kitchen cooking together or just chatting together whilst cooking was going on.  The first Christmas I spent at my in-laws I wanted to contribute to the feast we were going to eat and arrived armed with recipes which we duly cooked up together.
It's fair to say that it hasn't always been a harmonious relationship.  My grievances range from when my mother-in-law threw the gravy stock down the sink to disposing of courgettes carefully shaved ready for cooking.  But I don't hold grudges and can see the funny side of it after the event.  Now we rub along quite nicely in the kitchen even if my mother-in-law won't so much as sneeze without permission in case she makes a cooking faux pas!
During their last visit we started to share cooking again and as a result committed to cooking together 12,000 miles apart.  To do this we've agreed to swap a recipe each week.  Something that we've never previously cooked before but think is worth giving a go.  The idea is that we'll try some new things.  Be able to compare cooking challenges and most of all be able to cook the same thing but do it our own way, in our own space, with no pressure to comply to anyone else's techniques.  Today is the day of the first recipe swap.
Guess what I cooked up this week?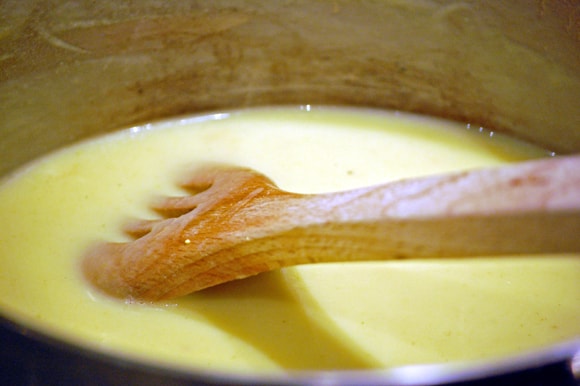 It's vegetable, cheesy and very very creamy – it's cauliflower soup.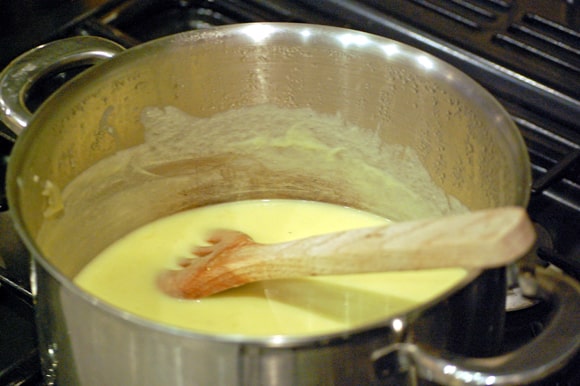 But not just cauliflower soup.  Soup with a luscious blue cheese cream dressing.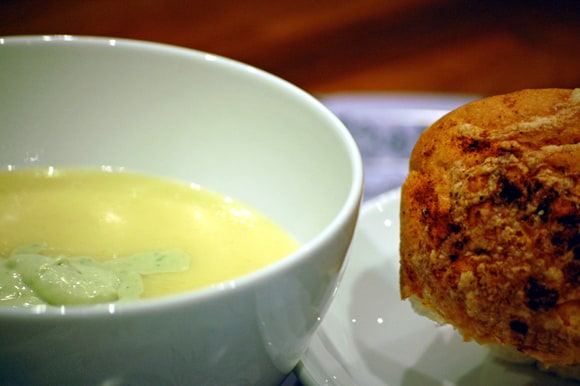 I used the last cauliflower and some chives from the potager to make this soup.  I can tell you that there was plenty of washing and picking over needed as finally slugs and caterpillars have finally broken the barriers into the potager patch.
It was dead easy to do otherwise – although I'd recommend using a food processor rather than a blender to liquidise the cream cheese dressing.  Also, I added the milk after the soup was liquidised so that I could get it just the right consistency. Otherwise I followed the recipe from my favourite supermarket's website. Here it is:
————————————————————
Cauliflower and Stilton Soup
A simple cauliflower soup flavoured with celery and nutmeg, finished with a blue cheese cream. Perfect with Welsh rarebit or Glamorgan sausages as a light supper. Trim the cauliflower and divide into florets
| | |
| --- | --- |
| Preparation time | 20 minutes |
| Cooking time | 30 minutes |
| Total time: | 50 minutes |
Serves: 4 to 6
Ingredients
1 smallish cauliflower
50g butter
2 medium onions, finely chopped
1 medium potato, peeled and diced
1 stick celery, finely sliced (save the leaves)
Sea salt
Freshly ground black pepper
568ml carton milk
Freshly grated nutmeg To finish
To finish
100g Stilton, crumbled
142ml carton double cream
Large handful chives
Method
Heat the butter in a large saucepan over a medium-low heat, add the onions and sweat gently until soft – don't let it brown. Add the cauliflower, potato and celery, along with 600ml water. Bring to the boil, add a little salt, turn down the heat, cover and simmer for 20-30 minutes until the cauliflower is perfectly tender. Add the milk and liquidise until very smooth. Taste and season with nutmeg and pepper.
When ready to serve, reheat the soup until piping hot. Meanwhile, liquidise the Stilton with the cream and chives (saving a few for a garnish) and a ladleful of the hot soup; taste and season. Serve the soup in bowls, topped with a swirl of the cheesy green cream – an elegant contrast of flavour and colour. Finish with sprig of celery leaf and a few snips of chives.
Click for the recipe from Waitrose.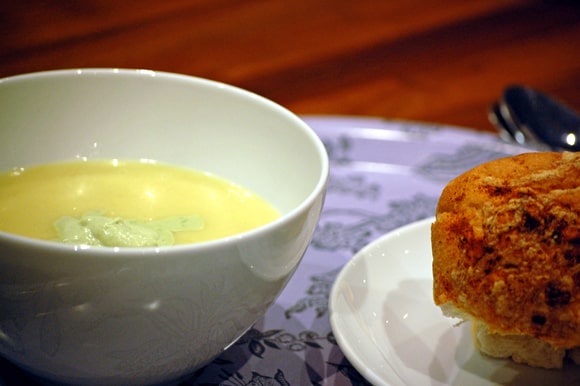 I can tell you this is what a working man needs after he's trooped to and from Auckland in one day.  It's also pretty good for a Domestic Executive's lunch the next day.  That blue cheese cream dressing is wonderful on it's own with a hunk of bread too.
Feel free to cook along with us if you like.  If you don't like, please excuse me whilst I bond with my in-laws!