How often have you been out and about somewhere and thought, how great it would be to live in a place like this.  There are times when I still do this and then look up the hill and realise that I actually do live here.   We've lived in the country before with fields and lanes, churches and quaint houses, the quintessential English countryside.  Living in the country here in New Zealand is an altogether different thing.
The thing I find most different are the trees.  I've not yet adapted to the sheer mass of evergreen that comes with New Zealand native bush.  It seems that during winter the landscape becomes more verdant as the rain nourishes the plants and trees. Even those living deep in the bush manage to get a soaking during the winter months. There are few deciduous trees so if you want to go for the true wintery look you need to head into more populated areas where they have been planted as part of the landscaping.
Since my locality is surrounded by native bush my photographic adventure today was to capture what architectural features I could of the local trees.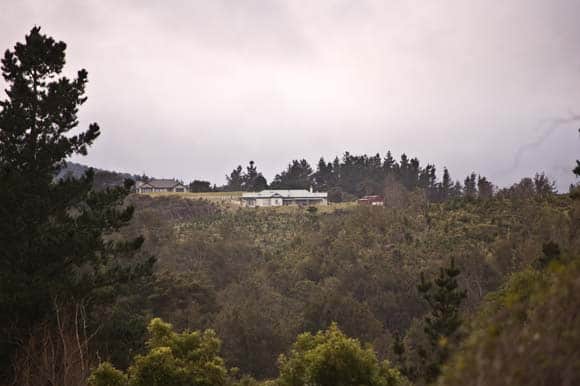 Having said there aren't many deciduous trees here's one that seems to be. It's hard to tell as it has so much lichen and other plants living in it you can hardly tell which is tree and which is parasite.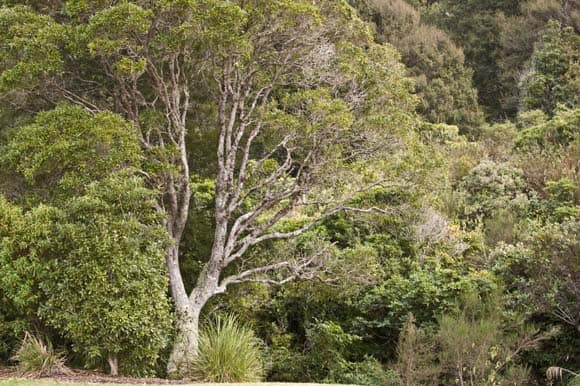 You can see what I mean about tree parasites a bit clearer on this tree.  It looks like a sturdy tree and would be ideal for climbing in if it weren't very high from the ground.
When you walk through the bush and look up it's a rare sight to actually see the sky.  Usually the trees are so densely packed its hard to see the outside world.
One of my favourite views is looking out from a bush walk where the world seems to open up before you, a world full of light and more colour than the dark and shades of brown and green you get inside the bush area.
Back out in the open area there are the typical New Zealand ferns that give structure to what may otherwise seem like a blanket of green.
It's nice to have some variation in trees.  The fern trees give the land a prehistoric character but nothing beats a big bold tree to put you firmly back in your place in the world.
This is the tree that captured my eye at the beginning of my photo walk and started me thinking about the shape and form of trees that surrounded me.  It reminded me also of a book we have – Meetings with Remarkable Trees – which shows some truly stunning tree photography.
I think I have some way to go to meet such standards but once again the photographic eye has made me look beyond the green mass and search a little deeper into the details on nature.  It also made me appreciate once again where I am lucky to live out in the country where nature makes it the big space that I love.