One of the sure signs that it's still summer is the song of the cicadas.  They are still churping away when the sun shines.  Normally you can hear but not see the cicadas but recently more have been hopping off their trees and coming to ground giving me the opportunity to snap them to share with you.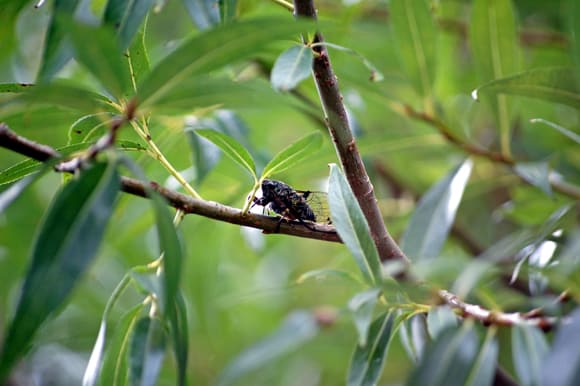 This is the first time I've actually seen a cicada in a tree so it was good job I had my camera with me. 
A cicada has three very different looks for the different stages of its life. It starts off as an egg about the size of a grain of rice. When the cicada hatches it is a creamy white nymph with 4 legs and two big pincer-like ones at the front, a bit like crabs claws. When a cicada becomes an adult it loses its pincer-like legs at the front and instead has 6 legs and four wings which are totally see- through.
The transparent wings of cicadas are said to filter out ultraviolet light. People who have placed a cicada wing on their skin prior to exposure to the sun have noticed that they do not tan under the wing.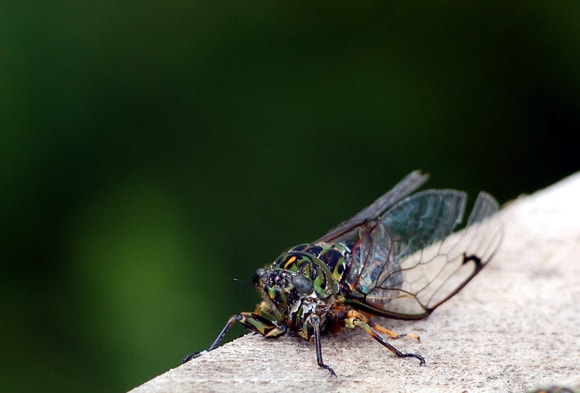 This one has a bit of a damaged wing but you can see the transparency of the wings.  Here's another view.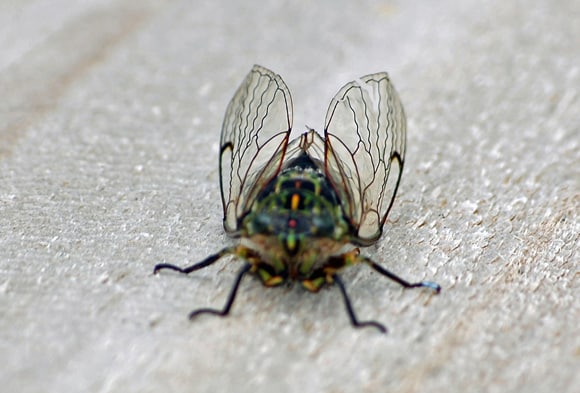 Cicadas are often called locusts, but locusts are migratory grasshoppers that often travel in vast swarms. The appearance of cicadas in large numbers apparently caused the early European settlers in North America to mistakenly equate them with the plague of locusts mentioned in the Bible. The mäori name for the chorus cicada is kihikihi wawa, matua kihikihi, ngengeti. The scientific name is Amphipsalta zealandica (Boisduval).
See how big they are when you compare them to the nails in this wooden rail.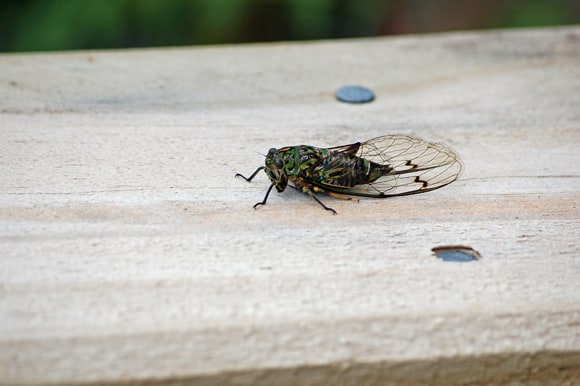 Here's another one staring out his friend.

There were lots sitting around on a bridge handrail.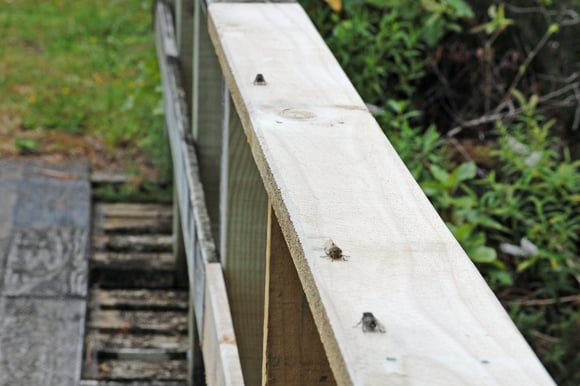 It was Fortnum that found the first one I saw this year – it was on the ground.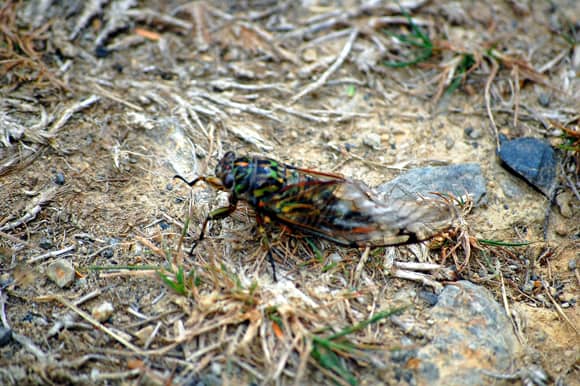 Don't they look really colourful. Cicadas have large compound eyes situated one on each side of the head. They also have three very small glistening simple eyes (ocelli) on the top of the head.
The male cicada makes the loudest sound in the insect world; they have their own built-in sound system. Each male cicada sound organ consists of a large plate-like structure, the operculum, which covers a cavity containing a white or yellowish membrane and an oval, ribbed, drum-like structure called a timbal. Timbals are vibrated by strong muscles to produce the cicada song.
But the males have it tough, after mating they die. The females are lured to their song and fly nearer. A female responds to a male with a flick of her wings. The two gradually draw close to one another until they meet for mating.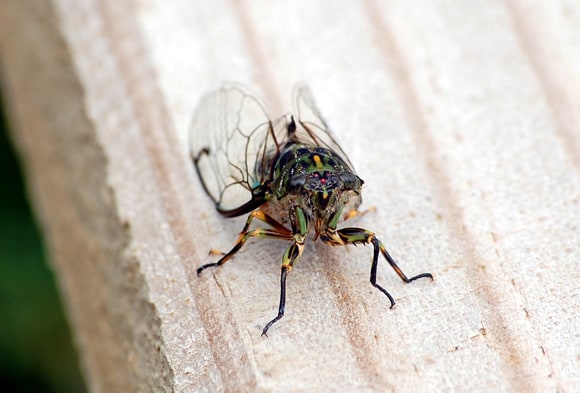 These are industrial little creatures busy singing all summer.  It's good to know that they are still around although I suspect it won't be long before they silence their tune.
We've had a couple of days of cold, wet weather yet today was beautiful and high 20's again.  I don't know whether it's the change in the weather but I've come down with a rotten col virus which hasn't been much fun.  Still, at least I've been able to spend time trawling the web to find out all I ever need to know about Cicadas!