Planting in our garden follows a plan from our landscape designer.  Some say we took the easy route paying for someone to do this for us.  And that's true but the thought of trying to create a garden from a hilly field was one step too far for my limited gardening capabilities.
There are times in life when you know you need an expert opinion.  And this was one of those times.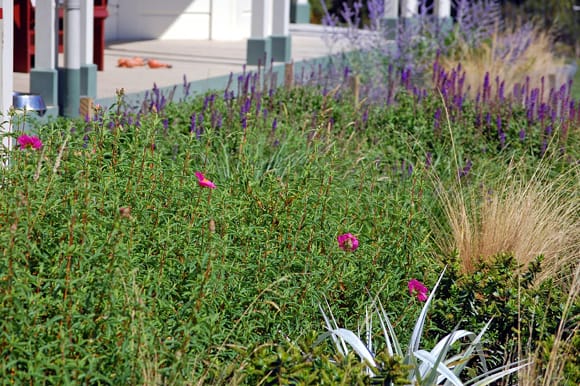 I would never have had the capability to create something like this without help.  The layers of colours and textures just don't appear by themselves.  That only comes from a true plants person.  I have a terrible memory for plant names – OK, I have a terrible memory full stop these days – and that's my line of defence.
After the house was built we decided to establish the main landscaping so that we could try and set the house in it's location as soon as possible.  If you want to know what it looked like at the beginning you can read this post and this post.
Over a year on I think it's fair to say things are established.  But a year on I'm coming to realise that whilst low maintenance is good but a bit more flowering colour during the summer would be a good thing.  Over the winter I'm going to have a look again at the planting plants and see what we might do to add, reorganise or even move, plants so we can capture a bit more flowering throughout the summer.
For the moment I'm enjoying the Perovski Atriplicifolia 'Blue Spires'.  My pet name for them is "Blue Spiky things"!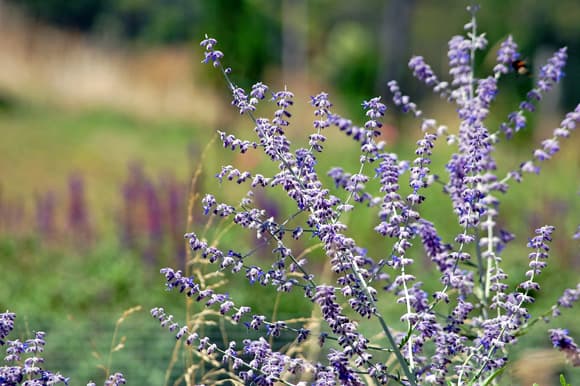 We lost one of these plants when  the beds got waterlogged.  I think that they prefer well draining soil!
They complement the Salvia's perfectly.  Incidently, I gave the Salvia's a haircut (my term for dead heading) and there is a proliferation of new flowers coming through.  The bees are loving it.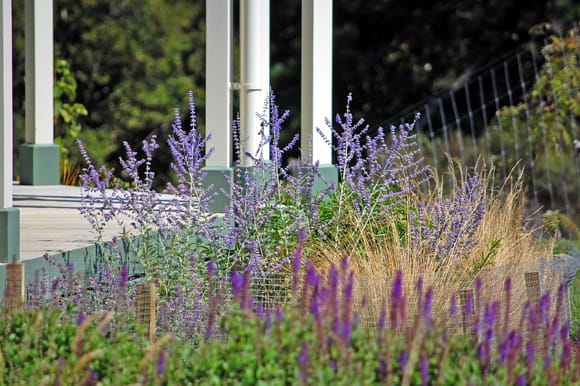 We're still getting the occasional flowers on the Cistus Purpureus 'Brilliancy' (aka the pink thingie).  They are real pretty but only last a day before getting blown away or dying off.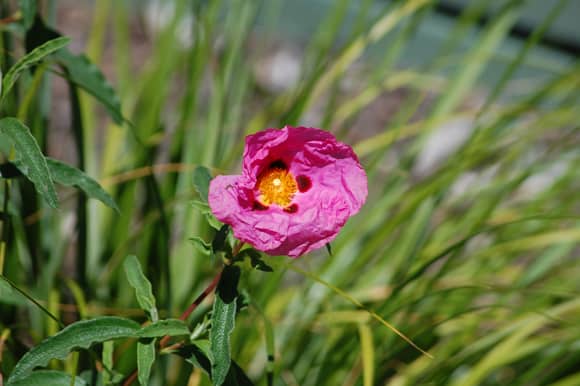 Elsewhere in the garden the trees have been having a tough time but the recent rain has been a godsend.  One of my favourite trees is this.  Malus Ellerslie.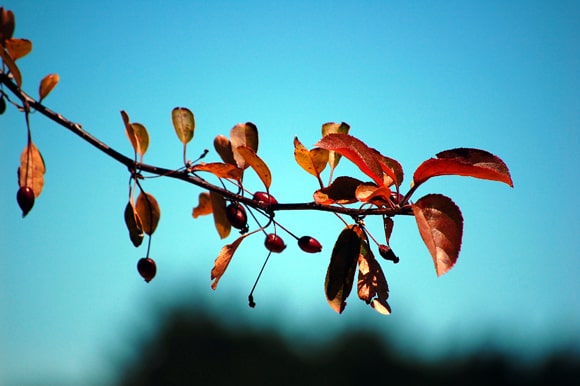 When it grows big and strong it's going to be a wonderful sight.  There are about 5 of the 150+ trees we've planted that haven't grown.  It's not bad considering although I'll be talking to the tree people as it's strange that some have grown and others not.  I'm not sure about their replacement policy but I'll give it a go!
Last night we downloaded a programme on Sissinghurst.  It is an amazing garden designed by Vita Sackfield-West and now managed by the National Trust.  The donor family want to reestablish the farm around the gardens to return the landscape to more it's original view before the rubber neckers came in droves on their coaches to visit the garden. The garden itself is perfectly kept and whilst I'll never achieve those levels of horticulture I'm keen to see how our vision for our garden develops.
The idea is that when you arrive at the property the natural bush and paddock is as natural as possible before we moved in.  We've added deciduous trees down the drive that will bring more colour through the year.  As you reach the house itself it sits in a "residential garden" which means a few flower beds!
Down the back you meander along closely mown grass paths through an orchard to a kitchen garden at the bottom alongside the native bush. It all sounds terribly romantic eh!
This is a long term project but we've got the basics in place in terms of trees and planting around the house.  We're going to plant bulbs this Spring to increase the residential garden and sow wild flower seeds on the steep bank in the back garden to replace the magnificent thistle display we had this year!
Lots of plans, lots of work and lots of dreaming still to be done.  Oh and lots of weeding too!