Memories of harvest festival services in church when I was a child have been popping in my head recently. Displays of fruits and vegetables in technicolour glory all laid out in church to celebrate the end of summer's hard work.  I was never in favour of tinned produce making it into the display when those who didn't grow their own still wanted to make a charitable donation to the festival.  The wonder for me was seeing people's hard labour on display, grown with love and offered with good heart.  Popping in a tin of peaches and pears just didn't cut it for me.
It's been a veritable seasonal feast here are Domestic Executive HQ.  The kitchen garden has been burgeoning with crops and the kitchen overflowing with new adventures to capture this seasons produce in chutneys.  I do however have some regret as things in the garden look so wonderfully lush and in their rightful place.  Just like this butternut squash peaking out from under the leaves.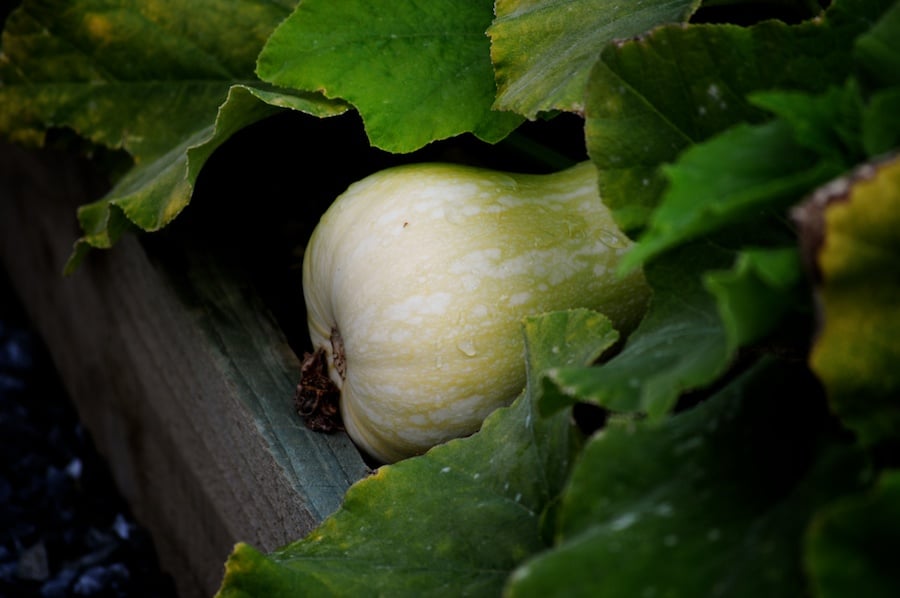 But like all good things that come to an end, I've scooped out the squashes from the garden and laid them to rest for a while.  Nestled in hay and boxed in the barn they will keep for a while for us to enjoy.  But as the squashes come out I've planted more crops – bok choi, cabbages, caulis, broccoli and spinach.  I do have a confession to make though.  These seedlings came from the garden centre as I failed miserably to get my next seedlings under way.    I am however determined to get my potting bench sorted in the barn so come Spring time I'll be delving into my growing seed stock to get us underway next year.  Although I did plant some onions and swedes from seed (on right) and they are settling in nicely.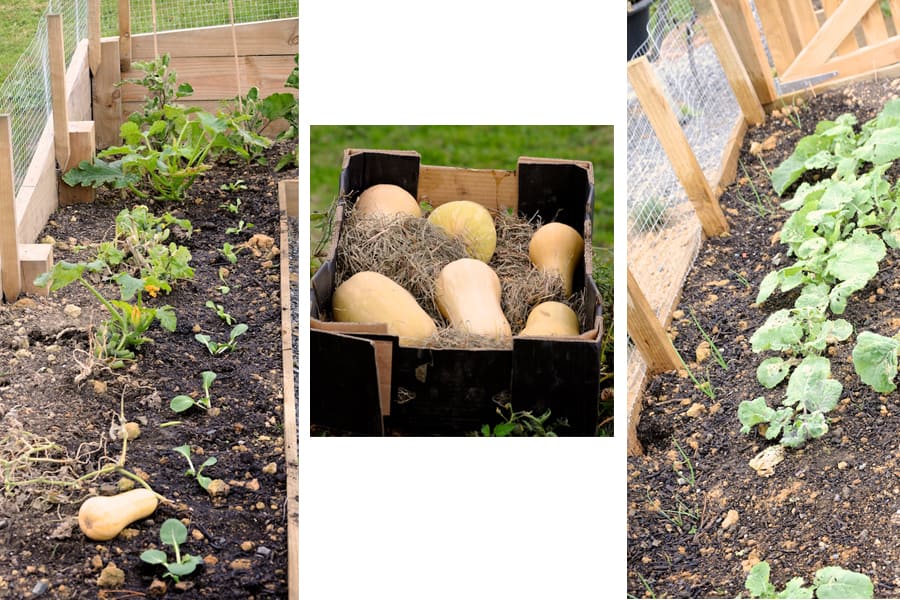 On the left you can see the colourful beet is looking good to and at last I seem to have managed to get some rocket to grow.  On the right is my stash of celeriac.  Planted at reasonable intervals this is my first real effort for succession planting and it looks like it might be working.  Can't wait to dig out those nobbly roots and cook up as an alternative to potatoes.
The aubergine (eggplant) plants (top left) are doing well but won't bear fruit.  Late planting and woeful amounts of sun let me down but I'm looking forward to giving them an early start under cover next time so we can really make home grown ratatouille next year.  The tomatoes are still ripening but it's a very small crop from heaps of plants.  Another first was growing peppers which I've never done before.  MT isn't a fan of green peppers which leaves all the more for me!  The fennel and beetroot are fast becoming one of my favourite things out of the garden – they are easy to grow and so flavoursome.  I potted some beetroot relish last weekend which is fantastic in cheese sandwiches.
The broad beans are starting to pop up, although I've had to start watering them as it's been so dry.  The leeks are really romping away in their new bed after being squeezed in their original pots when they were sown from seed.  That first leek and potato soup from this crop is going to be a highlight I am sure.    The celery at the end of the leek bed its almost overflowing but I'm only harvesting a few stalks at a time when I need them rather than pulling up a whole plant and wasting them.  The red cabbages have been braised with apple and onion and stored in the freezer to keep us going over the winter.  There is nothing better than some venison or duck with a batch of braised red cabbage.
All in all my first attempts of growing in the kitchen garden have been quite good.  We've two sacks of potatoes lifted although they were rather smaller than I hoped.  I think two rows instead of three in the beds might sort that out next time.  There is a plentiful supply of carrots and parsnips that should keep us going over the next few months and cauliflowers and cabbages that will last for the next month.
My big lessons have been about timing – planting seeds on time and planting for succession.  Also, netting over the brassicas is a must to avoid the sad state of affairs this year's plants.  Also, knowing how much to plant of what.  For example, I planted 6 courgette plants which is way too much for us.  Two would be sufficient I think.
I'm planning to get a polytunnel system that will help us keep growing over the winter.  Also, putting in a fruit cage area next to the garden so we can really get growing berries and other soft fruits.  A greenhouse is a must I think if we're to successfully grow tomatoes, peppers, chilli and keep a good supply of salad leaves which we eat a lot of all year around.
The kitchen garden has been declared a success for this first year. The challenge is now to get organised for next.  And this means sorting the barn, for potting as well as storing so that's been added to the blackboard to do list.   I've hardly bought any vegetables this year and it's a wonderful feeling to scoot through that section of the supermarket knowing all I have to do is race the bassets to the bottom of the garden and see what's there for us to enjoy.