After my trip to the City Market last weekend, I've been cooking to ingredients rather than shopping for recipes.  When it came to this week's baking we continued that theme by checking out what we might have in the house and baking with that.
As you can see from this photograph one of the key ingredients was some ripe bananas.  When I dipped into my treasure trove of Nigella's recipes we decided on banana, cherry and white chocolate cup cakes.  Yes, you did read that right.  To be honest I thought this was such a weird combination I had to forgo my original idea of a banana bread.  This was a package of sweetness I simply had to try.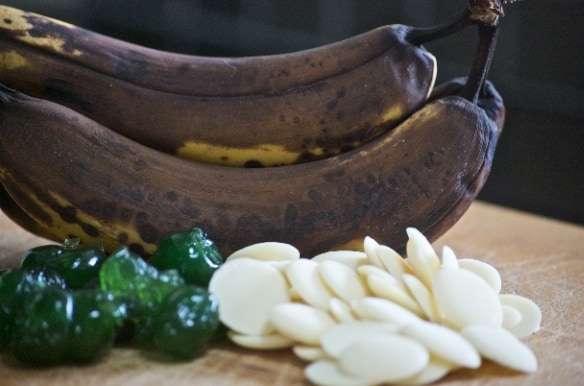 As always with Nigella you can count on the quick and easy.  This was a case of melting the butter and then mixing in all the other ingredients (sugar, bananas, vanilla essence, eggs, sour cream, baking powder and soda, flour, and finally the cherries and white chocolate buttons). One pot cake making – just what I like when there are plenty of other things to be done.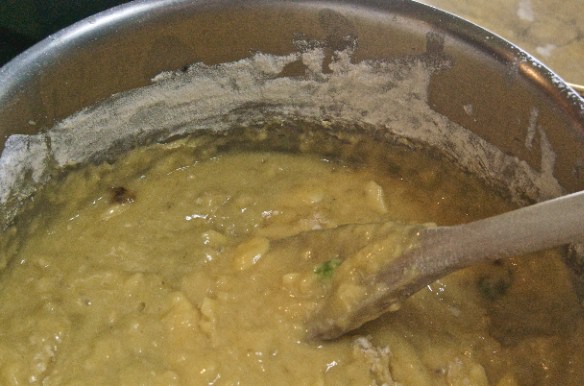 Even after baking heaps of muffins and cup cakes I still find it almost impossible to fill the little paper cases effectively.  I am a bit too hamfisted and impatient to manage to fill a very small space with a gloopy uncontrollable mixture.  If anyone has any secrets how to do this please, please do tell.
After 20 minutes of waiting we were rewarded with 12 scrummy looking minature cakes.  It was hard to resist scoffing one down straight from the pan but it was clear that might be a fool hardy tactic given they were piping hot with the potential to inflict third degree burns in my mouth.  To keep the temptation at bay I pottered outside for a while until they were completely cool.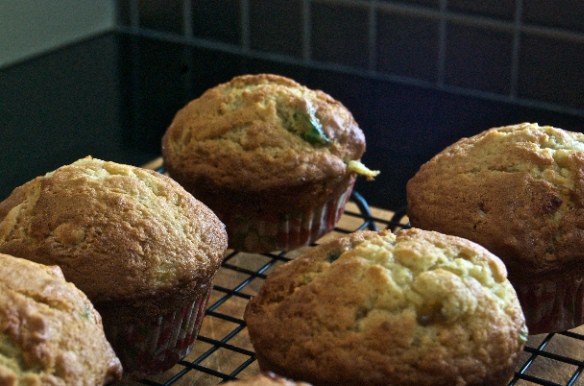 I intended to style a few cup cakes to test my food blogging skills but in truth these cupcakes smelt so good and they were crying out to be eaten as soon as possible.  No time to be messing around with plates and cameras.  It was a case of temptation ruling the day.
Although the combination sounded a little odd to me I can report that banana, cherry and white chocolate is a great match.  I think I'd get some red cherries in the cupboard though for next time.  Heaven knows why I had green glace cherries in my cupboard but whilst they weren't the most appetising to look they tasted enough like cherries that I simply closed my eyes savoured my afternoon tea treat.
Shame I can't share the taste with you – just close your eyes and imagine the deliousness!