There so many food blog subscriptions on my blog feeder that some days I get virtual indigestion.  It's like comfort eating without a bite of food crossing my lips.  For a compulsive collector of cookery books (I get that from my mother too!) the world of food blogging is a wonderful place.
It's a place where you can wet your appetite when your own cooking inspiration fails but it is maily a safe haven where people who love of food, writing and photography can indulge themselves.  For me the best food blogs are where you can learn from the others who really understand food, cooking and presentation – out there is an underworld of cookery schools where pros and amateurs alike openly share their foodie secrets.
A while back I fell across the UK Food Bloggers Association but don't be deceived by it's name, there are bloggers from across the world who unite over a common interest in food.  And deep in the bowels of it's membership I found Madalene – a food pro who writes a food diary called The British Larder that's  both intimidating and inspiring in one breath.
She writes with a fanatical attention to detail – the ingredients, the precise cooking techniques, the science and the art to her inspiration.  But what I love most is her practical down to earth tips that make her extraordinary recipes possible even for a Domestic Executive to tackle.
Imagine my delight when I spied a recipe for flapjacks.  Awesome, something simple I could try at the weekend.  Until I noticed that these weren't any old flapjacks – oh no, the British Larder Flapjacks have gooseberries in.  It's this sort of inspired combination that makes the British Larder stand out from other food blogs.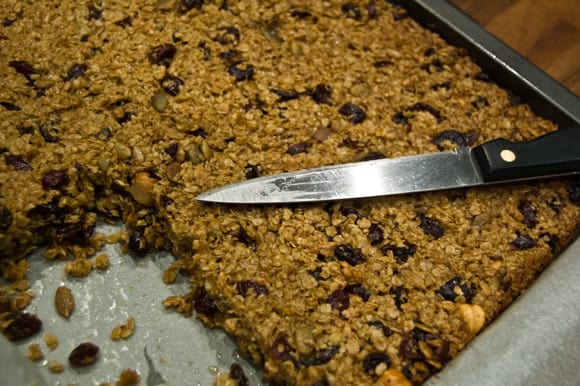 Once I'd recovered from the shock tactics, I was downhearted that I couldn't do this recipe because it's not gooseberry season here in the southern hemisphere.  But never fear the food fanatics tip with this recipe encouraged you to use other ingredients and it was this moment that the weekend's baking fate was sealed.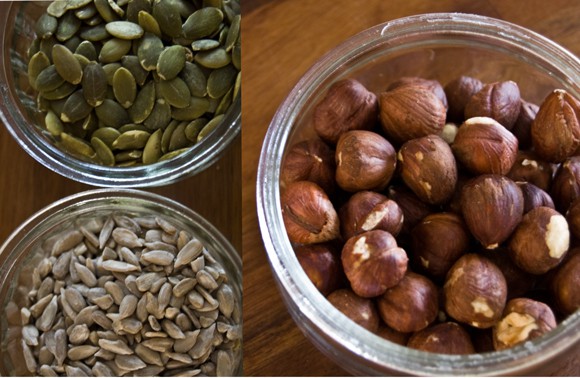 Flapjacks have a special place in my heart as they were a staple treat in the cupboard of my friend Ruth's house whose mother and father played surrogate to me during term time holidays when I was at boarding school and my parents were living thousands of miles away in Dubai.  I think it may have been the dates in Mrs C's flapjacks that kept them moist and sweet.  Without any dates or gooseberries in my pantry I made do with some cranberries which I figured would have the same acidic effect as the gooseberries even though the were dried.
There was an alarming amount of butter in this recipe but I ploughed on nevertheless and ended up with a trayful of flapjack mixture.  It was very moreish before it even made it to the tray.
Madalene recommends that flapjacks will last for up to five days in an airtight tin.  I think that's hysterical – to think that they will last that long but good to know if I did decide to clog my cupboards with goodies rather than eating them.  A compare and contrast of these pictures with those on The British Larder will show that once again my cooker thinks golden brown is southern hemisphere suntan proportions.  One day I will get a grip on it's cooking energy.
In the meantime, I'm going to enjoy these beauties and take the bassets for an extra fifteen minutes walk to offset the additional calories.  I insist all of you that can get gooseberries give the recipe a go and let me know how the real recipe turns out.  Even if you don't have or can't get gooseberries if love sweet and wholesome treats these are just the thing for you.
Go fetch the recipe now. Oh and enjoy the wonderful print options you'll have when you want to print it (now that's what I call attention to detail!).