Baked beans are one of the things that the kiwis do differently.  I've not entirely enjoyed Watties beans even if they are owned by Heinz.  We do treat ourselves occasionally to the "British Recipe" but they are much more expensive and it seems a bit decadent to do this too often.
But there is nothing like baked beans with your brunch.  So the recipe challenge this week with my in-laws is home made baked beans.  All I'm going to say is that once you have tasted these you might never go back to the ready made canned version.  Instead you'll need to have all this in stock.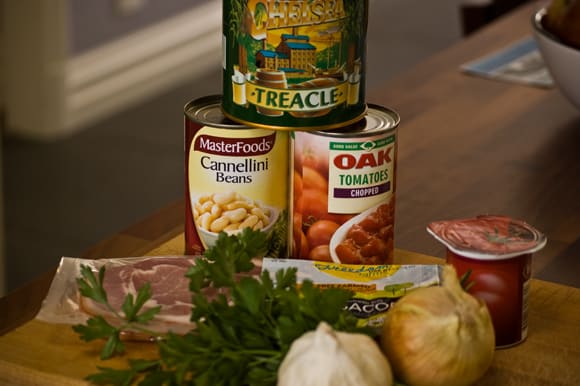 I adapted the recipe from Waitrose site.  I didn't fancy the celery that they included.  Also, I about halved the amounts for two of us using a can of Cannellini beans instead of pinto beans and soaking them overnight.
You start by frying the bacon, onion and garlic.  I'd probably cut the bacon a bit smaller next time.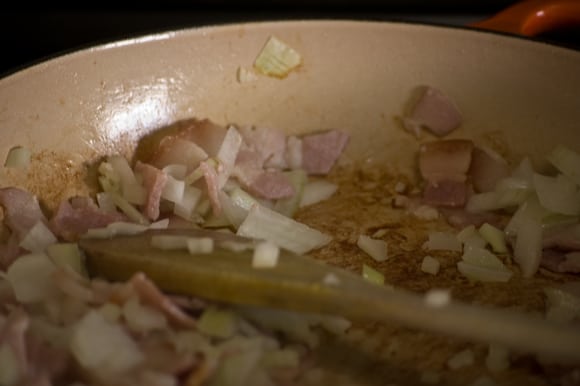 After the onions have soften and the bacon is cooked you add the rest of the ingredients (except the parsley which goes in at the end).
After about 10 minutes it's all ready to serve on toast or with eggs from your favourite hens.
The finished beans aren't quite as orange as those you get from a tin and they taste wonderful.  Not quite as sweet and there is a depth of flavour that makes you savour the flavours much more.  They become a focus of the meal rather than just an aside.  You'll need to have plenty of bread and butter to mop up all the sauce. Here's the recipe.
———————————————————–
Homemade Baked Beans on Wholegrain Toast
Wholesome homemade baked beans are surprisingly easy to make and really hit the spot when you want something simple but special.
| | |
| --- | --- |
| Preparation time | Prepare 15 mins, plus overnight soaking |
| Cooking time | 15 minutes |
| Total time: | 30 minutes, plus overnight soaking |
Serves: 6
Ingredients
250g Waitrose Wholesome Pinto Beans
200g unsmoked back bacon, chopped
1 small onion, finely chopped
1 stick celery, finely chopped
1 clove garlic, crushed
2 tbsp Tate & Lyle Black Treacle
2 x 400g cans Waitrose Chopped Tomatoes in Natural Juice
2 tbsp tomato purée
9 slices wholegrain bread, such as granary
Waitrose Olive Spread, for the toast
½ x 20g pack fresh flat-leaf parsley, chopped
Method
Begin the night before by soaking the beans in cold water. The following day, cook according to pack instructions, then drain well.

Heat a large pan and add the bacon. Fry for 1 minute, then add the onion, celery and garlic and continue to fry for 4-5 minutes until the bacon is cooked and the onion has started to soften.

Stir in the chopped tomatoes, black treacle and tomato purée. Bring to a simmer, then stir in the cooked beans. Return to the boil and simmer for about 10 minutes. Toast the bread and spread with olive spread.

Stir the chopped parsley into the beans, then spoon over the toast and serve immediately.
Variation
Try using other beans such as haricot, cannellini or black eyed beans, or to save time use canned varieties. Perfect for serving on jacket sweet potatoes, topped with grated mature Cheddar.

————————————————————————–
Go on give it a go.  You know you want to really!
Check these posts to try our previous Recipes Challenges