With howling winds and incessant rain this weekend the wintry atmosphere you could be forgiven in thinking that we were heading into a northern rather than a southern hemisphere Christmas.  To cheer us up we cooked up a batch of a wonderfully spicy biscuit that has a warming effect.  I became a convert to Lebkuchen during the years MT travelled to Nuremberg for work and substituted the traditional toblerone from the airport with tins of these chewy and tangy biscuits instead.
Made of lots of luscious spices but so simple to make I can wholeheartedly recommend then as a Christmas treat.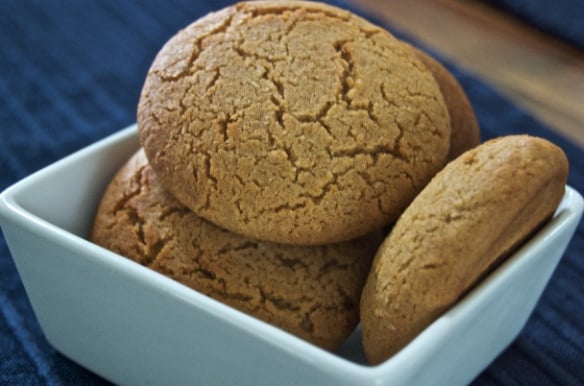 There are many Lebkuchen recipes available on the Internet.  The one I used was simply: flour, ground almonds, spices (ginger, cinammon, pepper, ground cloves and cardamon), lemon, baking powder mixed up with honey and butter.  The spices vary with recipes and some include cocoa powder and hazel nuts. I don't think you can go wrong with any of these variations.

After mixing wet and dry ingredients you end up with a dough that turns glossy when you roll them up into biscuit balls. I like the fact there is not too much fiddling with cooling mixtures, rolling and cutting.  Just grab some mixture, roll it in your hands and then press lightly on the tray to flatten them slightly.
Hey presto around 15 minutes later you have your Christmas fancy ready to tantalise you.  For these are biscuits that must be enjoyed cooled so you can appreciate the full chewiness and heat of the spices.
As well as experimenting with the spices next time I admit I'd make larger biscuits.  More like the size of a small saucer.  That way you can feel better about eating one Lebkuchen rather than having to eat three to get the equivalent satisfaction.  These biscuits are more-ish in a dangerous way.
In our haste to meet our afternoon tea deadline I skipped the glacing of these biscuits but that definitely will add another layer of delight.  Chocolate covered ones are nice to but for me as plain as they come is as good as they get.
There was no doubt that with winter in the air I was up for these heart warming treats.  Shame really as we are in the swing of strawberry season right now but somehow I'm struggling to get into the summery feeling.  But there's time before Christmas to do that – if the sun dare shine!