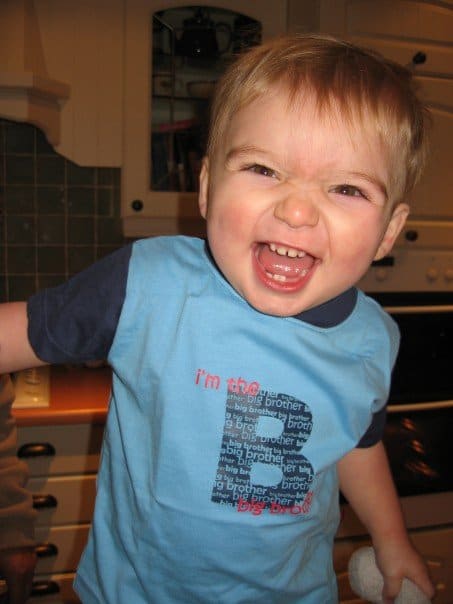 This is Seth – he's a cool kid.  His sister Nancy is cool and so is his mum Kirsten.  His Dad likes to think he's cool but Nat I've got news for you.
But they are not thinking cool right now.  Seth is real sick and needs help.
Just before we left for New Zealand we spent the day at the National Rail Museum with Seth (he was only a few months old but his Dad wanted him to see the trains from an early age).  It was a lovely day although baby Seth was a bit tired and cranky.  Hours later he was in hospital and diagnosed with leukaemia and his parents stressed to the max.  Thank goodness though Seth at 3 months old pulled through and this picture shows him last November doing what he does best – smile, laugh and act like his Dad.
But a few weeks ago we found out the dreaded leukaemia is back and this time he needs all our help.  He needs a bone marrow transplant to give him the best chance of getting better again.
Wherever you live, here's how you can help
Register with bone marrow trust.  By registering as a donor you increase the chances of a match for Seth or another cool kid like him.
Give to give to the Anthony Nolan Trust they need all the money they can to continue to do the great work they do.
Or you can give to

Leukemia & Lymphoma Society

who fund blood cancer research, education and patient services

If you believe in something say a special prayer for Seth, Nancy, Kirsten and Nathan.

It's time like this we feel so far away from our friends.  This family is special to us – Nat was best man at our wedding and fate brought us all together for my 40th birthday in Chicago when none of us knew we were going to be in the same town, at the same time walking along the same street.
Please do something for me and do something for Seth today!