I've traditionally created my own ritual of stir up Sunday for my Christmas Cake baking.  This usually involves staying up late on Christmas Eve to take the cake out of the oven, stashing the cake until Boxing Day and then icing it just in time for people to politely refuse cake on the grounds they are fit to burst.  This then allows more time for the icing to dry properly.  By the time people have the digestive stamina to tackle Christmas Cake my cake is ready and waiting as if it had been prepared well in advance.
For once I managed to stir up on stir up Sunday as it happened in the omnibus edition of The Archers. It is mere detail that we play this episode a week after it was broadcast on account of my fixation to keep to the Sunday morning listening routine.  I'm feeling quite chuffed of this achievement since its an improvement of around 18 days over my usual performance.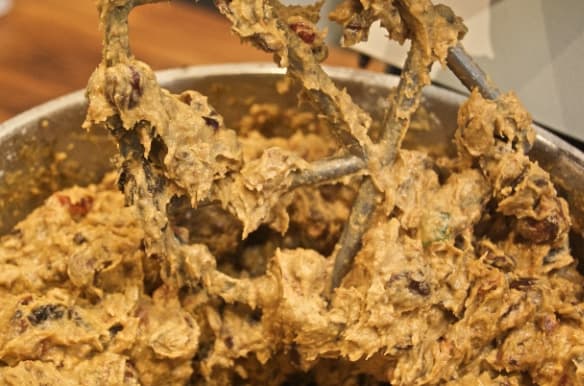 Being a non church going house it's the pagen rituals of gifting and feasting that we enjoy over the holidays.  I was locked in an interesting debate with some church going friends the other day and they were all bemoaning the fact that the commercialisation of Christmas has lead to the true meaning of Christmas being lost for many.  I can see their point but I'm not sure I entirely agree.  For me Christmas is a focus of giving – giving thanks, love and spreading a little joy and happiness to others.  I'm sure Jesus would have applauded that.  So I'm not sure that the true meaning of Christmas is lost just morphed away from christian devotion into a secular celebration and mass spirituality. With so many other ills in the world to have many people engage with the spririt of Christmas can only be a good thing.  Especially if it involves tea and cake.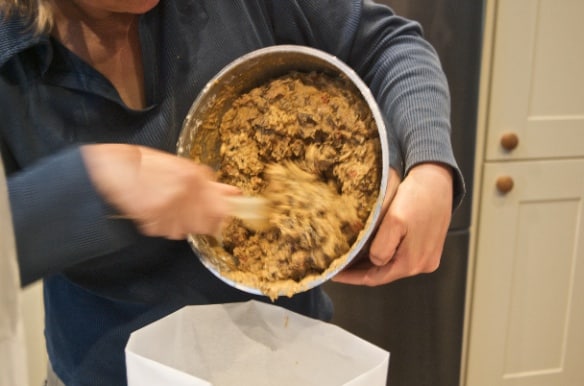 Nigel Slater's Christmas Cake recipe leads the way for fruit cakes. It also weights a ton.  With heaps and heaps of fruit (around 1.5kg using our special Nigel recipe) it is by far the most moist and tasty fruit cake you can make.  For me it's a true celebration of what cakes are about. Full of good things which give that sugar rush.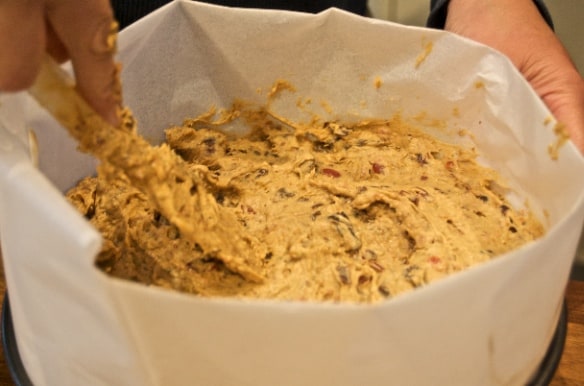 Although I love the rush of sugar, it's the only kind of rushing around I like these days.  I'm happiest working at basset speed which I can tell you doesn't cause stress even if you count in the occasional hooning moments.  Donning my executive gear does however have the effect of picking up the pace rushing to and from appointments.  I really don't know where I used to get all the energy from to rush around full time.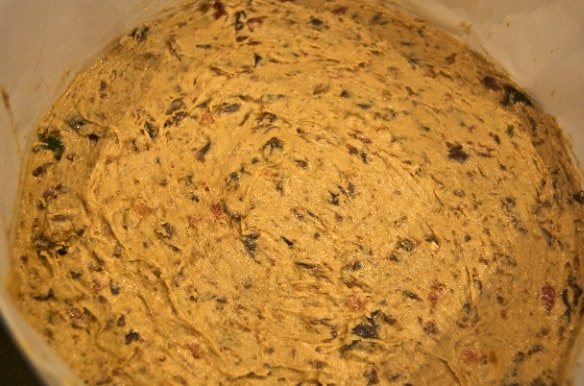 In my rush to store the baked cake for Christmas I neglected to take some final photgraphs.  You'll have to take my word the cake baked to almost perfection and will be fed a little tipple each weekend until the final flourish of icing and eating.
I conclude that rituals like Christmas are just what's needed in life.  Time to stop and enjoy the moment.  That's if you're not too exhausted from all the rushing around to prepare for the big day.  I think can guess – I'm pacing myself this year so when we do finally stop we'll be full of energy to enjoy it.