The illusions you get during a building project are deceiving and can make your dream project into a living nightmare. I recall the sheer panic the first time I saw the house foundations and saw we were building something the size of a sports stadium.  It wasn't a patch on the heart palpitations I had when I thought when the roof started to go on and I thought the house wouldn't be big enough.
In the last week has been a similar roller coaster ride as the landscapers have started to build up the beds in the kitchen garden.  At first I thought the paths were too big, then too small.  Then there were too many paths altogether.  With half the construction complete I'm now concerned that the design is all wrong with too many big beds.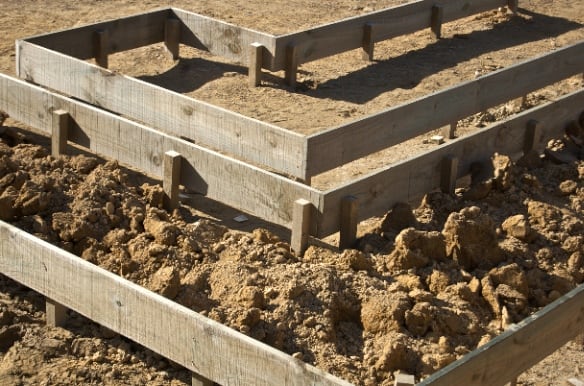 I have learned from bitter experience that when your instincts tell you something is wrong you should act on them.  After much debate with the landscapers we've concluded no it's going to be all right.  In fact, better than all right.  Our kitchen garden is going to be magnificent and in years to come I'll wonder what I was worrying about.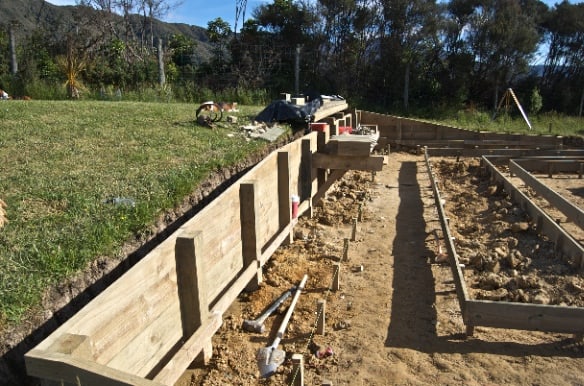 So reassured we're on the right track I've moved my worries onto how on earth I'm going to organise my planting.  With hundreds of seedlings bursting forth in the barn it's going to require some paper and pen planning to get this right.  The big decisions I've got to make are:
How will I allocate beds to the crop rotation plan.  That is of course after I've worked out what a crop rotation plan is.
Where will I put the plants that won't be rotated.  That includes the 24 asparagus plants that won't be harvested until 2012.
What companion planting do I need to surround the garden to keep the grass and weeds down.
I feel a weekend with my head in my gardening books coming on.  With a rain front due to deluge us it will be a good indoor activity at least even if there are more important things to be doing outside.  Like re-staking the trees that have been ripped from their anchors in the gale force winds we've had this week.
Looking down from the house the kitchen garden looks small.  When you are actually standing in it the size is overwhelming.  I know it's just the illusion that's playing tricks on me.
But there is no mistaking the enormity of the piles of soil and compost that have been delivered that will help produce our own food mountain.
In a week's time I will be getting overly excited about planting up the new garden.  It's hard to believe that it will soon be time to start living the growing dream for real.  In the meantime, I need to work out what to do with the hundreds of tomato seedlings that seem to have grown this week.  After weeks of trying I've finally mastered the art of germination and now have more than I know what to do with.  Good job we're not short of growing space.  Hope the neighbours like tomatoes!