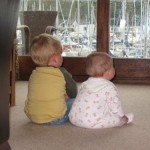 You'll remember Seth.   He's the cheerful chappie that's making his Mum and Dad proud by taking his treatment for leukemia and still staying cheerful. This is a picture of Seth with his sister Nancy watching the world go by (or perhaps the teletubbies!).
Seth needs a bone marrow transplant to give him the best chance of recovery.  The more people that sign up the better the chance of him getting one.  It seems that Seth is not alone in his quest for a healthier life.  His mum Kirsten has been urging people to sign up for a petition for better awareness about bone marrow donation.
http://petitions.pm.gov.uk/bone-marrow/
If you're a British citizen you can do your thing too and sign up to support a campaign to improve awareness about bone marrow donations.  This campaign has been started by Adrian Sudbury is a 26-year-old journalist who has battled two forms of leukaemia for the past 18 months.
His treatment included a bone marrow transplant. Sadly for him, it failed and he has been given weeks to live. There are 7,000 people out there waiting for a transplant right now. Adrian is using his final weeks to raise awareness of the need for more people to register as bone marrow donors. He wants better education in schools, colleges and other education institutions about how to become a donor and why it is important. This system is in place in Germany – a country with one of the fullest donor registers.
Adrian wants the Government to require educational institutions to commit to including these issues in either the curriculum or pastoral care programme. If you agree, please sign your name and help support a brave man in his campaign.
Although he's a little young to make the demands Seth's mum and dad are hoping you'll sign up to the Campaign.  You need to do it soon though before the petition closes.
In fact, do it now.  It will only take a few minutes.
http://petitions.pm.gov.uk/bone-marrow/
Thanks, we appreciate that!