Being the butt of many jokes was an occupational hazard working in marketing and PR.  Someone once asked me if we threw a party in the office to open the post since we were constantly organising opening ceremonies of one sort or another.  Although my life in corporate PR is now a thing of the past I still couldn't bring myself to do anything special for the official opening of the Domestic Executive kitchen garden. Also, vegetable gardens are very much headline news so think it's best to keep a low profile.
Suffice to say the kitchen garden is now officially open. But not open to everyone.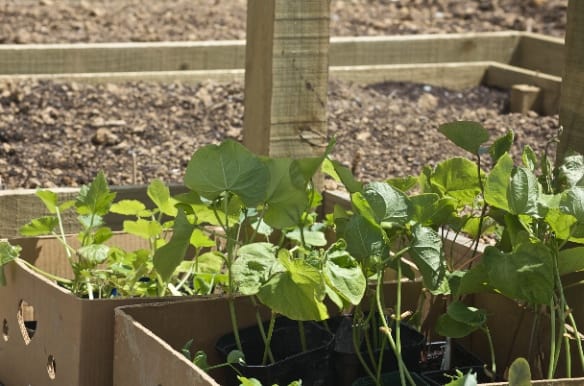 There are few critters that are most unwelcome and we've taken precautions to keep the pesky visitors out.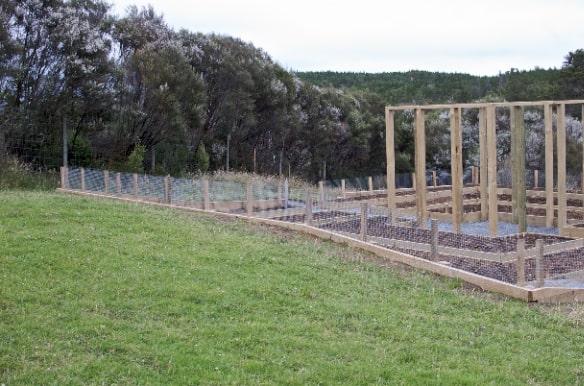 Our rabbit fencing is installed using our tried and tested post and wire fencing methodology.  There was much debate about whether to fence on all sides since there is a metre or so drop down on one side but I just couldn't face the prospect of coming down one day to see my crops decimated.  Hopefully the rabbits won't want to jump 65mm over to reach my vegetable and fruit bounty.  So far they've not in the areas around the house.
This mini fencing has the added advantage.  It keeps the bassets from what they see is a heavenly playground of soft mud.  Perfect for basset bounding.
With the garden secured I have started to transplant my seedlings from the cold frame to the ground.  They look a little puny right now in such a large expanse of ground but I'm sure in no time they'll be filling out and taking over the beds.  If not, I want a refund on my ticket.
This is what's been planted so far:
Parsnips: direct seed
Carrots: two varieties, direct seed
Turnips: two varieties, direct seed
Celeriac: direct seed and seedlings
Savoy cabbage: seedlings
Red cabbage: seedlings
Broccoli: seedlings
Cauliflower: seedlings
Butternut squash: seedlings
Bortollini beans: seedlings
Loads more to be planted yet and then I'll write up a full crop report.
I thoroughly enjoyed opening the kitchen garden for business.  It's been a long time in coming and I'm pleased to have been able to finally transplant my seedlings.  With the wet and still warm weather I'm hoping that things will start to grow rampantly.  That an the bags of sheep manure soil conditioner that I've been adding to the soil and compost mix already in the beds.
Although my most people's standards planting out is very late our temperate climate here in Kaitoke should allow us enough time to reap a harvest this summer.  Did I say summer?  Now there's an interesting concept I'm not that familiar with this year!