It's been a stretch today.  The second day in a row when I've had to be up and out; suited and booted ready to work.  I can tell you it's been a bit of a shock to the system.  I may now have a grain more sympathy for MT every morning.
I caused quite a stir on the station platform at our local country commuter stop.  The regulars were intrigued to know about the role reversal and what I did for a living that meant most days I scooted off in the car with a cheery wave but this morning I was stuck on the platform waiting like them.
I felt welcomed into the commuting community.  Despite the warm welcome I don't see myself a long term member.  For one thing I might cramp MTs style on the train.
Leading the workshop for the last two days has been a challenge and fun.  There is no doubt I was very happy to be trundling home this evening to pick up the bassets from day care.  To see their tails doing their wide helicopter wag.  A sure sign that they're pleased to see me.
In days gone by I would have simply flopped in the chair after a day like I'd had.  But tonight I was pleased to be catching up with chores in the garden whilst it was still light.  It was a gentle detox from the city adventures.
As there was no time for me to take any snaps today so  here's another favourite of mine from the Kaitoke regional park.  An outstretched tree branch over the river.  Not that you'd know this from photograph.  The depth of field is very short.  I like the detail that the camera has picked up.  The branch looks sort of alive and yet sort of not.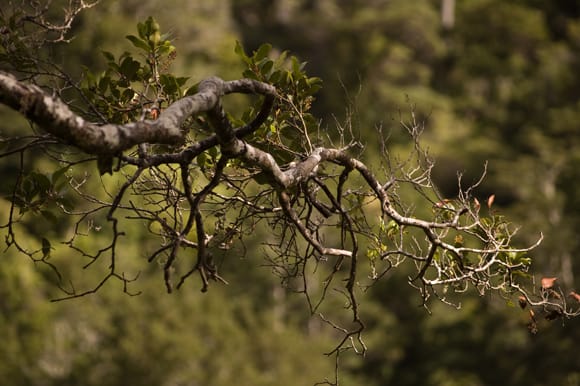 It looks slightly surreal.  But what can you expect of trees from Middle Earth.