Given New Zealand is an Island nation, I've been underwhelmed by the kiwi appetite for seafood.  Aside from Fush and Chups on a Friday night there seems to be a dearth of a foodie culture around fish.  Getting to grips with southern hemisphere fish species is a challenge with unfamiliar and hard to pronounce names making buying fish an intimidating experience for new comers.
I tend to hang around the fish counter looking helpless mumbling what fish should I buy to make  whatever it is I'm aiming to cook.  I do love to buy fresh tuna when it's in season and filling up a bag of live mussels for it only to cost a few dollars is a real treat.  In all honesty I'm not that keen on buying fish from the supermarket as I'm never that sure how long it's been sitting there. There was no such concerns I had this weekend when we visited a fisherman who was selling fish straight of his boat.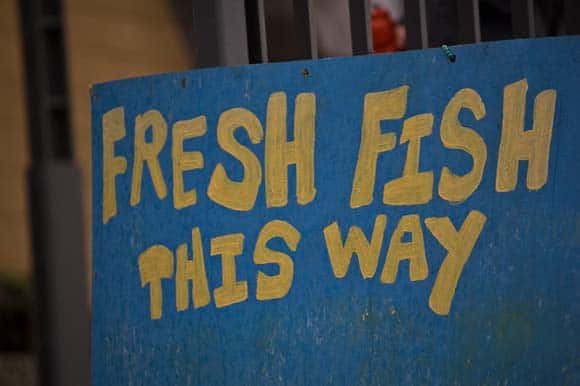 It was a wild windy Wellington Day but it didn't stop locals from standing in line to get their fresh fish.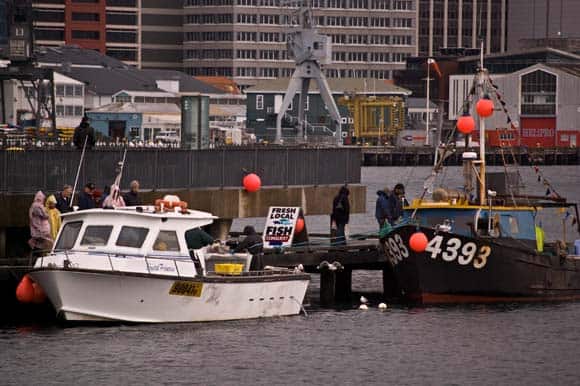 Nothing like getting your fresh fish off the boat.  A trip to the fish market where my in-laws used to live in Spain was always a great thrill to see the fish come in off the boats, straight into the auction and then into the back of a van to whoever had bought it.  The fish markets are a sight to behold too.  The last time I saw a great fish market was when we visited Melbourne a couple of years ago.  As you might imagine I took a good snoop on this fishing boat.
There was plenty of different types of fish, including a real ugly mug (bottom left).
There was plenty of deals to be done.  A whole snapper was being held up and he was asking for $20 for it.  An amazing price for it's size.  They have people that will gut and fillet the fish for you on the boat so you don't have to worry about what the nasty dirty bit of fish preparation.
The gulls were hanging around for the scraps left after the fish had been prepped.I should think that this would make an pretty good fish stock too.
There is nothing better than a fresh fish even if the look is a little unsettling.
It's those eyes which make me unsettled.
Nevertheless I have vowed to return to this boat in the future complete with my list of fish so I can start to get to grips with seafood from the pacific.  There is something a little more adventurous about buying fish this way and beats the supermarket.  But, I'll need some courage to point, ask the questions that might may me the laughing stock of the dock but I'll need to take the plunge.
I do draw the line at having to do regular battle with the Wellington winds. Call me a fair weather shopper if you like but I think I'll be waiting till Spring!