Just as I think I'm learning the lessons of building and living in the country something comes along and makes me realise I'm such an amateur.  Despite my best efforts to think ahead and have a plan for every eventuality something always happens.  Something that makes me feel sick that I didn't see it coming and even when I do see it coming I do something about it.
As always these things involve bassets, mud and machinery.  But this time it's machinery, mud and bassets instead.  I'm beginning to doubt I'll ever get it right.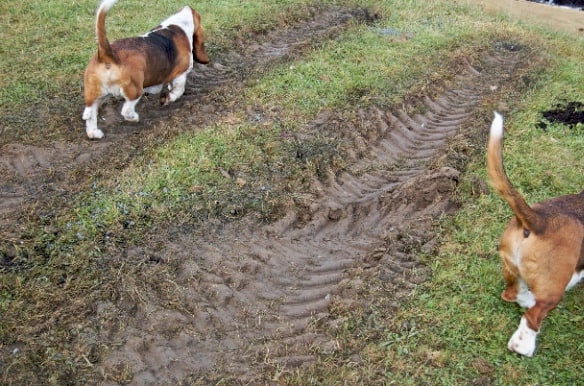 Let's just recap.  We're building our kitchen garden and things are going swimmingly.  The initial ground works get us set up well with various bits of machinery doing great work. Even with rotten weather things have continued to move forward.  There is no doubt it's important to have the right tools to use to start to realise the true potential of a building project be you can start to see things start to take shape.  And then disaster strikes.
OK, let's not be too dramatic.  We have a huge disappointment.  See that earth mover in the picture below.  You can't be too careful of bits of machinery like this.  Especially when the southerly blows through bringing with it some arctic wind and rain.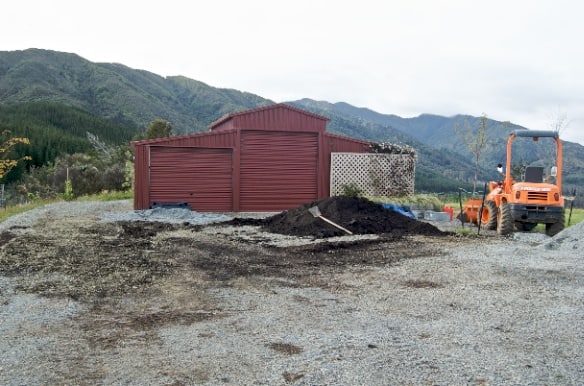 If you're not careful things can go badly wrong with you ending up with a huge gwagmire of mud and mess.
All that beautifully cut grass turns into a rally track in just a few hours.  It just so happens that it was a few hours when I was at work so this messy transformation was altogether more shocking than it might otherwise have been.
No doubt where the path through the orchard goes now.
Or indeed the route out to the piles of compost and base course stockpiled by the barn.  This was before the digger moved through a gentle rolling bank that was a perfect basset racing track.  But that's not the worst of it.  This is.
As I stutter over the words.  This is my lawn.  My newly grown and thriving lawn which although not destined to be a crocquet lawn it does well for a basset playground.Let's just say there needs to be some serious repair work to get this back into shape.
Accepting that the digger was bigger than planned.  To big in fact for it to use my new, specially designed path.  This means that radical action was required which if we were actually experiencing a summer wouldn't have been a problem but we aren't there yet.  So instead the wet has made the land softer and more susceptible to damage.
And as a result I have a dug up lawn and a mud superhighway running through my garden.  The sort of highways that bassets love for it's mud and other soft comforting properties.  I'm trying hard not to get depressed by this set back.  The only solution to it has been not to worry about a few muddy paw prints on the floor.  I know that with time the grass grows back and the damage was all in a good cause, to finish our kitchen garden.  All I can say it better be worth the heartache and the arm ache from mopping floors.