The laws of nature can be baffling sometimes.  Certainly there has been plenty for me to learn about living in the country.  I am not sure where justice fits in the laws of nature but I know that life and death is a fine balance with its own in-built pecking order.
There is plenty of life thriving in my potager right now.  The weeds are romping away still as the wet weather has brought them further nourishment and saved them from their fate with the human hand.  They have indeed been saved by a busy schedule too.  I'm going to have to intervene soon otherwise the competition with the vegetables is going to be too great.  For the moment things are continuing to grow well.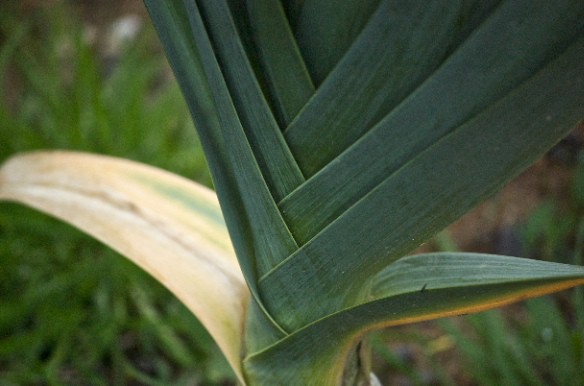 Elsewhere things have been more challenging. After spending days caring and nurturing for my ailing chicken today we decided that it was no life for her to be couped up in a cardboard box paralysed.  She didn't regain her balance or use of legs although she was otherwise a healthy, happy and perky being. In my moments of madness I started to dream up a wheelchair contraption so that she might get mobile again.  I did of course come to my senses quickly – sustaining a paraplegic chicken is not what nature intended.
Instead I called in my neighbour to take her away.  I was strangely calm when the moment came.  I felt very sad but not upset.  I'd wanted the best for Beep and and give a helping hand to what nature intended in the first place was the best thing for her.
Back in the potager it seems that nature intended the rhubarb to go to sleep over winter. I thought it was a gonna so imagine my surprise when it seemed to reappear, almost overnight. I'll need to move some garlic bulbs to make enough room for it to flourish.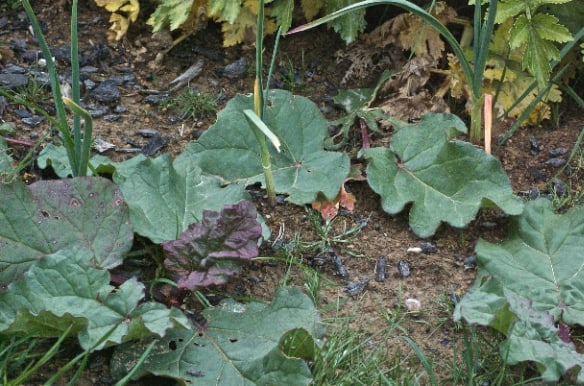 My Italian parsley has continued to thrive over winter and now starting to flourish.  Just as well really as we cut great handfuls every week for use in the kitchen.
Before I started to seriously grow vegetables I thought one veggie plant was pretty much like all the others.  Oh no, no, no.  I'm starting to see their own individual characters coming through.  I seriously hope that they have individual characters otherwise this is just another sign I am spending too much time on my own in the country.  I'm now hallucinating personalities for my cauliflowers.  This one is shy – it's started to blush!
Of my three celery plants one is really growing big and strong.  I spied the first celery stalk features this week.  Another first here at Domestic Executive HQ.
Nature is working against my spinach plants thriving.  Just as they show signs of positive growth.  Something comes along and eats them.  I'm going to give up on them I think now.  Luckily the carrots and parsnips are doing better.  They are growing bushier by the day.
The cabbages are also doing well.  I just love the way they create their striking architecture. You really have to admire nature for it's genius.  Well almost.
My paraplegic chicken Beep had a sister also called Beep.  When they first arrived they were pretty manic and reminded me of the cartoon Road Runner as they dashed around.  Because I could never tell them apart I called them both Beep.  So we had Beep, Beep – like the road runner!
Anyway, natural instincts kicked in this week in a devastating way.  After two years of living in harmony our laid back, wouldn't harm a fly Fortnum basset found his natural hunting instincts.  I don't know the exact circumstances as I was working on the phone but I reckon Beep broke through the chicken barricades.  I found the basset sucking on Beep who had clearly died of shock since she hadn't been eaten and Fortnum hadn't even drawn blood. Hardly a hunting success but nevertheless the basset was doing what his natural instincts told him.
It was hard to know how to deal with this law of nature.  The bassets have been trained to keep out of the chicken pen and not to worry the chickens. I clearly didn't go far enough with the look and not touch training.  Fortnum was at first bemused at me yelling at him.  He came when he was called leaving the chicken on the ground.  He very quickly realised that I was not happy and there it was something to do with the chicken. I'm still stunned I never heard the commotion as the veranda door was open.
One interesting observation about this whole episode is that Mason had returned to the house and was curled up under the desk.  You'd think that his natural instinct would be to try and have a slice of the offering.  Certainly food can be a flash point between them.  Also, when Fortnum was banished to the laundry he didn't cry for him which he normally would.  Also, as Fortnum was made to sit with the dead chicken and then put through some training paces again with me getting a sore throat from growling and Fortnum getting wet with the water spray (which he hates with a passion) Mason just sat and watched.  Me thinks this basset knew when to steer clear and not get muddled up in his brother's strife.
We've been re-doubling security boundaries for the chickens as they need to be able to roam in their territory whilst the bassets roam in theirs.  Chickens and dogs are a high risk combination and certainly my childhood basset ran amok in the neighbours pen after she was re-homed when we went to live abroad. I'm hoping that with more intensive training Fortnum will learn the look but not touch principle but in truth if one of the chickens comes into his domain in future I'm sure that the laws of nature will once again come into play. If my basset starts to deliberate hunting of chickens by invading their territory then we're heading into territory I'd rather not contemplate right now.
Whilst there has been death and destruction blighting my week there is plenty of new life starting all over the land.  The trees are coming into leaf, more bulbs are coming through and plants in the flower beds springing back after their winter rest.  If only now our friend would get some new chickens from the eggs we supplied it would reinforce that eternal truth that life and death go hand in hand – just as nature intends it.