Being in the new Kitchen Garden with me is a whole new adventure for the bassets with enormous scope for mischief. I love their company but gardening with bassets is a futile exercise in command and control.  There is rarely an offer of a helpful paw but rather an annoying contribution to digging.  They are also insistent to check things out like a canary in a mine to sniff out the patch until they are satisfied that it is safe for me to work in.
Mostly they will busy themselves finding the most comfortable spot to sit and contemplate the view or take in a few rays while they snooze.  There was no time for snoozing for this Domestic Executive though as I'm already weeks late in planting out the spuds.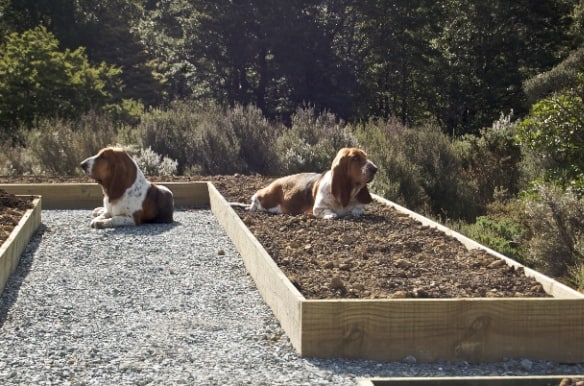 The challenge for kiwi gardeners is to have fresh crops from the garden to serve on Christmas Day.  For me the challenge has been simply planting vegetables to grow before the big day.  I managed to get our first potato crops in the ground on Christmas Eve.  At this stage the bassets were taking refuge in the shade of the wheelbarrow.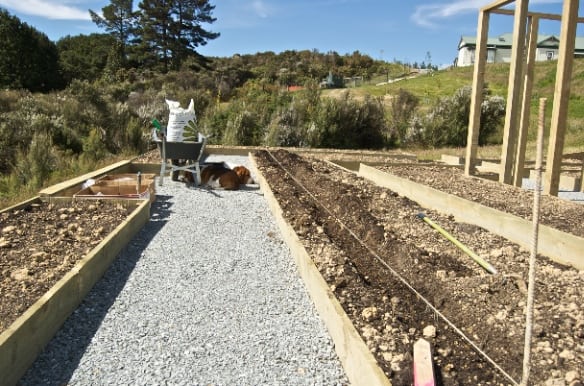 Certainly no help from them as I laid out 3 rows – Rocket (earlies) with Desiree and Agria (main crops).   I followed the trench methodology laying plenty of sheep pellets to help feed the soil. I'm investing in some new long handled tools for future although it's good to get close to work the ground for the first time.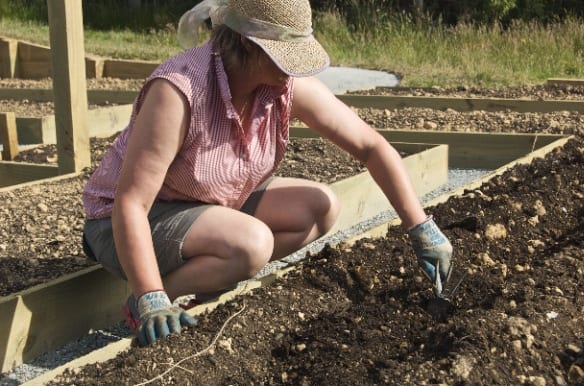 The rows are not the straightest in the world but Mason abandoned his post holding the string and lay out his belly for some sunshine instead.  That dog has no inhibitions.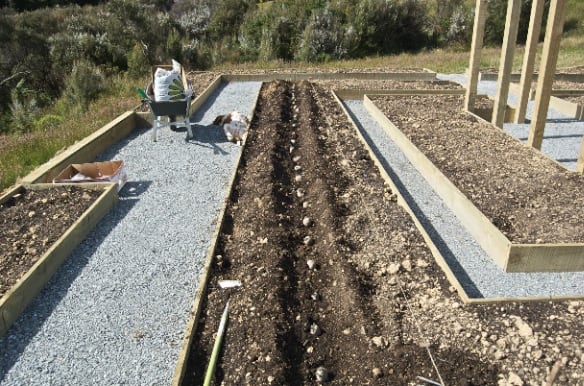 Fortnum doesn't like the heat at all and found a much cooler place to hide.  This is a dog that loves long grass.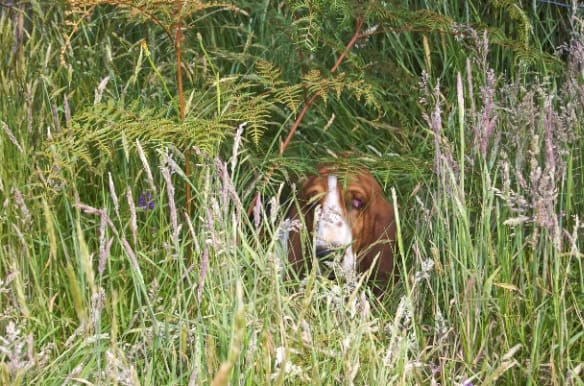 After two hours there were 90 seed potatoes carefully planted and watered in.  The earlies should start cropping in 10-12 weeks (about time for Easter!) and the others 12-24 weeks.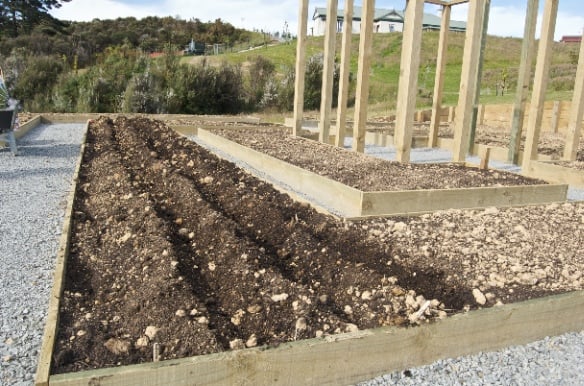 At the end of all his efforts Mason has declared his favourite spot and now resolutely refuses to sit or lie anywhere else when we're down in the kitchen garden. The battle of wills has commenced.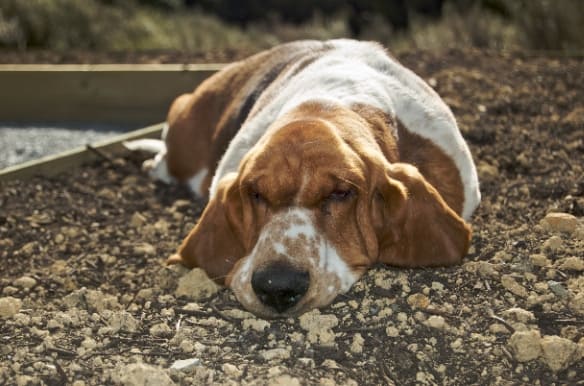 Planting the potatoes was certainly the easiest step to getting planting under way.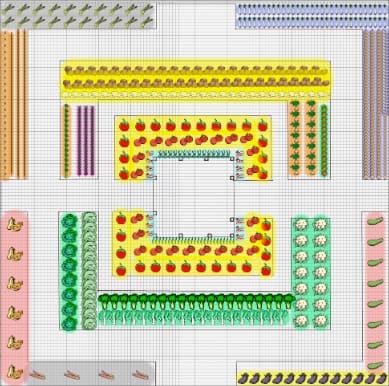 Working out where the rest should go was a process of eliminatation and much flicking between books to decide:
Which crops should be planted together for rotation
How many plants to grow
When they should be planted and harvested.
After all the basic research I've ended up with a plan that looks something like this. This plan was generated by a nifty on-line planner called Grow Veg.com  It allows you to pick which vegetables you want to grow and then automatically calculates how may plants can fit in the space.  To make it easy it also produces a growing plan telling you when to plant and harvest your crops.
It's saved me heaps of time and effort using this planner.  Now all I need to work out is how to I stop little basset frequenting the onion bed!