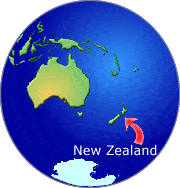 Kia Ora bloggers.  This is a special welcome to on-line travellers on the Blog Around the World flight to New Zealand.  Hope that you're not to jet lagged getting here.  Haere Mai (Welcome) to the home of the Domestic Executive.
It feels a little strange be giving you a tour of New Zealand since I'm still a newbie and learning about the place myself.  Nevertheless I don't want to let Debbie down who has set up this special tour so if you're sitting comfortably I'll begin.
Here in New Zealand we are on the edge of the world.  If the world were flat you'd be about to tip over the edge but you don't need to worry since the world as we know is round.  The nearest place to New Zealand is over three hours plane ride away  and you can take your pick whether you head left over the ditch (the Tasman Sea) to Australia or head north to check out one of the many many beautiful pacific islands. Or if you're really adventurous you can head to the south pole. But let's assume you've decided to stay put and check out what's here on the edge of the world.
First up let's get your bearings.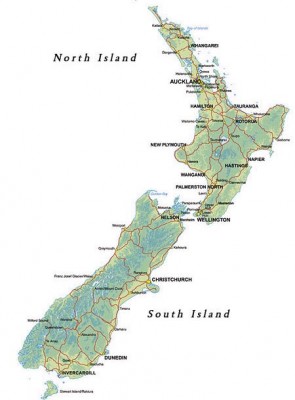 As you can see New Zealand has two main island (considerately called North Island and South Island) and some smaller ones (Chatham Island and Stewart Island).  There are four metropolitan centres – Auckland (the business hub), Wellington (the Capital and I live about 50km north), Christchurch (known as the garden city) and Dunedin (known for it's rain and cold, oh and the similarities to Edinburgh, Scotland).  Outside of the main four cities there are lots and lots of other places that are best described as provincial towns or, well let's just say, countryside and lots and lots of sheep.
OK, got the lie of the land?  Let's get some perspective.
New Zealand is about the size of the United Kingdom which has a population of over 50 million.  Here in New Zealand there are about 4, yes that's four, million people.  It's fair to say there is plenty of room over here. Even more than that, there's really loads of room in the South Island as most people live in the North Island with a third of New Zealand's total population living in Auckland.
The overwhelming thing about New Zealand is it's natural beauty.  There is every sort of natural phenomena you could think of here – volcanoes, mountains, lakes, beaches and countryside. The indigenous people, Maori, give it a depth of pacific culture that is magical.  The natural fauna, flora and wildlife is unparalleled.
It's hard to capture the sense of New Zealand's beauty in this post so best you check out this video produce to promote New Zealand as tourist destination.  Although this a promotional video it definitely shows off the best bits of what you can see if you come for real to New Zealand.
Now you've seen the official tourist promo, you might be wondering what it's like to live on the edge of the world.  Here's some reflections from a immigrant's point of view.
Isolation – there is no doubt the isolation from the rest of the world means that there are only a small number of people brave enough to be so far away from anywhere.  It also means there is no critical mass in the population.  As a result the sorts of commerce, media and employment opportunities you come to expect elsewhere in the world are simply not possible here in New Zealand.  It also brings a level of parochialism (especially in politics) that is at times detrimental to the success of New Zealand in a globalised world.  But the fact that we are so far away from anywhere else means that people aren't rushing here in droves so that leaves more space and peace for those of us that do live here.  Oh, and we're a long way from anywhere for anyone to start a war with us.
People – New Zealand is by it's very nature a land of immigrants and multi-cultural in that respect.  History tells us though that the European settlers did much to keep the Maori in their place despite the Treaty of Waitangi (NZ's founding document).  The result of this is that the Pakeha (white settlers and now New Zealanders) have dominated New Zealand's development and Maori tend to be poorer, less well educated and socially deprived.  Much effort in recent years to recognise this but there is still a long long way to go.  I have found the Maori culture and history fascinating yet sometimes intimidating as it is nothing like I have ever experienced before. Immigration has brought people from all over the globe to live here – British, South Africans, Asians, Americans and Canadians tend to dominate.
Psyche – New Zealanders are by nature friendly people (cliche but true).  They are practical, give it a go type people.  They certainly like to make do and mend (it's called the 8 wire mentality ).  Some may say a little unsophisticated and backward.  I like to think that it's just new world charm.    There is something however about the New Zealand psyche that does hold the country back – they call it the tall poppy syndrome.  Generally speaking kiwis don't like tall poppies – people who stand out in the crowd, make a noise and lead the way.  There are however entrepreneurs, innovators and darn right adventurous people although I think that they are the exception rather than the rule.  New Zealanders like to do things their way – the kiwi way.  Sport and Art are some of the areas where Kiwis are starting to forge their place in the world (we did so well at the Olympics given our size of country) and things like WoW are really making a name for us internationally.
Lifestylers – although there are many, many people who work hard, get stressed and burn out.  It's fair to say that New Zealanders are people that prioritise their lifestyle over work.  There is a strong emphasise on family and anyone with kids will spend Saturday mornings ferrying their kids around the sports engagements.  Being able to live a more laid back lifestyle is certainly one of the driving forces for people moving to New Zealand.  Kids can still grow up as kids here.  Also more and more people are seeking a life in the country where they can get back to nature and more sustainable living – there is plenty of opportunity to do that here.
Dark and dirty – for all the positives in New Zealand it is not without it's social problems.  Poverty, family violence, child mortality, youth crime, gangs and drugs (especially P) are some of the worst in the developed world.  Proportionate to the population the statistics are horrific.  Driving standards here are atrocious (you can start to drive at 15) and road kill rates are shocking.  These are the dark and dirty parts of New Zealand's public image that is largely hidden from the rest of the world.   I worked for over a year for the Ministry of Social Development and was sickened (literally) with some of the child abuse cases we handled.  There is much that New Zealand still needs to do to pull itself up by the boot straps to address these social issues.  Oh, also New Zealand's clean and green image is a thin veneer.  I have found environmental standards and practices that are commonplace elsewhere in the world lacking here in New Zealand but were waking up to global warming much like most of the rest of the world.
For me New Zealand has been my saviour.  I've loved it from the moment I first came to visited about 10 years ago.  After emigrating here in 2006, I've been able to realise my dream of living in the country and getting a life which isn't all about work. For that I have to thank New Zealand for.  Here's my top  10 things I love about New Zealand.
1. The natural beauty – the sky, the sea, the land, the birds, the bees the sheer rawness of it all. If you have around 3 months to spare you can get yourself a camper van and tour the whole of New Zealand and see it for yourself.  If you can't do this you can check out some of the cool places I've been to.  See this post.  Or maybe this post. And if you still have a taste for it, this post.

2. Kiwi sporting pride – how a nation can get behind it's national sport, Rugby.  Not just the national obsession for the All Blacks playing but the haka which is performed before each national match.  If you've never heard the kiwi national anthem or seen a haka watch this. It gives me goose bumps when I watch it.
3. Food and drink – there is a wonderful wine industry here in New Zealand.  Martinborough our local wine region is around 45 minutes drive from our house and between you and me would have been my first choice to live but the fact there is a mountain range makes it a little too challenging to commute to Wellington from there.  The coffee, morning tea and afternoon tea culture here in New Zealand would have you think that the kiwis were hungry all the time.  I think it's more that kiwis are a social bunch so prefer to conduct business over a latte, sausage roll or scone.
4. Lord of the Rings – the star of these movies was really New Zealand.  The landscapes and the industry, fondly called Wellywood, was much of a phenomena as the Tolkien story itself.  I'm still looking for hobbiton although I have found the forest which is just up the road from where I live.
5.  Kiwi bank – this is a nationally owned and run bank.  It's advertising campaign so sums up the kiwi psyche and it makes me laugh out loud every time.  Enjoy!
6. Earth moves – the earth moves for us here in New Zealand on a regular occasion.  Yes we're one of the most vocanically active places in the world.  Living through an earthquake for the first time is really very wierd but you get used to it and maybe even come to enjoy them.  However, the big one is due any time now so let's hope it's not to close to Wellington.  You can see all the recent earthquakes here.  The last one I felt was Sunday this week.
7.  "Good as gold" – this and other kiwi colloquialisms make me laugh all the time.  You can check out a full list here.
8.  First for sun – we're the first place in the world to see the sun rise. The thing to keep in mind about New Zealand is that it's a cold place with a hot sun.  This means when the sun sets the chill sets in.  Our isolation also means we get wild winds and weather from the south pole. Wellington has little protection from this and is affectionately known as windy wellington.  Here's what it's like to take off and land here.  Hope you didn't have this problem when you arrived here today.
9. Liberal and independent thinking – New Zealand was the first place in the world to give women the vote (yeh New Zealand!) and we curently have a woman prime minister, Helen Clarke.  It is anti nuclear, was anti apartheid and took a stand against the war in Iraq.  Once New Zealand takes a stand on something it's like a dog with a bone.  They are however quite liberal with their immigration policy if you have the right skills (or lots of money) and want to share their place with people seeking their own place in the world.
10. Home builders delight – self building in New Zealand is a big thing.  You buy a piece of land (a section) and build your house of your dreams.  There are few of the typical residential developments you get in the UK and more individual styles.  Certainly we could never have built our grand design if we'd stayed in the UK.  Firstly there isn't the land available at a price we could of afforded and the costs of building together with the planning regulations make it a challenge few people tackle.  We're delighted with the place we have built which is a colonial style house with all the mod cons.
It's impossible to do justice to New Zealand in this post but the beauty of the Internet is that you don't need to duplicate what has been written else where.  Here's where you can find out more.
It's been a pleasure to share my view of New Zealand but I know as soon as I publish this post I'll think of heaps and heaps more that I know I should have told you. I look forward to hearing what you think.
Do stay and have a look around Domestic Executive HQ, you're most welcome.  I'll be serving Afternoon Tea at 3pm so "bring a plate" (that's another kiwism which means bring something to eat!).
For more about:
Take care and enjoy the ride back home!   E noho ra.