If there was ever a name to grab my baking attention – Fat Rascals has to be up there at the top of the list.  It's cheeky and fun yet describes perfectly this scone dressed as a cake. How this name came about is a mystery but the cakes have been made famous by Betty's Tea Rooms in Yorkshire England.  Personally I'd give Betty's a miss over other afternoon tea emporiums but I am intrigued how they came to claim the secret rights to the Fat Rascals recipe.
The best I can find out is that Fat Rascals was Elizabethan slang for scones but has become synonymous with Yorkshire and now evokes that feeling of a naughty but nice edible fancy. We came upon the recipe clipped from an old magazine and it seemed the perfect way to cheers us up after a cold miserable week.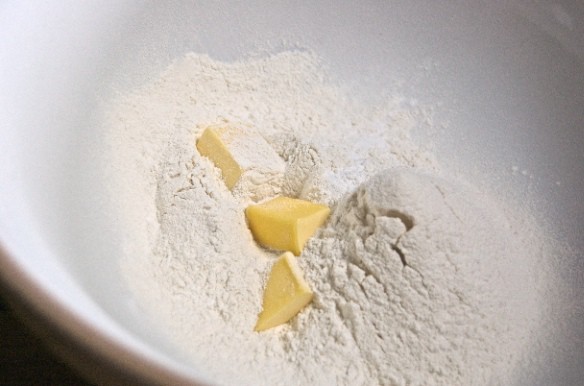 The brilliant thing about Fat Rascals, apart from their name, is that they are quick and easy to make.  With a well stocked baking pantry you have all the ingredients to hand so no dreadful missing ingredient moments to contend with.  The pastry maestro took the lead mixing up the butter with the flour and baking powder.  It seemed like the right thing to do since I'd been up to my elbows in the potager for a couple of hours before baking time.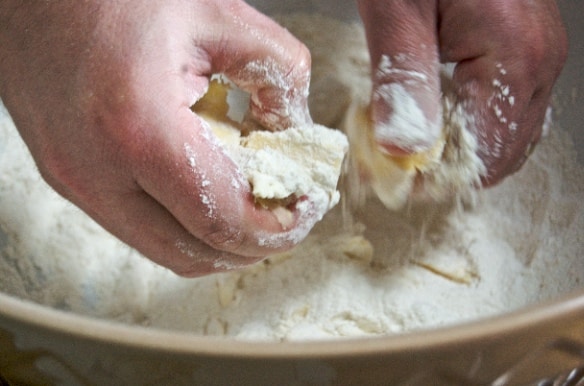 With the butter well mixed in you bung in the rest of the ingredients I collected together like a good assistant cook.
And then the fun starts.  Taking this dry mixture and making it into a firm dough.
Shaped and decorated these cakes were really starting to live up to their name.
But nothing can really prepare you for what comes out of the over 15 -20 minutes later.  The important thing is not to waste time.  Whip them out onto a plate and crack open the butter dish.
They are simply delicious.  Fat and rascalish – a total treat that melts in the mouth.  Just what we needed to boost the energy levels for another few hours mowing and hoeing.
I'd actually swop these for regular scones any day.  But that might have something to do with the fact I've yet to perfect scone making which are as much as a mystery to me as baking a successful victoria sponge cake.  Go get the recipe now and cheer yourselves up.