Even though we're languishing in what feels like the longest kiwi winter our friends in the northern hemisphere are enjoying things a bit brighter and warmer.  They are also enjoying the height of the gardening summer.  A touch of summer arrived by email the other day and it was like opening electronic sunshine to brighten my day.
This is the garden of my parents in full summer bloom.  Gardening for my step mother is a full time job.  She'll be out morning, noon and night making sure things are just so.  I think it's fair to say that once again her hard work has paid off.  The garden is a riot of colour with a multitude of plants.  There is always something to be done in this garden to achieve perfection.
Just when my Dad thinks that it's just as it should be and he sets up a comfy chair somewhere to enjoy the view, he is brought to his senses with a list of projects to keep him busy and bring further enhancements to this picture perfect garden.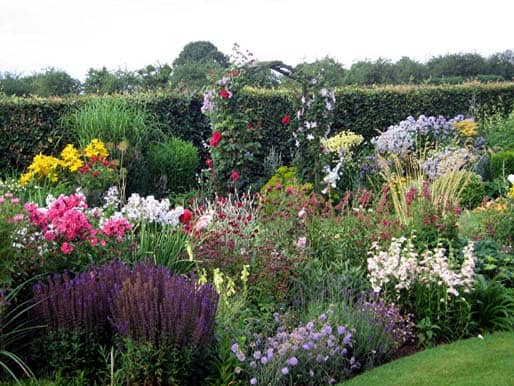 Always on the look out for some sort of construction project I think he's taken his responsibilities seriously to create a decking area around their garden pond.  Here's the project in it's early stages. Looks like that crazy paving is having a makeover.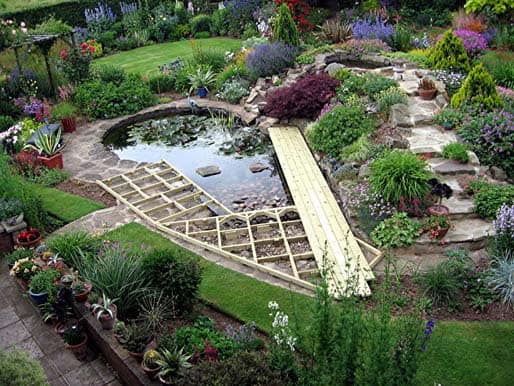 It's amazing what a bit of decking can do to tidy a place up.  It looks like a complete transformation to me.  Except it's not quite finished yet.
Oh no, the gardener needs to do the finishing touches.
It looks to me like something from the Chelsea Flower Show.
Except without the crowds.  Although I think that they get plenty of visitors from local garden clubs as they open the garden to raise money for charity.  Looks to me that the price of a cuppa on that decking might need to rise in price in recognition of the makeover effect.
Hopefully I'll be able to use this garden for some photography practice when I visit during my big trip back to the homeland.  In the meantime I'll just have to keep dreaming of a brighter garden here in New Zealand.