Few things in life give greater pleasure to a basset than a pile of mud.  A place to put their pudgy paws and indulge in a spot of sniffing or digging.  The softer the mud the better it is but as mud goes they'll pretty much take anything. With the construction of the kitchen garden they have it all.  Soft, wet, hard and messy mud in which to frolic.  If I'd let them!
Although my heart sinks a little when I look at the mess on the ground.  I can't help but get excited about the food factory that's been established at the bottom of our garden.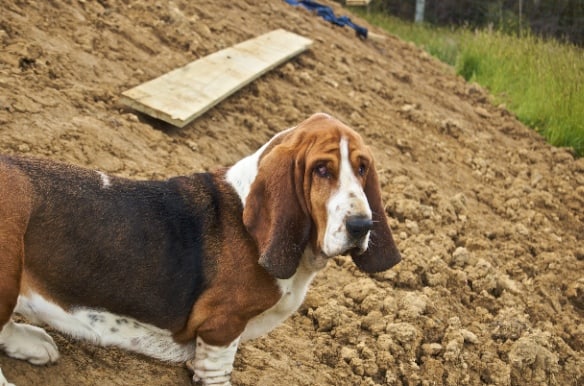 It's a thing of beauty already and so much more to be done to finish it off.  Fortnum and Mason already love exploring all the paths before leaping into the beds which are full of soft compost.  It turns them into juvenile puppies again springing around until they get shouted at to GET OFF!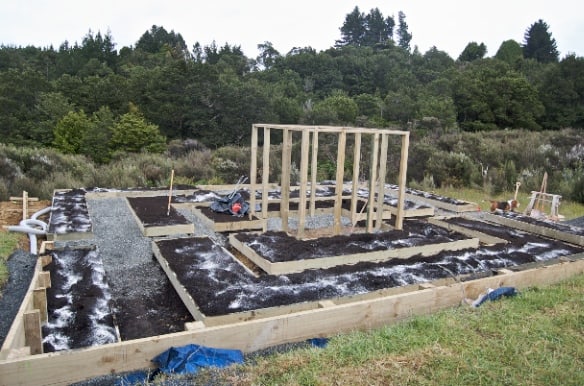 I am liking the simplicity of the design and now starting to map where the sun shines across the plot.  Or I would do if the sun did shine.  For now I have to use my imagination. Funny how quickly I skip from admiring the layout to thinking that's a lot of ground to weed.  I'm still undecided about how I will plan the crop rotations.
It's taken a heck of a lot of work to get this constructed and pleased I earned and saved to make it happen. After all there were rather more of these full wheelbarrows that I could have feasibly pushed around.
And although I'm keen on wielding a shovel digging post holes and turning over the clay base has been more effectively tackled by someone else.
I do quite fancy getting myself one of these though when it comes to keeping the beds well mulched and fed with new compost.
It won't be long before we can start planting.  In fact, I may make it my boxing day treat for the seedlings although I'm definitely going to get the potatoes in the ground as soon as possible as otherwise they will be too late.  If they aren't already.  Now I just need to decide which bed.
This time next year we'll be brimming with vegetables for Christmas.  Which might prove to be a problem if we decide to follow our plans for a trip to the cricket to watch the Ashes in Australia.  But for now I'm getting really excited about what we'll be able to grow and harvest to see us through the winter.
This weekend's construction project (apart from felling Christmas trees) is to build my cold frames so my seedlings can move on from the barn.  They'll also be a great place for us to continue to grow leaves after summer.  I bet the guys at the timber yard don't know how much fun they are going to have this weekend helping me choose the right wood!