There is nothing better than going to pick your own Christmas Tree.  It's even better to pick your own tree from where it is growing and have it cut down before your very eyes.  I have vague recollections of me doing this once before when I was a child – with my Dad, my brother and our basset, Sacha and transporting the tree home on the top of a Bubble car.  I remember clearly it was rainy, the car got very steamed up and the basset, Sacha, slobbered down our necks.
On our Christmas tree harvest Fortnum and Mason were left at home as they are not keen on travelling on the windy Rimutaka Hill Road but we were delighted to be heading towards the blue skies of the Wairarapa. Perfect excuse to have brunch in Greytown and rubberneck around the shops.  Then it was onto the serious business of buying our Christmas Tree.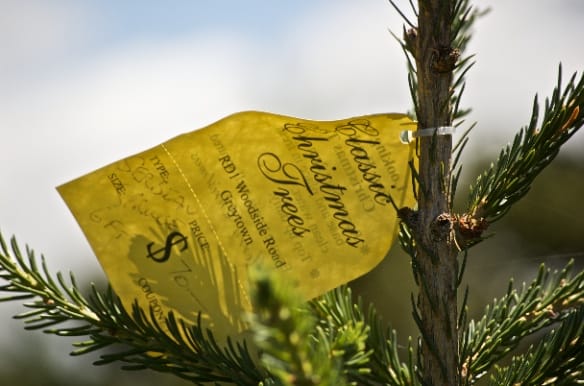 There are a couple of Christmas Tree farms to choose from but we opted for the  Classic Christmas Tree Company as opposed to The Real Christmas Tree Company which is in Featherston, a little closer to where we live.  It seems to me the perfect form of lifestyle farming.  Growing trees and only having to open for business a few days a year.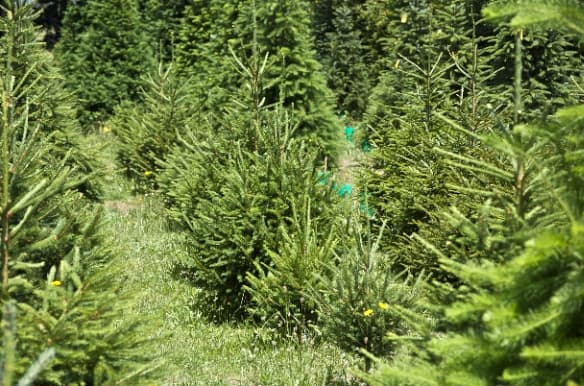 Although we are later than most people for buying and decorating our tree we were surprised to see how few trees were left.  Seems the best way to go is to reserve your tree early meaning you can pick it up as late as you like!  Mental note for next year.
Nevertheless we did find the perfect specimen for us to take home. After it had been felled of course and we'd all shouted "Timbeeeerrr".  We'll, I shouted and MT hid with embarrassment.   The man with the chain saw was concerned that I got the perfect photograph.  He'd heard the Timber joke a few times already that day!
It seemed very strange to be lugging our Christmas tree home in blazing sunshine.  Nice that summer put in a brief appearance before another southerly chill blew in.  What the heck is happening in the arctic right now?  Oh, yes, it might be melting and sharing its chill!
A few minutes rummaging in the barn produced a fine Christmas Tree stand.  The bassets love this piece of festive equipment.  They can drink from it and sniff under the Christmas Tree at the same time.  Double treat.
Every year we buy a new Christmas decoration and it was good to keep up this tradition in a kiwiana sort of way.  A little blue penguin – hand made in India no less.
To be honest though we could have saved ourselves the effort of lights and sparkly things.  The tree came ready embellished with it's own decorations and a few bonus mini  blue bird eggs thrown in.
It's starting to feel festive although I don't truly let go until Christmas Eve itself.  Then it is a frantic panic of counting gifts and realising I've missed people.  This year we haven't done Christmas cards but have some New Year greetings to send out.  We've been let down badly by the calendar printers who have lost our parcel with the special edition of Fortnum and Mason wall calendars so these will have to go out in the New Year. The desk calendars were delivered safely and did make it in the pre-Christmas post.
As always the moral of the story is to get Christmasy earlier but in truth there is no fun for me in having everything sorted and organised.  After all it wouldn't be Christmas if you didn't get a few things forgotten – usually the roast potatoes in the oven at the end of the meal!