Being a basset is very hard work.  It takes a lot of effort to carry around such a big heavy body on such little legs.  When you see the world through smell, it can be exhausting to get around. Those long ears dragging on the floor can trip you up when you least expect it.  A body as long as their requires bendy bus style movement to slink around corners.
It's these ungainly features of a basset that makes them as charming as they are.  They are a constant source of amazing and amusing moves that never cease to make me smile.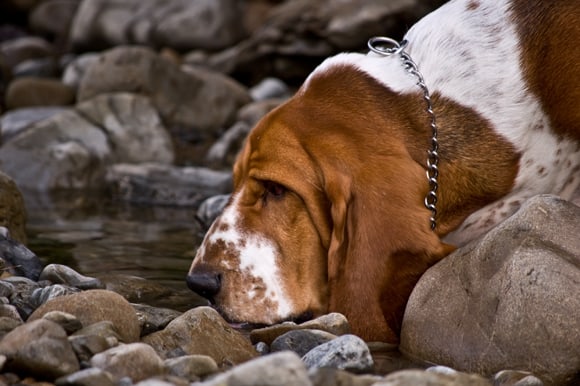 On our walk the other day to the river I was able to capture a few snaps of Little Basset in some classic basset poses.  This one above is his usual stretch technique to drink water from the river without getting your feet wet.
Here's one of his other favourite positions.  Sitting nicely, with all his wobbly bits carefully arranged.  Shame that his undercarriage is showing signs of splashback from the walking track.  That's another disadvantage of being so close to the ground.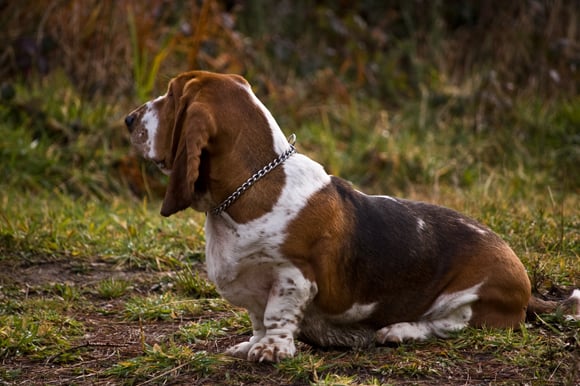 This is his what's that, what's happening pose.  Just see how his big paws carry the weight of his big barrel chest.  His lightweight backlegs squaring up ready for anything.
Another classic basset pose, when in doubt, sniff it out.
It's such a rare moment when Mason stays still enough to take his picture.  His normal behaviour when he sees the camera is to race towards me and try to lick it all over.  He's such an attention seeking basset he thinks coming closer to me will get him the ultimate exposure.  Little does he know that when he stays his distance he gets a better chance of getting photographic attention. For a brainy basset he still has much to learn.
I know I'm biased but if you want entertainment value from your pet, you can't go wrong with getting a basset hound.