All the words of wisdom about photography boil down to one thing.  Practice, practice, practice.I do try to snap away every day but it can become all consuming if you're not careful.
For one thing it's not just the snapping.  Working out the buttons and dials.  But the after production.  The loading the pictures, the viewing, the picking, the checking, the sizing, the uploading, the posting.  It's not something that happens in a tick.  And, I don't even really photoshop – just a quick autofix – which is often undone.
I'm learning that often the best picture is the one you don't try and snap and the best output is the one straight from the camera.  My knowledge of PS Elements is so rudimentary I think that I'd rather not bother with all the actions, boosts and layers.  Even if I knew what they were.
No, here at Domestic Executive HQ we're pretty much running raw.  Well,  not RAW, that's a technical photography thingie that I haven't dared ventured into.
Anyway, that's a long way of leading into today's photostudy efforts.  My bassets at play.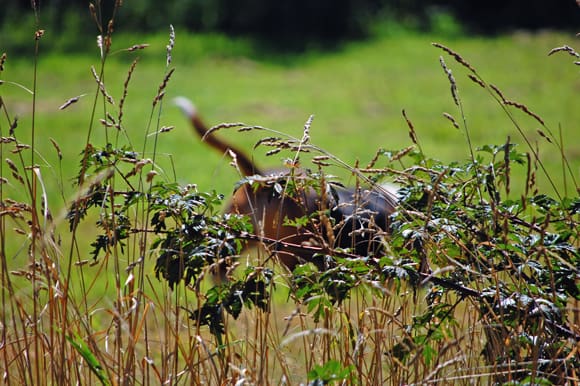 Hope you're sitting cosy.  This selection of pictures comes from about 360.  That's the beauty of digital photography but also it's drawback. Sometimes you can have too many to choose from.
Fortnum and Mason are wonderful subjects to photograph.  So expressive, lots of wobbly bits and wrinkles to breath life into an image.  They also move a lot, pull a lot of silly and ugly faces.  All in all it can be a challenge to perfect basset photo blogging.
I like the top picture because it pretty much summed up our walk yesterday.  The sun was shining and the bassets were sniffing.  Usually ahead of me but waiting for me to catch up.  In view but still doing their own thing.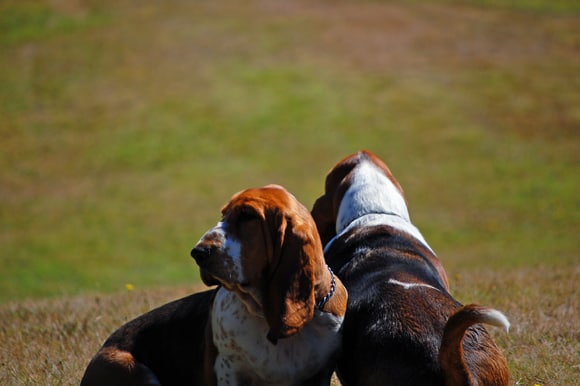 Here they were waiting for me.  I love the way they stay close to each other – each to their own but very much a team.  Fortnum has always been the explorer so will tend to wait looking for that extra view whilst Mason likes to know where I am and look pretty for me.  After all, it's all about grabbing my attention!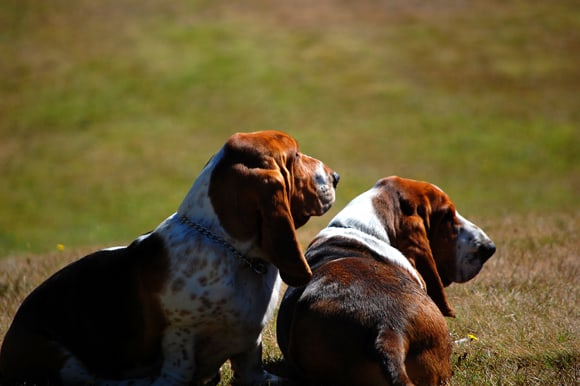 I love the way that they can be in sync.  Both saw something or they wanted me to capture their best side!  Sometimes they are more impatient to be going and waiting for me on their feet.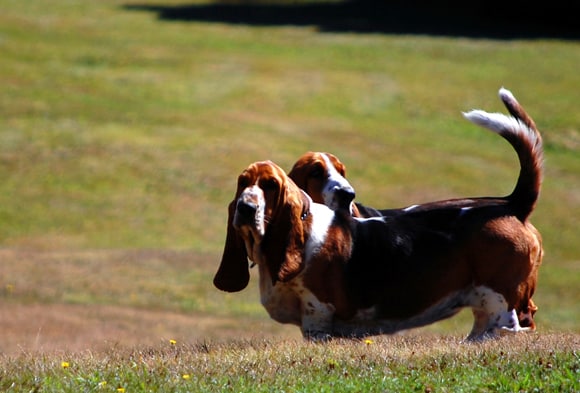 Because it's play time.  Time to run. So we're off….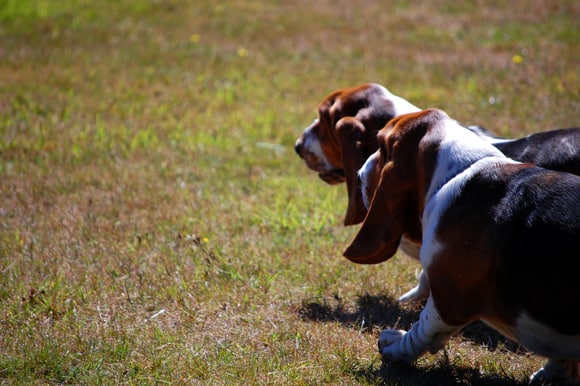 This is big basset chasing little basset – he's reaching peak basset land speed here.  Watch that dust fly!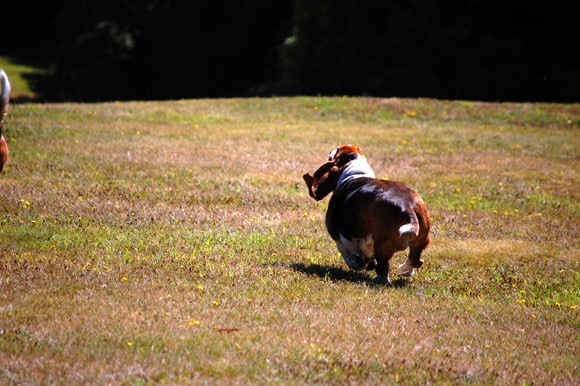 This is what happens when Fortnum forgets to stop and crashes into Mason.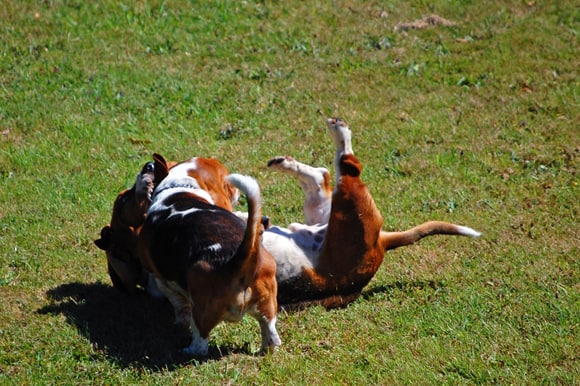 Who takes complete advantage of the situation.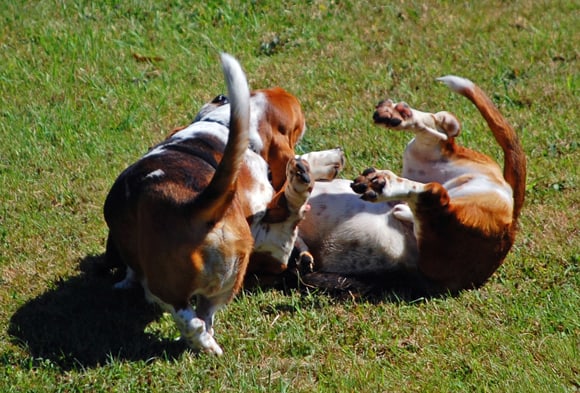 Before running away again!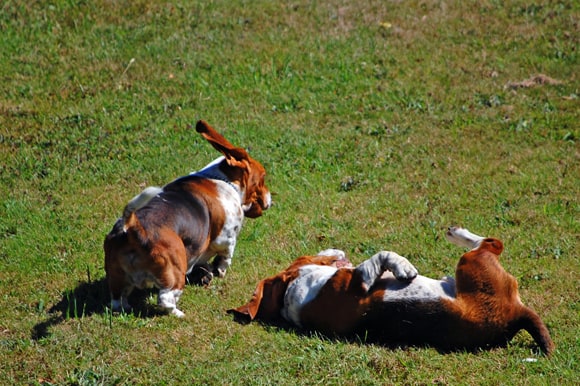 But Big Basset won't be kept down.  Call me a slow coach he says!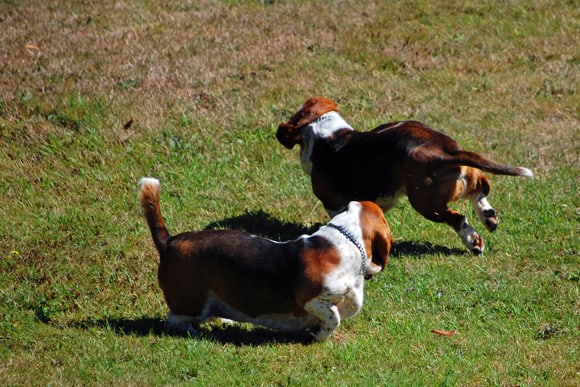 But it's not all runnning and rough and tumble.  There is always time for a sniff.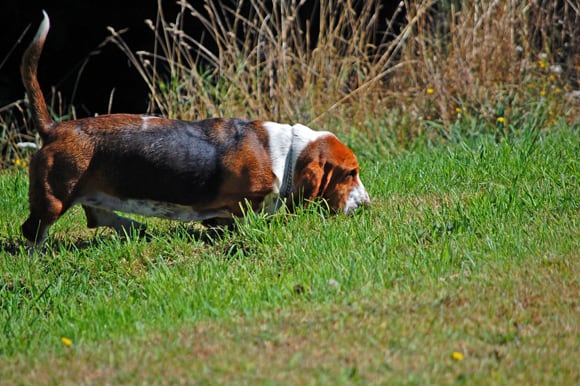 And little basset it pretty precise too when it comes to sniffing!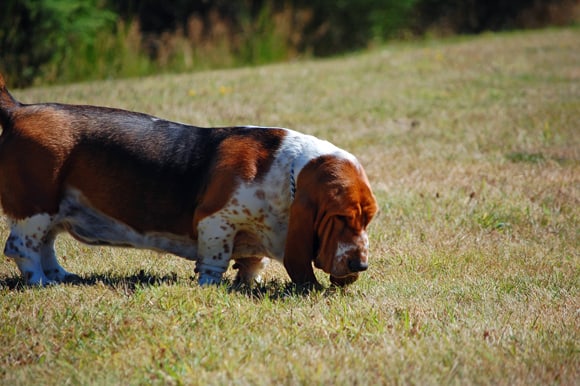 Always time for a drink and a rest!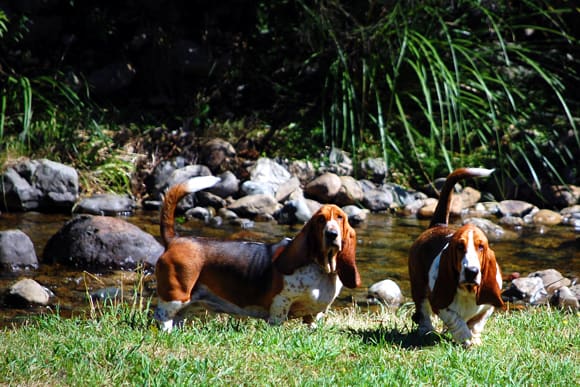 Before heading for home!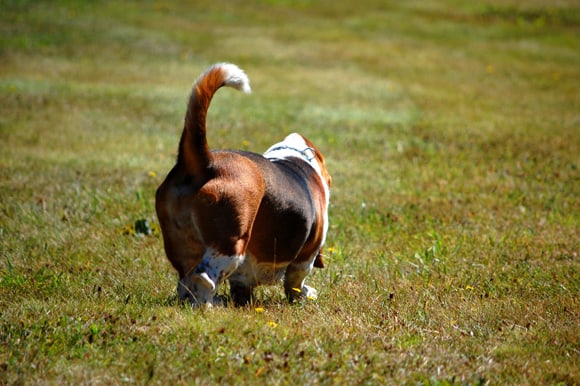 This is one of my favourite pictures of Mason.  Trotting off in his independent way to find something more interesting to see.  The way he holds his tail.  The low slung undercarriage of a basset.
It's wonderful.  I love them.  Am addicted to watching them, snapping them and being with them.
Crickey, I need to get out more!