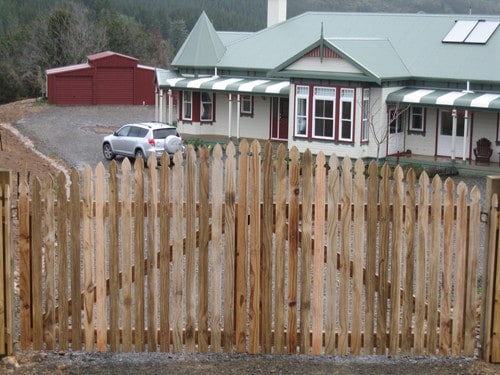 Our gates have finally arrived and we're officially sectioned in!  This has been a long time in coming and I can now relax and let the bassets roam free.
I know that this seems like such a small thing to do but bassets are bred for hunting and if they get the wandering lust there'd be no stopping them.  Also they have no road sense at all and with a State Highway a few minutes stroll from the front lane I don't want to take any chances. 
Almost the first question we were asked when we were searching for basset hound puppies was whether we had a completely fenced section.  In truth we do but it's hardly basset proof as they can readily escape under the post and rail and farm style gate.   But not any more!
The new picket fence and gates will keep them close to the house but still give them about 2 acres in which to roam.  Boy these dogs don't know how lucky they are.
FORTNUM AND MASON TESTING THEIR ESCAPE ROUTE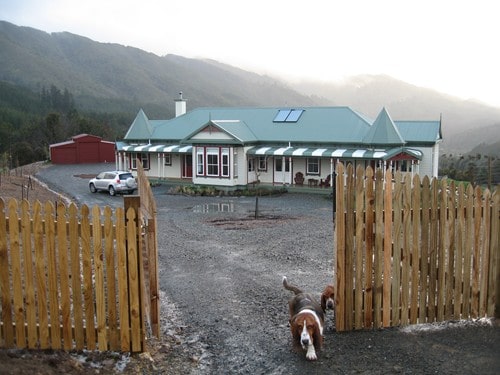 THIS PICKET FENCE AND PAIR OF GATES WILL LOOK AS BEAUTIFUL AS THE HOUSE IN TIME.  JUST A LICK OF PAINT NEEDED, SOME GRASS ON THE GROUND AND MAYBE A COUPLE OF FANCY KNOBS ON THE POST TO FINISH THEM OFF.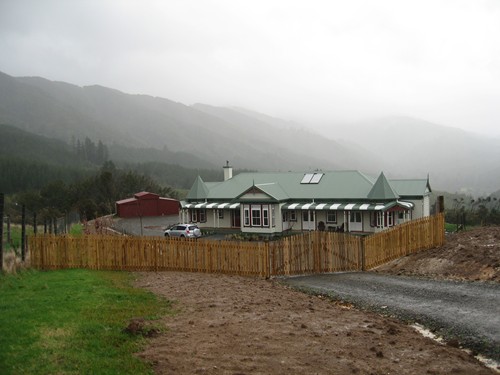 Just in case you're wondering, they are going to be painted the same colour as the weather board on the house.  They'll be painted "Windchime" if you're really that interested!
It's been raining again but we're strong and can endure the weather to get our daily constitutional.  They good thing about the rain is that everything around us looks greener and continues to grow.  The forestry land behind the house is sprouting pine trees and look quite cute right now. I shan't be saying that in about 10 years time when they block our views to and from the house.  So, you gotta enjoy them whilst you can.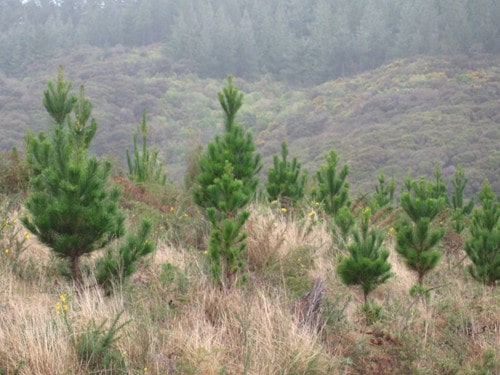 I THINK IT WILL BE A WHILE BEFORE THESE LITTLE NIPPERS BLOCK OUR VIEW!