A window seat was a key feature we wanted to build into our house.  Somewhere light and bright you could languish reading the papers and drink pots of tea.  A place to hang out and be at peace with the world.
We built a window seat in the "family room".  This is the large open plan area adjacent to the kitchen.  It's not just the bassets that love the window seat.  Pretty much anyone who comes to visit will be attracted to it.
Here's a picture of the window seat when it was first installed.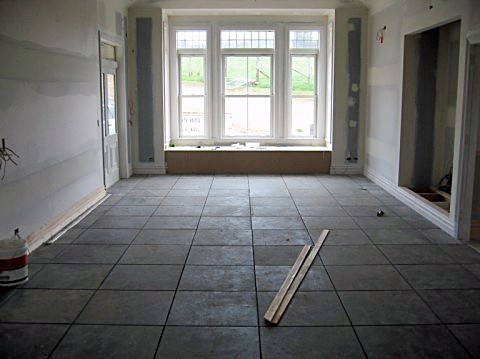 Now it looks much more inviting.  It's big enough for two people to sit or lie end to end.  Often I find my in-laws sitting there like book ends reading or just enjoying the view. MT and I will park ourselves there regularly to listen to the radio, drink tea and read the papers.
It's a handy viewing point for the bassets too who can often be found with their front paws up as they peer out the window, usually barking furiously at nothing out of the window or indeed their own reflection on a dark night!
Technically speaking the window seat is a no basset zone.  Quite apart from the fact I don't want their hairs on the cushions it's a long way up and down for a basset and I'd hate to see them getting hurt if they fell off.
Having said that Fortnum has worked out how to get up on the window seat himself.  He's a tinker. Just one more push and he'll be up.
Tada, he's up and checking out what's to sniff or eat.
It's a perfect spot for looking out the window.
"What do you mean I shouldn't be up here.  Who says?"
"If I lie here quietly, that will be OK won't it?"
Lying quietly without making mischief is not a basset trait you see often.  And, it wasn't the case here.
But he did show signs of wanting to read the paper!
Silly me, I meant eat the paper.
Doesn't he look sad now "his" paper has been confiscated!
Nothing for it.  Better just look out of the window.
Or maybe a snooze.
You might be wondering where little basset was whilst all this was going on. He took momentary interest.
Then stretched as only bassets can.
And then went back to sleep.
Who needs a window seat when you have your own giant cushion to lounge around on?
I have to admit I'll take the window seat any day.  For lounging, reading, tea drinking and of course snoozing!
Which is the most popular seat in your house?