A high pressure ridge is sitting over New Zealand's north island at the moment.  This is bringing us wonderful tomato ripening weather.  It's a relief as I was about to use the secret method of ripening your tomatoes my Dad sent to me.  It was the method my Grandad used but I think is also now freely available on the Internet if you can find it.
I did however manage to get 2kg of large tomatoes harvested and decided it was time to cook this up for freezing.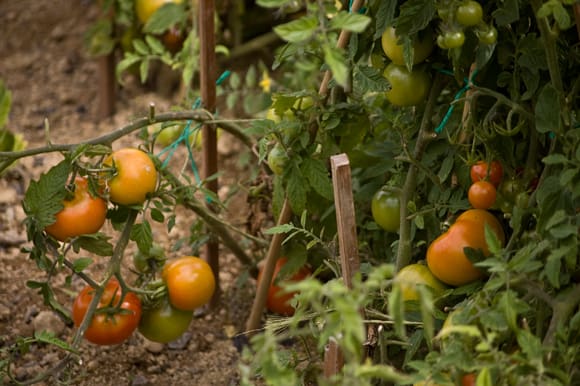 Having cooked up this tomato sauce I'm not sure why I've not done this before in my life.  It's so easy and the resulting sauce is nothing short of delicious.  It tastes nothing like those mass produced sauces, so much better. So my recipe challenge this week is to get yourself some tomatoes and give it a go.
The only fiddly bit is the skinning and de-seeding of the tomatoes but it's quite therapeutic when you get going.  My tomatoes were of a variety of sizes, shapes and colours.  A little blemished in places but I didn't care, I took the best and plunged them into hot water. Within a minute their skins were peeling off.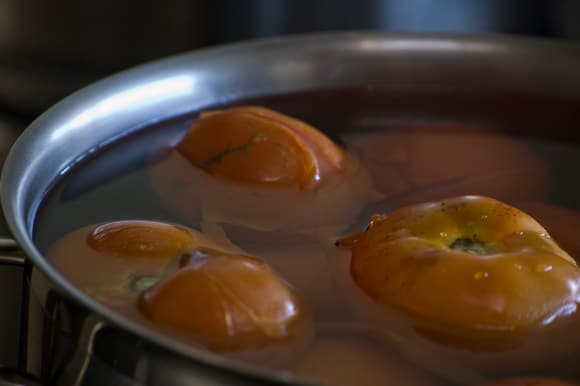 Then it was just a question of deseeding and throwing the tomatoes in with some onions and garlic I'd sweated off in olive oil.  Add some herbs (I used basil and oregano – perish the thought they were dried!), salt and pepper.  Then you're done.  You just need to leave it to simmer away for a couple of hours until it's reached the consistency you want.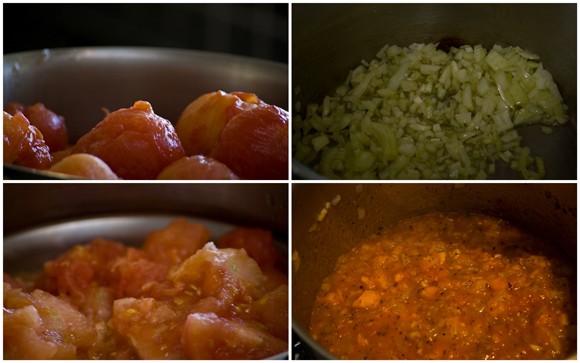 There are heaps of recipes on the Internet.  I didn't follow any in particular just the methodology.  The longer you leave the sauce to cook the thicker the sauce becomes.  You can I am sure used a pulverizer to make the sauce smoother too. Mine's still like chunky but I like it that way for using in a baked pasta dish.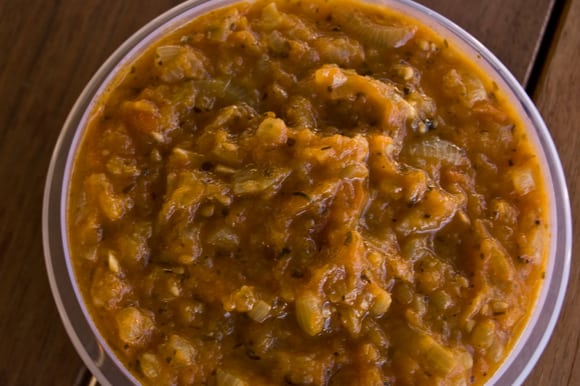 The greatest problem with this recipe is that it's hard to get the sauce into the pot for freezing.  The tasting spoon got in the way.  If you're not careful you could end up eating it all!
So in summary, here's the recipe:
Tomatoes (I had about 2kg) – skinned, seeded and chopped roughly
Onions (2) – chopped
Garlic (2 cloves) – chopped
Herbs (whatever you fancy, I used oregano and basil)
Water (1 cup)
Salt and pepper to season.
1. Sweat off the onions and garlic in olive oil for about 5 minutes
2. Add the tomatoes, water, herbs and seasoning
3.  Bring to a simmer and then leave to bubble away for 2 hours (more or less depending on how smooth you want the sauce).
4.  Taste only one spoonful otherwise you'll end up with nothing for your freezer!
I've got a large bowl of cherry tomatoes that will get a similar treatment.  As for the remaining tomatoes they will be given a chance to ripening over the coming days of sunshine.  Then they'll be getting my Grandad's secret treatment.  I'll let you know what it is if I need to use it!