With a taste that can be as sharp as their thorns gooseberries are not to everyone's liking. I love the  crisp bite and piquant flavour that livens the palette whether you eat them straight from the bush or wrap them in a luxurious blanket of cream and sugar. Last year the birds raided our pickings before our new fruit cage has kept the pests at bay giving us several kilos of fruit and each berry has been given special culinary treatment their deserve in their first outing in our backyard pantry.
A deliciously light but definitely show off gooseberry fool was pride of place as our Christmas Day dessert.  It was also the fruit I used to christen my new ice-cream maker creating a frozen yoghurt that was most definitely the fanfare of gooseberry taste experiences so far.  Turning some into jam will I hope bring back the bitter sweet taste long after summer has gone.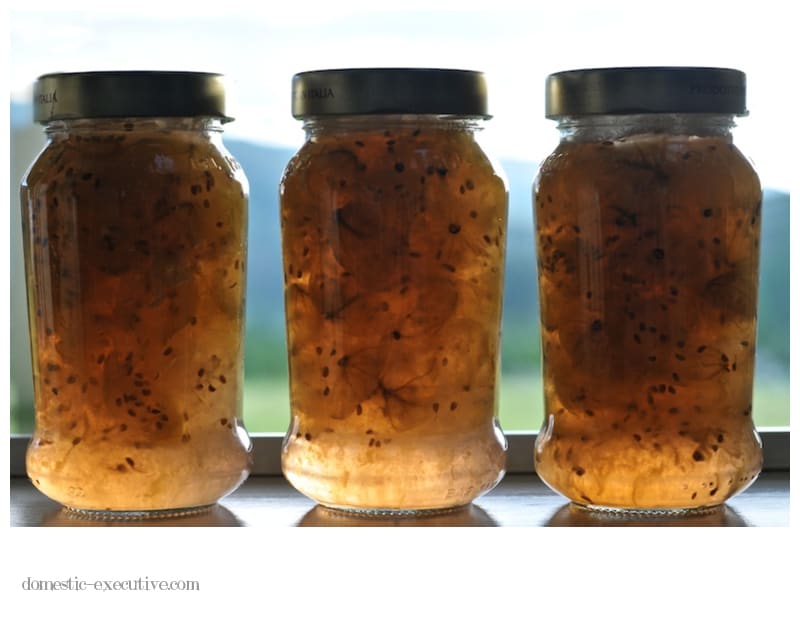 There are plenty more berry adventures to come this year with raspberries, blueberries, worcesterberries (that are apparently taste like a cross between a gooseberry and blackberry), tayberries (cross between blackberry and raspberry) and blackberries all starting to show their colours alongside the red and blackcurrants.  There is nothing more comforting to be reaping the rewards of your own growing efforts.
I spied a punnet of gooseberries tucked away on the top shelf in the supermarket and gasped at the price.  A small punnet was almost $6 dollars making me realise once again of the long term benefits of growing your own berries. We've recouped our initial investment in the plant already and I suspect treated our berries with more reverence than I ever would have with something I'd bought from the shop. That said it dawned on me that I might need to buy some strawberries to buy for this year's jam supply after the recent rains have ruined the possibilities for a continued home harvest.
It's was the strangest feeling recognising that I felt a disappointment to not be self sufficient in strawberries for jam.  If I were a a person truly committed to self sufficiency I'd be doing without strawberry jam this year but instead I'm wrestling with levels of self indulgence I've not recognised in myself before.  As a next best thing to growing my own strawberries I could buy locally sourced fruit or perhaps I should buy locally made jam.
If you were me what would you do?
A: do without home made strawberry jam this year
B: buy local strawberries and make my own jam
C: buy locally produced jam?