Small is beautiful in the case of our fruit harvest this year.  The first fruits from our bushes troubled by pesky rabbits who have been feasting on the plants. I was surprised that we got anything to be truthful so carried back the booty to the house with special care and attention.
It may be that we only got two small raspberries but these were berries to be savoured.  To be admired.  And then scoffed in one bite.
These two beauties tasted like raspberries at the height of summer, even though we're full on into autumn now.  Full of flavour even if the moment of taste was short lived.  I shall hang on to this memory till next year when I hope we'll be getting rather more to eat.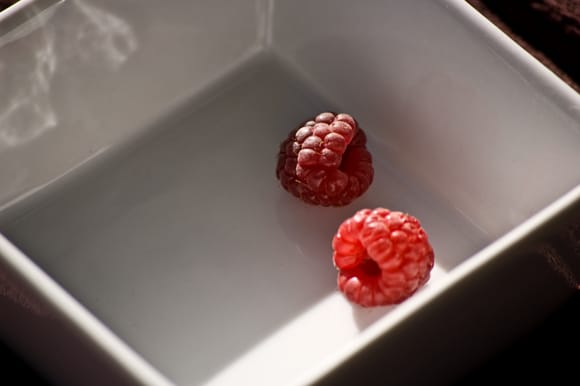 Now you may be wondering what raspberries have to do with risotto.  Other than the food connection nothing really.  It just seemed a convenient place to share in our last vestiges of summer.
To business.  First up, I am going to shame my mother-in-law to sending in both her recipes and photographic evidence.  After a flourish of culinary activity for this recipe exchange challenge it all seems to have gone rather quiet from her end.  I'm sure you're just working out how the email attachment works so I'll be patient.  For a while at least.
After weeks of cooing over my fennel plants I'm pleased to put you out of your misery.  I've harvested another two for this week's recipe adventure.  Fennel and Garlic Risotto.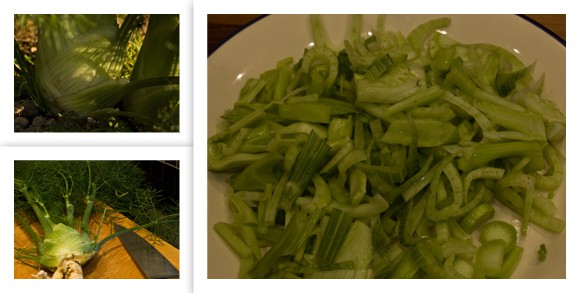 There are still a couple left which I think will make it to the soup pot to enjoy the luscious flavour one more time this year.
Risotto has always been one of MTs signature dishes.  Crumble is his other.  Can you imagine how it must feel when you lose your risotto mojo?  That's what's happened the last few times.  It's hard to know why since the ingredients have always been consistent and the methodology the same.  But somehow MTs risottos were simply not behaving in the way they should.
For an engineer who follows recipes and maps to the letter this is a frustration.  Although I failed to totally understand this as he will spend hours muddling with electronics and home entertainment systems without so much as looking at the user manual.  Sorry, I digress, but I think you might get my point!
It's been a while so I was confident that this recipe would bring the risotto mojo back into our lives.  I wasn't disappointed. The secret to success is in the preparation of the ingredients, patience and a strong stirring arm.
Here's what you need.  Plus some stock – vegetable or chicken will do.  Homemade is best of course. And a bottle of dry white wine (some to drink and some to cook with!)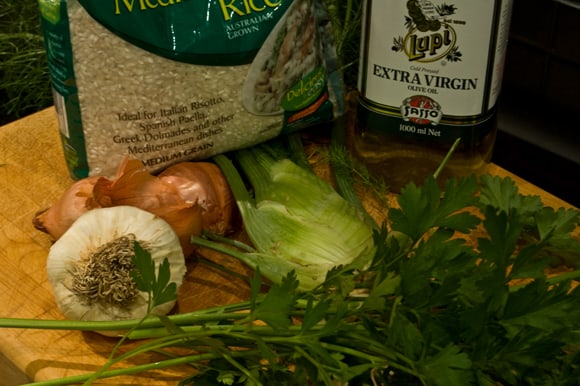 Then get chopping.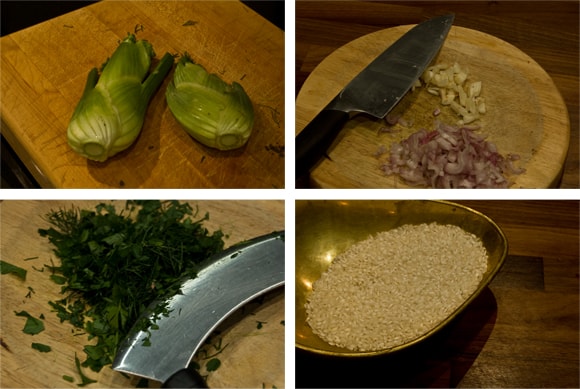 And stirring.  Lots of stirring.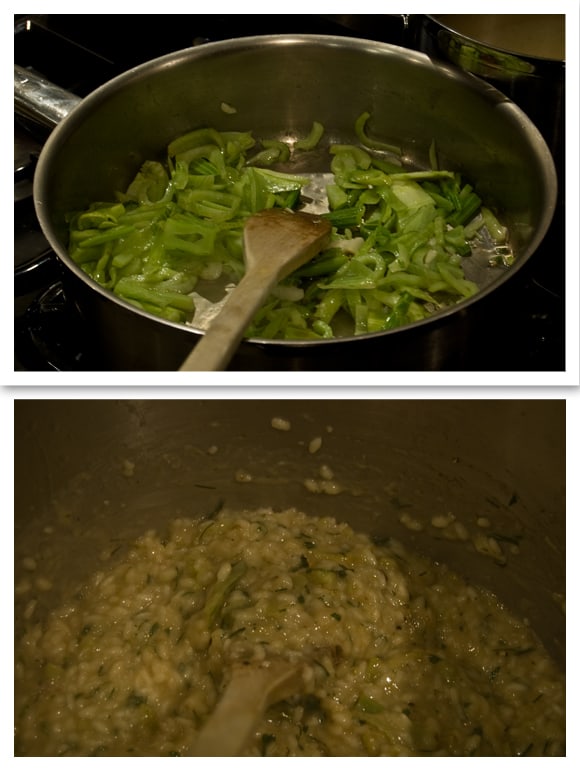 And finally you end up with this.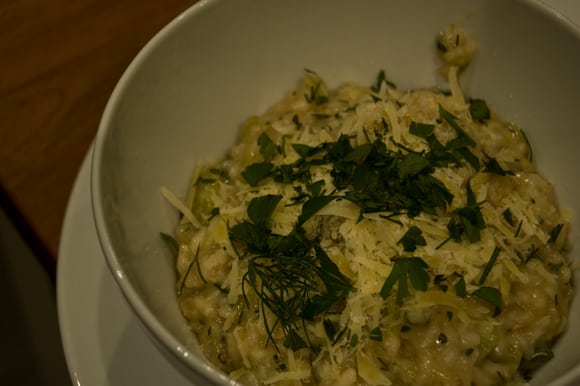 As well as looking good it tasted delicious.  It took rather longer to cook than the recipe and also we used a whole heap more stock and wine to get the rice to cook through.  We have no idea why this happens but instead of getting frustrated that the risotto doesn't follow the letter of the law we just kept slugging in the stock and wine until it was cooked to perfection.
I'm going to try a different brand of rice next time as it may just be that the sort we're using isn't up to Waitrose standards.
Whatever the reason it was worth waiting for and worth the extra stirring energy to get this creamy, flavoursome meal.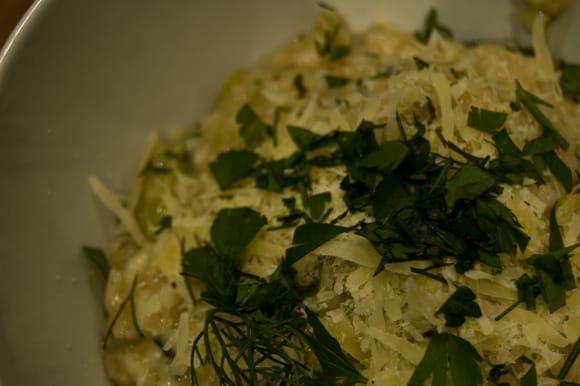 Want to get your own risotto mojo?  Here's the recipe.
——————————————————————
Fennel Risotto with Dry White Wine and Garlic
| | |
| --- | --- |
| Preparation time | 10 minutes |
| Cooking time | 30 minutes |
| Total time: | 40 minutes |
Serves: 2
Ingredients
750ml hot vegetable stock
2 tbsp olive oil
1 fennel bulb (about 200g), quartered and sliced
2 cloves garlic, thinly sliced
Knob of butter
3 shallots, finely diced
200g risotto rice, such as Waitrose Cooks' Ingredients Carnaroli
100ml Chapel Down Flint Dry white wine
20g pack fresh flat-leaf parsley, chopped
50g Castelli vegetarian Italian hard cheese, grated
Bring the stock to a simmer in a small saucepan. In a frying pan, heat 1 tablespoon of the oil over a medium-high heat. Add the fennel and garlic and season to taste. Cook for 15 minutes or until soft, stirring occasionally. Leave to one side.

Meanwhile, in a medium-sized heavy-based saucepan, heat the remaining oil and the butter over a medium heat. Add the shallots and cook, stirring frequently, for 2-3 minutes or until soft but not coloured. Add the rice and stir to coat in the oil and butter for 2 minutes. Season with a little pepper. Stir in half the wine and increase the heat to bring to a gentle boil. When the liquid has been absorbed by the rice, start to add the hot stock, a ladleful at a time. Stir until the liquid is absorbed before adding the next ladle.

After about 20 minutes the rice should be creamy but still with a slight 'bite'. Add the last ladleful of stock, along with the fennel, half the parsley, half the cheese and the remaining wine. Stir and season to taste then divide the risotto between 2 deep plates and serve immediately, with the remaining cheese and parsley scattered over the top. Serve with Waitrose Watercress, Roquette and Spinach Salad.
Cook's tips
To serve 4, simply double the ingredients. The fennel mixture can be cooked the day before, covered and kept in the fridge until ready to use.