There is nothing that makes you more concerned about the food you eat finding ways to address a specific health condition.  Our battle to reduce MT's  high cholesterol has forced us to research the science behind foods and it's been an enlightening discovery of human biology and biochemistry.  Earlier in the week we were in the audience of  several hundred in Wellington at a talk by Dr Libby Weaver who recently launched a new cookbook – The Real Food Cook in association with Chef Cynthia Louise.  Dr Libby gave an almost breathless presentation of the fundamentals of food which summarised how your body processes the food we eat and advocates a diet high in green vegetables as the quickest way to boosting your healthy living prospects.
I came away from the event with mixed feelings.  On one hand excited knowing that the foods we are eating are promoting great health benefits but knowing that communicating the benefits of healthy eating is a finding a palatable balance between being a mad professor and a hard core health nut.  As well as Dr Libby, there are other people who I think have this balance right include Michael Pollan who advocates Food Rules, Gary Taubes, a science writer who has been busting some of the scientific myths about what makes us fat and Dr William Davis who has been lifting the lid on what wheat and carbs can do to you.  Just this week mainstream media in New Zealand has started to cover the fat versus sugar debate including an article about alternatives to sugar and a cover feature in North and South Magazine that references the book Sweet Poison.
You'd think reading all this would put you off eating sweet treats for life but fortunately there are alternatives available that can turn the devil's food into a healthier snack.  Take these sweet chocolate cream mini cakes were made with coconut flour, unsweetened cocoa powder, palm sugar and oodles of 72% Ghana Chocolate and packed a powerful chocolate punch but without the sugar high that would normally having you dashing back for more.  Instead you can relish these mini cakes and feel satisfied and in our case leaving spare cakes in the fridge to keep enjoying for a couple of days to come.
I'm blogging these cakes as part of Sweet New Zealand a monthly blogging bake off created by Alessandra Zecchini and this month hosted by Sue at Couscous and Consciousness.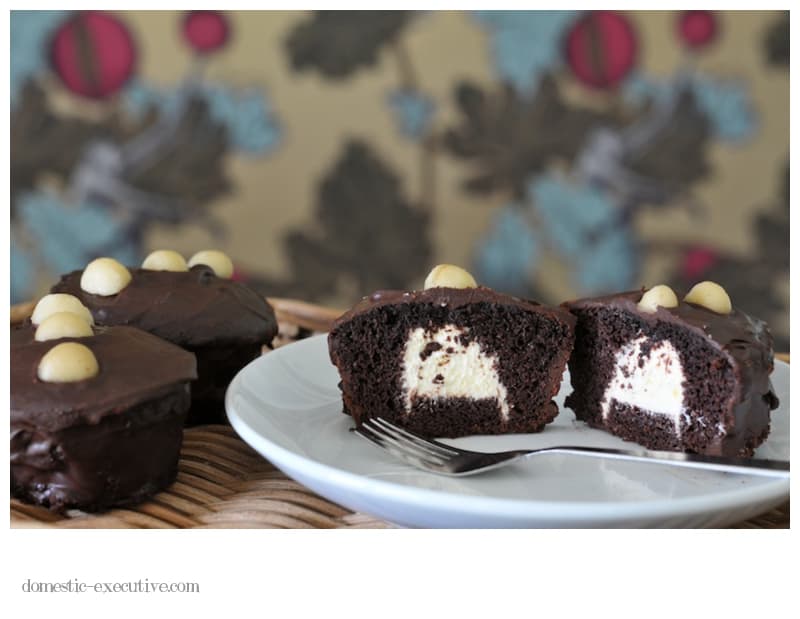 Chocolate Cream Mini Cakes
FOR CAKES (makes 4 large or 6 small)
1/4 cup Coconut Flour (sieved)
1/4 cup Unsweetened Cocoa Powder (sieved)
1/2 cup Palm Sugar
1/4 tsp Sea Salt
1/2 tsp Baking Soda
4 Large Eggs
1/4 cup light olive oil or grapeseed oil
Preheat oven to 180º C/350º F
Mix together coconut flour, cocoa powder, palm sugar, salt and baking powder in a bowl.
In a separate bowl, whisk eggs and oil together.
Mix the wet and dry ingredients together until thoroughly combined.
Spoon the batter into paper cupcake liners and bake in preheated oven for 18-20 minutes, until a toothpick inserted comes out clean.
Leave mini cakes in pan for 15 minutes and then Remove and cool on a cooling rack.
FOR GANACHE & TOPPING
1/2 cup Cream
225g 73% cocoa chocolate nibs, chips or chocolate bar broken into pieces
1 tsp Vanilla Extract
Pinch of Sea Salt
Macadamia nuts for decoration.
In a small pan, gently bring the cream to a boil then immediately remove from the heat and stir in the chocolate. Â Keep stirring the chocolate until it is melted and then mix in the salt and vanilla extract.
Let the ganache stand to cool for 5-10 minutes and then refrigerate for 30-60 minutes until it becomes shiny and spreadable.
FOR CREAM FILLING
1 Cup of your favourite cream filling e.g. whipped cream, Marscapone Cheese, Meringue Frosting or Cream Cheese Frosting.
I used 1 cup marscapone cheese whipped with a teaspoon of Stevia sweetener.
TO ASSEMBLE
Remove each cake from the tin liner and turn upside down. Â Using a knife or a melon baller carve out a circle from the inside of the cake taking care not to dig too deep you come out of the top.
Keep the hollowed out pieces of cake to seal the hole back afterwards.
Fill a piping bag with your chosen cream filling and pipe the cream filling into the holes you have made. Â Seal the holes with the pieces of cake you have kept.
Flip the cakes over and spread the ganache on the top and sides.
If you fancy, top the cakes with macadamia nuts.
Serve immediately and refrigerate any spares. Â They should keep for 2 days, if you don't eat them all before.