There was a moment in the first episode of the 2011 Great British Bake Off we watched on BBC iPlayer at the weekend when one of the contestant's magnificent layer cakes slipped off the work top and landed in an undignified heap on the floor.  All the words of encouragement to rescue at least one layer could not make up for the humiliation and despair this baker was feeling.  His prize layer cake was no more.
Having had a series of baking and cooking misadventures myself recently I know that head in hands feeling well.  There is something soul-destroying about your good intentions and best efforts come to nothing.  Not to mention the waste.  On these grounds I was determined that my most recent baking flop had to be revived. His Lordship was pretty sceptical but I was in the end rather proud of my half-moon cake.  What it lacked in finesse it more than made up for in taste.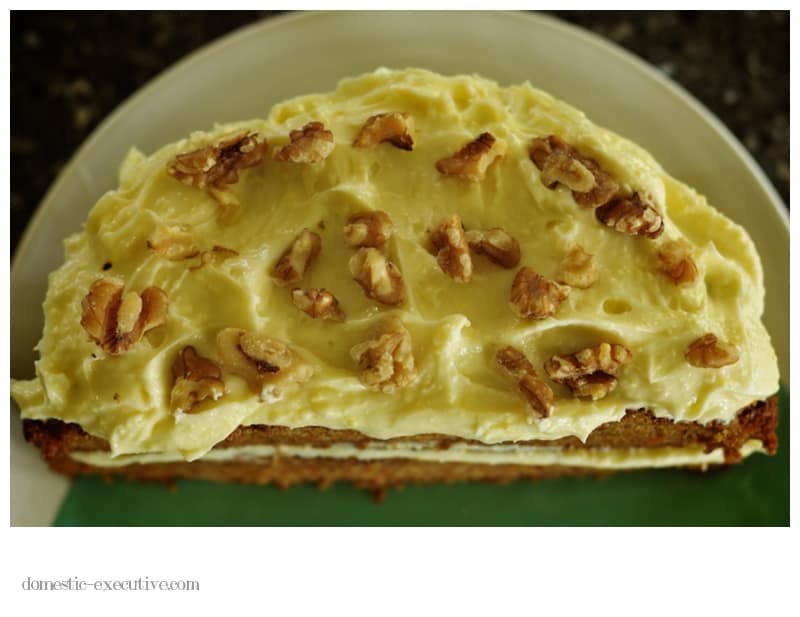 If I had paid more attention to the recipe I would have known from the ingredients I was shoveling in that this was not going to be a large, light and fluffy carrot cake.  That's the trouble when you have shelves of recipe books and a temptation to try out as many of the recipes as possible.  Sometimes it's just better to stick to what you know and the tried and tested methods.  Or at least tried and tested recipe writers.
But that's me all over.  Not enough attention to detail.  Comes of too much rote learning at school I think. As with all "learning experiences" you've got to move on and not look back.  Even if your ego is bruised and your pantry depleted.  At last count I found 9 different carrot cake recipes in my books – whose to say which one is the best?
I'm tempted to launch a new personal campaign to find the answer to that but that will have to wait until we have another glut of carrots from the garden.  For now I must concentrate on rebuilding my baking confidence.  Banana Cake anyone?