I recently breached technology etiquette here at Domestic Executive HQ.  After years of relying on his Lordship to load up my iPod I've set up my own iTunes library, it was like stepping out through a new window on the world.  That's not to say the outlook I already had wasn't interesting, in truth I've listened to interviews, documentaries and programmes that I wouldn't have picked for myself but nevertheless have enjoyed.
But choosing new podcasts for myself has led me into a a feminist debate I wasn't even aware was raging. It seems I'm a Femivore, a women who seeks independence, self sufficiency and personal fulfillment by staying at home growing their own food and embrace domesticity as their own brand of feminism. It was a short snippet on The Splendid Table which is an American equivalent of The BBC Food Programme that led me to research more about this new brand of feminism.
So let's make cake and talk more about femivorism.
Reading the article in the New York Times titled "A femivore's dilemma" I was left feeling a bit cross that my notion of being a Domestic Executive was being classified as a matter of feminism and further more that there is a dilemma in that I should take notice of. For me, the term "femivore" is a ridiculous journalistic spin than conflates two important modern social trends – a growth in the number of people who choose/are able to "stay at home" and who want to "live in a more self sustainable way".
I've always been faintly embarrassed to tell people that we moved to across the world to live in the country to grow vegetables and and raise chickens.  After all, the the story of people opting out of urban living, emigrating or moving to the country has been widely written about and documented in reality TV so much that it feels a little like the 21st century mid-life clichè. As if that was bad enough I started to ponder about whether I might lose my feminist principles somewhere in the compost bin.
Whilst people may scoff at those who want to grow their own food and embrace domesticity all I can say is that I've found my niche in life. I'm happier and healthier and although I don't earn the big bucks I used to I feel more independent and confident than I ever did when my professional life dominated my domestic one.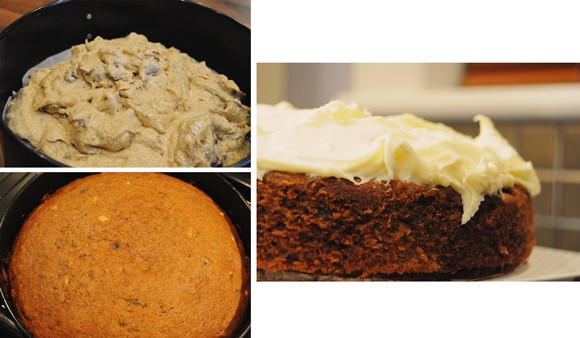 As with most things, balance is good.  Like the bitter sweet tang of coffee, walnut and date in a cake. As so many of our baking adventures into the unknown they generally turn out better than we expect and this cake was no exception.  It's like and airy for a cake but with a charming richness offset by a lemony icing.

Whilst the feminist debate and political correctness about domesticity will rage I'm going to excuse myself from such things.  There are cakes to be baked, vegetables to be grown, chickens to clean out and work to be done.
Coffee, Walnut & Date Cake
by Julie Biuso
Cake
160g (1 cup) dates, chopped
185ml ( 3/4 cup) unsweetened hot espresso or strong filter coffee
120g butter, softened
150g (1 cup) light brown sugar
2 eggs, at room temperature, lightly beaten
250g (1 3/4 cups) standard flour
1/2 tsp salt
1 1/2 tsp baking powder
1 tsp vanilla essence
50g ( 1/2 cup) fresh New Zealand walnuts, roughly chopped
1/2 tsp baking soda
2 Tbsp hot water
Icing (optional)
30g butter, softened
90g ( 1/3 cup) cream cheese, softened
1 tsp finely grated lemon zest
210g (1 3/4 cups) icing sugar, sifted
Preheat the oven to 150 degrees Celsius. Put the dates in a bowl, pour hot coffee over them and leave to cool. Line a deep 20cm- round cake tin with baking paper.
Cream the butter and sugar using an electric beater. Add the eggs a little at a time, as well as 2 Tbsp of the flour.
Sift the remaining flour, salt and baking powder together on to a piece of paper, then add half of it to the creamed mixture in the bowl. Mix in, then add the dates, coffee and vanilla. Fold in the rest of the flour mixture, then the walnuts.
Lastly, dissolve the baking soda in the hot water and mix in. Spoon the mixture into the prepared tin.
Bake for 55 minutes to 1 hour, or until a skewer inserted in the centre comes out clean. Cool in the tin, then transfer to a wire rack to finish cooling.
To make the icing, combine the butter and cream cheese in a bowl and beat with an electric beater until smooth. Beat in the lemon zest, and add enough icing sugar to make the icing stiff but spreadable. Spread icing over the top of the completely cooled cake.
This cake keeps well for up to three days, iced and stored in a cake tin or airtight container in a cool pantry.