My obsession with kitchen gardens is starting to reach unhealthy proportions.  I insisted in inspecting every part of the Chatsworth Kitchen Garden and I was not disappointed with what I found.  Once again it provided an inspiration to what may be possible for our own back home.  Unfortuantly it's embedded my dream to have a traditional brick, glass and iron greenhouse as a centre piece which is probably a dream that won't be realised unless the rollover lotto numbers come up this weekend.
What surprised me most about the garden was it's location on a steep slope, not unlike the sloped area we have.  It has certainly made me think about whether we should go ahead with ground works to flatten out the land or simply go ahead with the sloping land and make the most of what we have.  Oh decisions, decisions we're going to have to make – soon.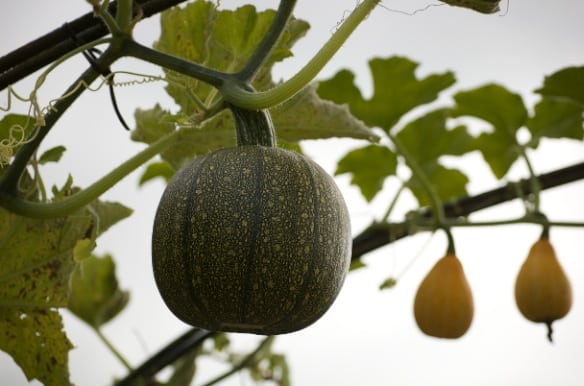 There was an abundance of food still being grown in the grreenhouses and in the growing beds.

Marrows, leeks, carrots and kale are clearly staple crops here at Chatsworth.  A tip for growing carrots – surround them with netting and stop the carrot fly flightpath.  Neat eh!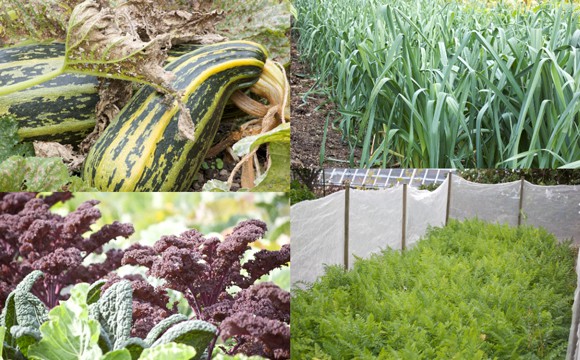 I was almost salivating when I saw the cold frames which had a range of plants growing too.  I was bowled over by the herbs which were still fresh and fragrant.  I think I might have to increase my herb growing plans, they are truly wonderful when grown en masse.

As well as an orchard there were fruit trees giving structure and more crops around the kitchen garden. I am definitely thinking now about growing fruit trees up some structures and maybe a few espalier wires.

There is no doubt it's the traditional style I love and I was completely smitten with these terracota rhubarb forcers.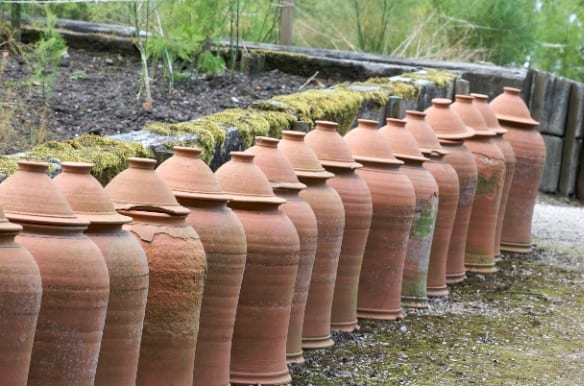 Lucky for me I can drawn inspiration from the late 19th and early 20th century for my garden as this is most definitely the style of our house.  On the outside at least.  I did have grand plans about sketching our the kitchen garden plans and growing schedule whilst I was away but we've simply not had time.  But there are two long plane journeys to come and I think a new notebook is in order to start to sketch out plans in more detail. I dread to think how much my grand plans are going to cost – but it's nice to be able to dream!
Talking about dreams – my mother in law, Auntie June and I snuck out one night when the men went off to the football to watch Julie and Julia at the cinema. It was wonderful and I urge anyone reading this to go and watch if you have any doubts about making more of yourself.
I bought Julie Powell's book of the same title in my first few days in New Zealand to try and force me to relax by reading. It was this book that started me blogging and over time as I've become more and more interested in food and growing it has made me more determined to learn more about the techniques and chemistry of cooking.  Although the story of the film is focused on food and cooking, the real story is the determination of two women to achieve their dreams and fulfil their passions. In Julie Powell's case it was to become a published writer and for Julia Child it was about being really good at cooking (if only to beat the men in her class) and then taking her message to American women.  Julie Powell had all sorts of luck and advantage of technology that Julia Child's didn't have but that didn't hold her back – she plugged on for many realise before her now famous cook book.
The last time I got ideas into my head about doing something different we ended up living in New Zealand. Heaven knows where all the inspiration about kitchen gardens, Julia Childs and being back with family and friends is going to lead me as we head homewards in the next week.