I have miserable memories of Hong Kong sitting for ages in taxi's stuck in traffic jams.  I had that feeling of deja vu as we sat on our shuttle bus heading off to the airport today.  Fortunately we weren't horribly delayed and we had plenty of time to walk the miles and miles of Hong Kong Airport.  During our short stay one of the things that I've been impressed with is the wealth of public transport here.
Although it's clearly not quite enough to avoid peak time road congestion there are lots of transport options to get you around the main city centre.  I tried a few of them out just to test that they were as efficient as I wanted them to be.  I wasn't disappointed.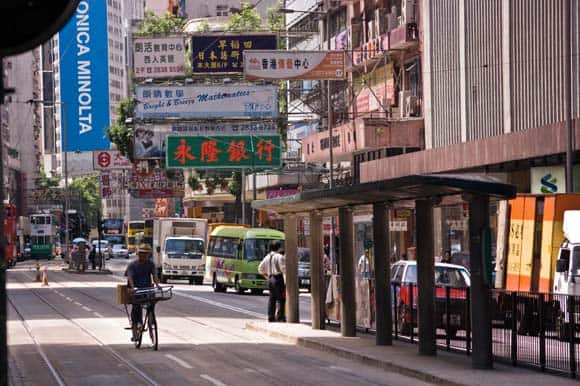 The main mode of transport between Kowloon and Hong Kong Island is the Star Ferry.  Thousands of people use the ferries every day and I have childhood memories of riding the ferry when I visited Hong Kong with my parents back in the 1970s.  I have to admit it was just as much fun to ride the ferry 30 years later.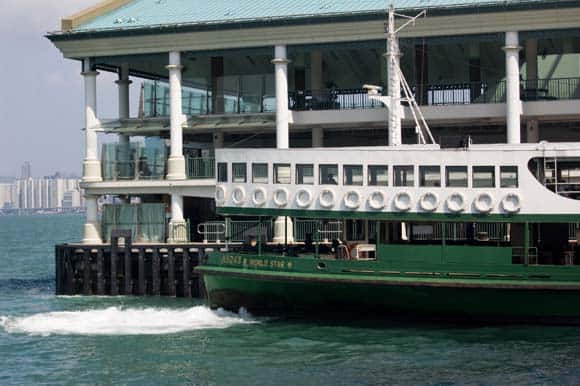 I didn't actually take a bus but there were a phenomenal number of them around.  It felt that they ran as frequently as the ferries (every 7-8 minutes).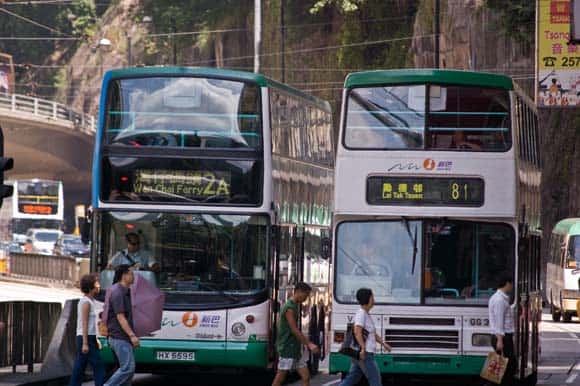 Complementing the buses were my favourite mode of transport.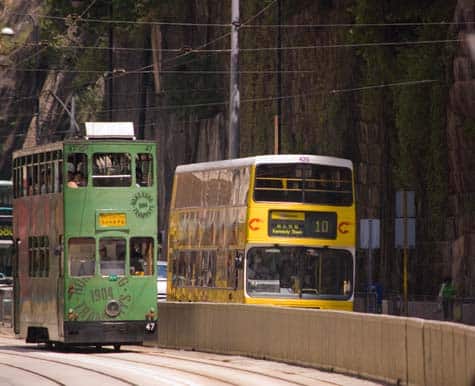 Yes, double decker trams.  These ran along the main road just down from our hotel so I was able to indulge my fascination of these wonderful vehicles.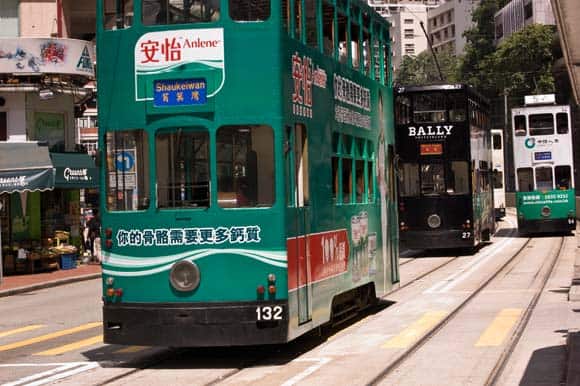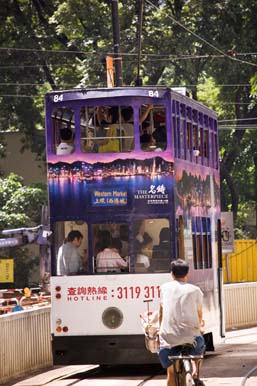 I've loved trams since I visited Prague and couldn't resist riding the trams in Hong Kong as often as I could  There is nothing more romantic about riding a tram – except perhaps riding a tram in the rain.  It is such a gentile way to get around, so much more civilised. Even with a little pushing and shoving you can't beat a tram for a scenic and fun ride around town.
Although you can't beat a tram the Hong Kong metro system or MTR is a pretty nice alternative. Quick, cheap and easy to use we became savvy travellers albeit we had pretty simple routes to follow and there was a metro station just on the main road close to our hotel.  It was wonderful the choice of tram or metro – oh decisions, decisions we had to make!
There were of course taxis and private cars on the roads.  A few bicycles for the brave and strong to tackle the vast number of hills there are in Hong Kong.  There were also a range of mini buses which seemed to supplement the main buses through the smaller streets off the main routes.
The most impressive transport within Hong Kong was the elevated walkways that allowed people to actually transport themselves around the city by walking these dedicated routes without the risks of crossing roads and negotiating crossings.  All you needed to negotiate other people walking.  I swear that there was a special person planted in front of me all the time who was there specifically to slow me down.  Slow me down so much I felt much of the time I was walking on the spot.  Sheesh, people just didn't understand I only have a few hours in Hong Kong, no time for lingering to admire the pedestrian walkways.
All in all I enjoyed getting around Hong Kong a great deal this time. It just goes to show that travelling by car is often the least effective and you can get places more quickly and have more fun when you try out other transport alternatives.  We certainly enjoyed riding around Hong Kong – did I mention I liked the trams the most?