One of the endearing qualities of New Zealand is that there is little requirement to keep up with Joneses.  That was until today.  Not to be outdone our neighbour Doug decided that his friend had a bigger digger than the one our landscapers use and decided to rub our noses in the fact that his digger was bigger than ours.
To be fair, when you are preparing land for building a house it's important to have the biggest digger you can lay your hands on. I remember the mammoth scale of the earth moving equipment that was used when we started building.  Whilst we're tinkering in the garden our neighbour looks like he's making a move to start his house building process.
The bigger the digger the better I think.  And, Doug needs all the help he can get as he's the last of our neighbours to start their house building adventures.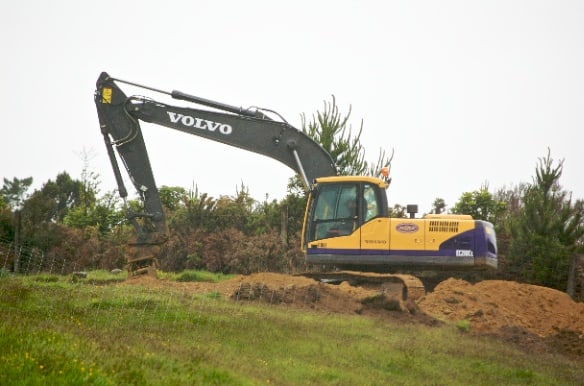 It seems very strange to finally see the kitchen garden coming to life.  Of all the parts of the garden, this is the one I've had most problem visualising what it will be like on the ground. Strange I know since I've been dreaming about this project for a very long time. Now the outline is clear there is plenty of room for expansion if it turns out to be smaller than we need.  I think 144 square metres will get us going though!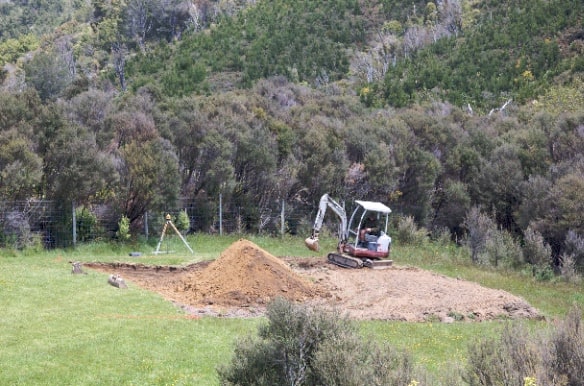 We're hoping Darren is skilled enough with the digger that we won't have to build too many retaining walls.  There is a difference of up to a metre in the levels so it's inevitable there will be some.  What surprised me most about Darren's work was the lack of topsoil which he exposed during the excavation. It's just as well we're bringing in more soil and compost to build the vegetable beds.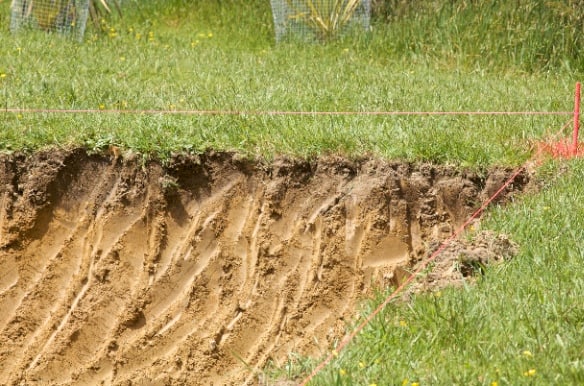 With all the fine work going on, Fortnum continues to oversee things from his vantage point.  He's taking this building lark very seriously.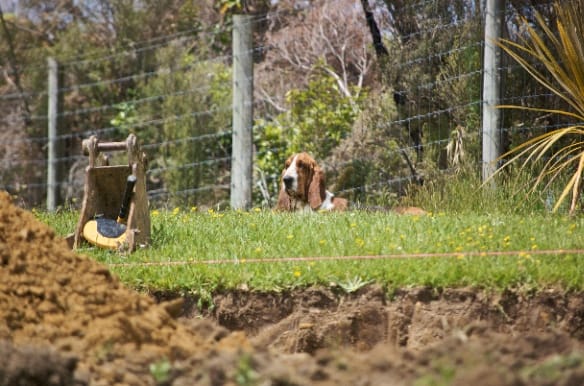 Mason takes it a little easier and settles down in the long grass for a snack.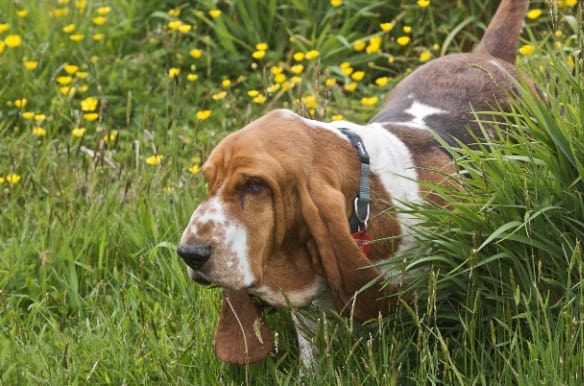 Looking back towards the house makes you realise that this garden probably needs its own kitchen as nipping back and forth to make a cuppa is going to be a trek.
But hey, I can do with the exercise as we still battle with the bingeing from our trip back to the UK. There's going to be more digging here at and Doug's over the coming week with construction fever running high.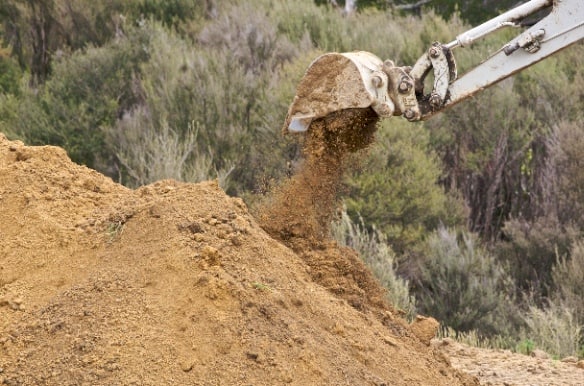 It's just as well this garden is under construction as there are 200 seedlings growing under the barn skylight.  Things are going well in the growing production unit except for the aubergines which seem to stubbornly not wanting to germinate.  More reading up is needed I think.
I planted out lettuces, rocket and herb seeds in the potager so we'll see if this warmish weather we're having will stimulate germination.  High excitement too as there is a cabbage and celery ready for harvest this coming week.
The celery is proving to be a culinary challenge as normally I only buy half of one from the shop so I'm going to have to get imaginative to make sure we don't waste any of this one.  All suggestions for what to do with my very first home grown celery gratefully received!