Whilst it's all strawberries and cream in the UK and heat exhaustion at Wimbledon, here at Domestic Executive HQ we've been hunkering down today as the southerly winds have whipped up and brought a complete white out.  As I write this post the wind is booming under the verandas – it's wild out there.
It's days like today that remind us that we're in winter. It's easy to be lulled into a false sense of security.  Cold nights, sharp frosts and bright sunny days are better than this cloudy, wet and frankly miserable weather.
Admittedly it may be cold outside but we're toasty warm in front of the fire in the knowledge that our sheep wool insulation will keep us warm through the night and hopefully through tomorrow too.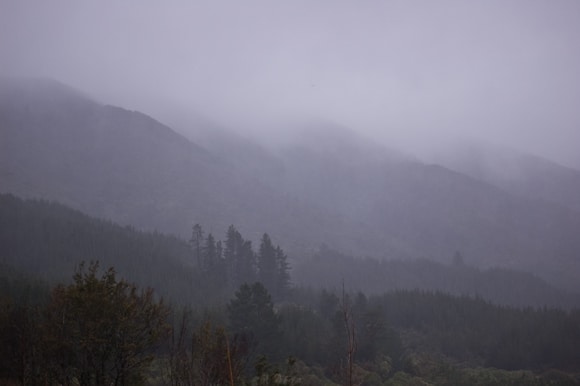 I had planned to spend the day learning how to use my new computer properly.  Specifically to learn how to use the new Photoshop software.  I fell at the first hurdle as I can't for the life of me find the "this is how you use this thing, you half wit" section of the help directory.  Lots of searches on the Internet led me to a mesmerising array of tutorials but nothing that would tell me in slow and simple language how I get the darn thing to work.
I admit I was defeated and I'll go to the library tomorrow and borrow a book that will I am sure shed more useful light on these things.  I was hoping to do a compare and contrast on post production photo processing.  That my friends will have to wait for another day.
I nipped out to check the chickens were all safely sheltered and snapped a couple of shots from the potager as I went past.  It was cold, wet and windy.  Even these cauliflowers were shivering in the wind.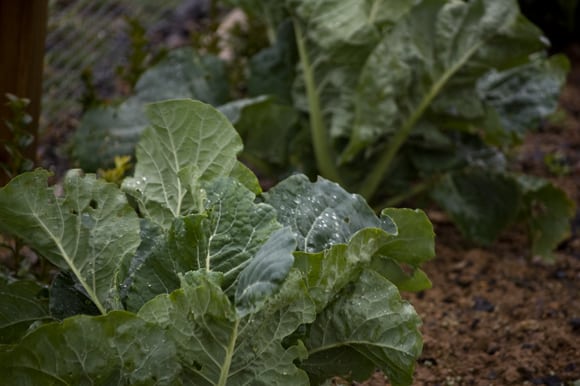 The beans and peas were battered by the wind.  Mental note to think hard about shelter in the kitchen garden proper.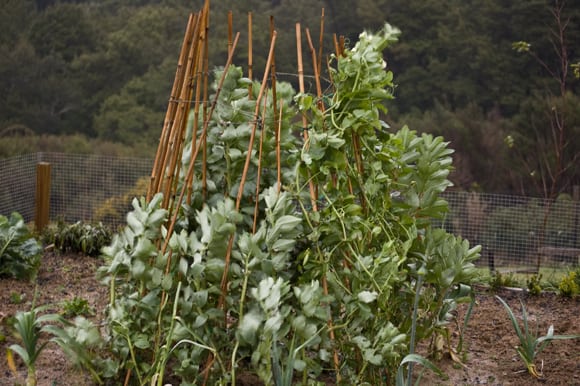 The only good thing about today was that I finally captured the feral chickens in George's bach.  That's where they will stay till to teach them that home is not in the bush.  Also, I'm going to have to take a pair of scissors to their wings to keep them closer to the ground than they have been recently.
Even chickens don't like this sort of weather.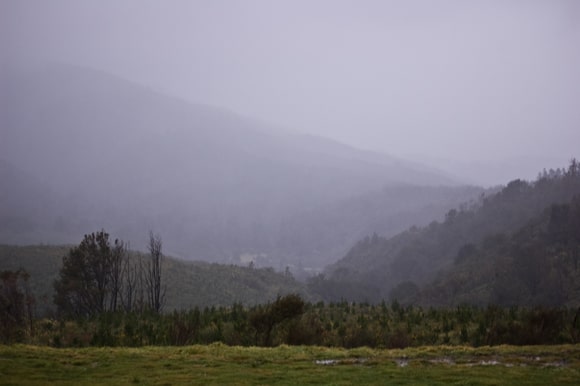 I lied that there was only one good thing about about today.
MT took to the kitchen and baked a custard tart.  The traditional one full of cream and topped with nutmeg and butter.  It was delicious.  Sweet and a delicious contrast to the hot tea.  I didn't think it fair to put him under too much pressure so didn't photograph his culinary exploits although I wish I had now.  It was a work of art.  Maybe next time!
The bassets have been loving the weather.  They could lie in front without a care in the world.  Admittedly Fortnum did get restless and went out for a short adventure outside.  It wasn't long before he was back. Bringing with him wet and a little unclean paws.  Thank goodness for our tiled floors.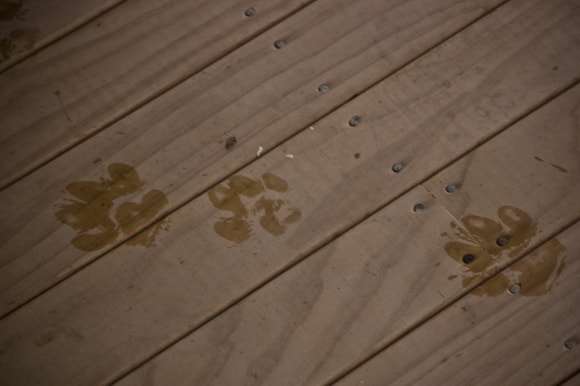 I was reliably informed that we're facing a wet week ahead.  Marvellous.  Just when I was psyching myself up to plant out the rest of the bulbs and put the false flooring into George's bach.  I fear the worst for basset walking this week.  A succession of wet and windy walks – just how the bassets don't love it.
Instead I'll have to resort to getting my business accounts up to date and complete my tax return.  Boy do I lead the high life here!