Around this time of year we contemplate Christmas Wish Lists.  For MT this is never a problem as he always has a long list of books, DVDs and other home entertainment ideas.  My greatest wish is that I can Christmas shop for him somewhere other than Amazon.
In the past I have focused on culinary equipment since cooking is something he enjoys but we're fast getting to the point that we have all the gadgets and gizmos you'd ever want.  But it seems that his lordship is not really that comfortable with some of what we have in the kitchen.  A little too girly was how our oven gloves were described.  Now his aversion to lifting hot things out of the oven can be explained.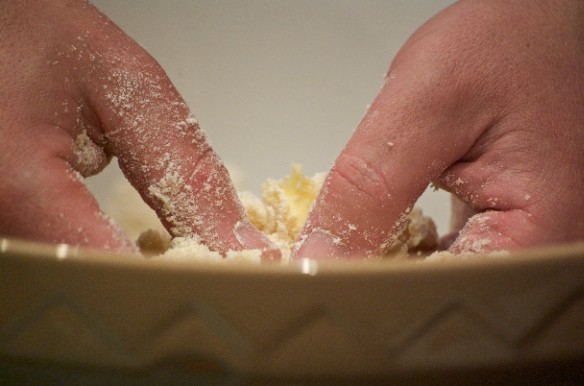 It's not too girly to make pastry and crumbles which MT specialises in.  Any dessert is good but particularly crumbles and tarts that require fiddling with butter and flour with a light touch.  This I am told is culinary machismo. The ability to turn simple ingredients into something delicious to eat.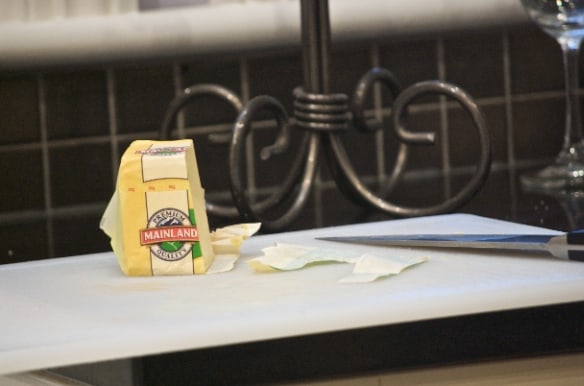 I suspect it's something to do with the way that you use the biggest knife in the drawer to slice off the butter cutting the paper as you go.  A girl wouldn't do that as they know it's better to keep the empty butter paper in the fridge for giving the cake tins a quick once over greasing.
At least the knife comes in handy for choppity chopping the rhubarb for the crumble.  Rhubarb is going to have to become a staple crop in our kitchen garden as I could eat stewed rhubarb every day if we have a suitable supply.  There is something quite luscious about rhubarb with yohurt or porridge or just on it's own with a touch of honey to bring the taste buds alive.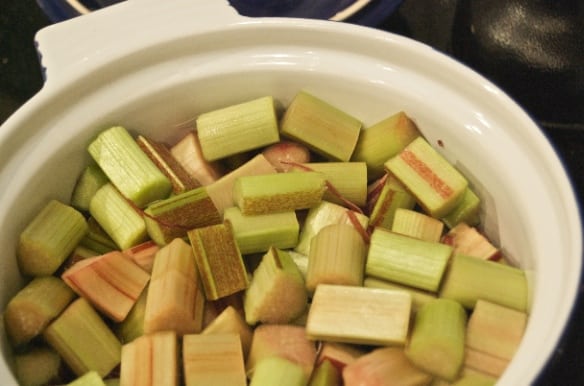 This crumble was something quite special.  Not just your usual mix of flour and butter but there was ground almonds included in the mix.  Hmm, another of my favourites.  It brings a lightness to the crumble although I was a little sceptical about it would go with rhubarb.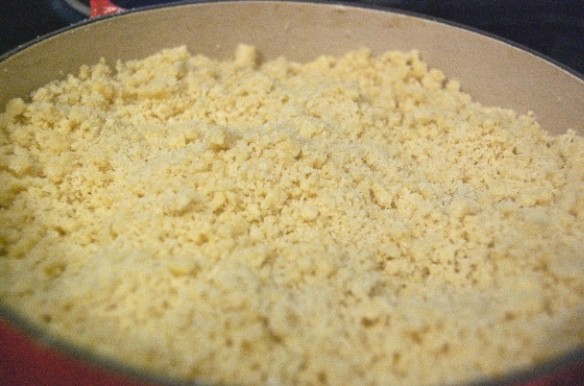 There was of course no need to worry.  When that crumble emerged from the oven golden we didn't waste anytime serving up straight away.  Then the struggle starts – hot or cold custard.  Actually, it's not really a struggle we're more cold custard household so that makes it easy.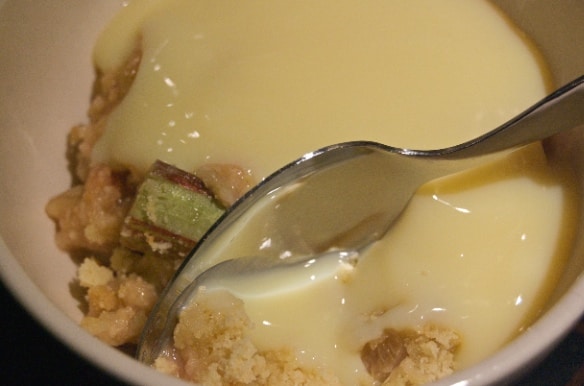 As crumbles go this goes to the top of the class.  The ground almonds gave it a really luxurious feel.  Light with a hint of that creamy almond taste.
We used the recipe from Second Helpings of Roast Chicken by Simon Hopkinson. This and his first book Roast Chicken and other stories are both brilliant reads and fantastic recipe books.  I admit they've been sitting on the book shelf for a while untouched but now they are off the shelves I'm dipping in and out again. In fact there are some excellent suggestions for celery recipes I'm going to need in the coming week.
Hopkinson is no celebrity chef rather likes the quiet life doing his thing.  There was a time when he stopped cooking and writing for fear of the celebrity whirl and culinary machismo in restaurant kitchens but I'm pleased to say he didn't stay away for long.  In fact, I've noticed Simon Hopkinson has a new book out The Vegetarian Option which is crying out to be added to my Amazon wish list.  Now if that wasn't fate given what's happening in our world right now!