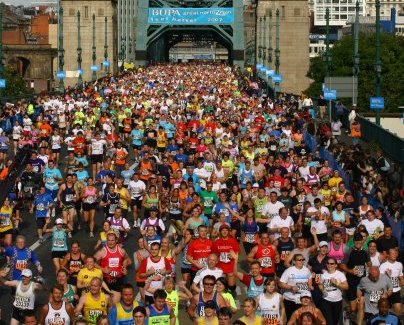 No need to look for me in the crowd. I can assure you that I'm not there.  Although I did do it way back – I think it was 1989 or 1990.  I'm tried to block out the memory of it.  It was all too painful to recall.
I am however delighted to be able to shout loudly that my friend Sarah did it…….yayyyyyy!  Well done Sarah.  And in the speedy time of 2:16:05.  Very respectable for a person that's only started running on the roads this year. 
This post is a bit belated since Sarah ran the Great North Run a couple of weeks ago – Sunday 5th October to be precise.  Nevertheless it's a great achievement.  And the added bonus Sarah raised over $2,000 for her Charity, Mind.  Can you just imagine how much money was raised in total given Sarah was only one of 52,000 people running that day.
Here she is looking very sprightly considering she's just run half a marathon.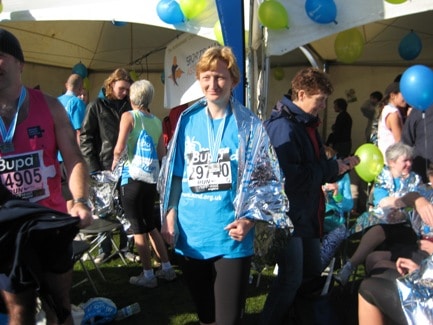 Here's here support team – a colleague in the pink shirt and her personal trainer Stewart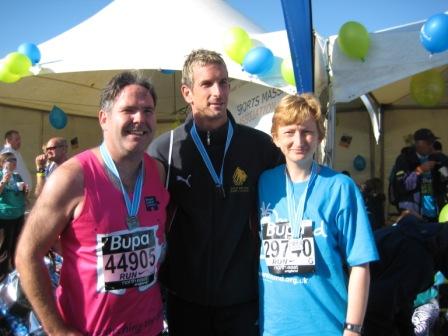 You can see more of Sarah here – she looks like she's hardly breaking sweat.  All that training must have paid off.  Sarah says:
I came 22,277th out of 52,000, so at least I was in the first half!  I was 6,132nd out of the women which sounds a bit better!
I think it's amazing she did it and she finished. There are many people who wouldn't even try it once.  Or even twice!
Sarah's such an adventurer in life.  This was one of her big goals for the year.  After coming to New Zealand and walking the Milford Track.  She wrote about all that here on Domestic Executive.  Check out her guest blog post.
Well done again Sarah.  You're a braver woman than me!