Our little basset is generally camera shy but Mason finally relented and agreed to be my photo model.   I think he saw it as his birthday gift to me.
As my birthday gift to myself yesterday I went off with the bassets and a backpack with a picnic lunch and my camera. We walked to the swimming hole on the Pakuarahi River.  It's about 45 minutes to walk there along the Rimutaka Rail trail.  A perfect spot to sit and read a book and eat your birthday picnic lunch.
The sun was shining.  It was a beautiful day.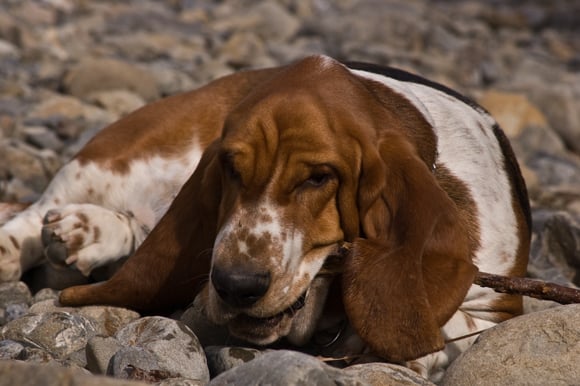 I decided to fly manual with my camera switching off the point and shoot settings to experiment with using the camera properly.  It was a bit of trial and error before I finally got going but eventually I was able to capture some choice moments of the bassets squabbling over a stick.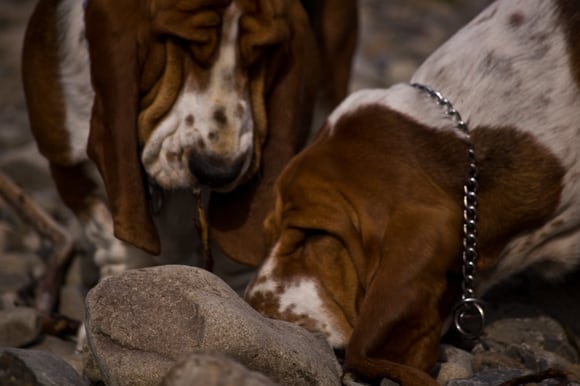 Mason is determined that he's going to get this stick.  But I think Fortnum had other ideas.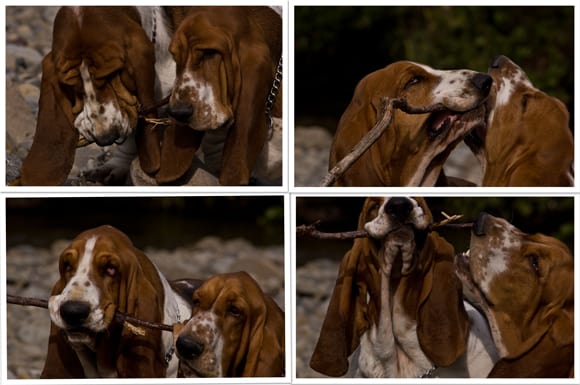 It's a tricky endeavour to capture stick waving by bassets without too much blur.  Luckily the continuous shooting setting means I can snap away and take the best of the shots after the event.  Oh the wonders of digital photography.
Little basset was the victor.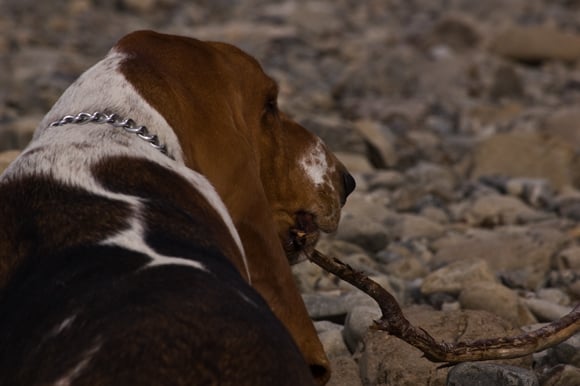 If only for a few moments!  Big basset is giving it all he can to haul that stick right back.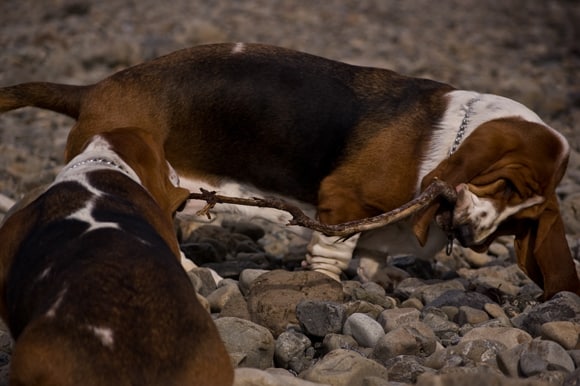 But it wasn't all stick fighting at the river.  There was plenty of paddling to be done.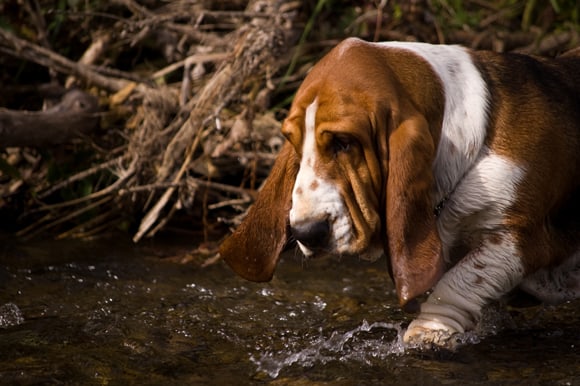 I like this shot because you get the real sense of paddling movement. Podgy paws in the water and big ears swinging in the breeze.
I was not so lucky with little basset who hates water and also not keen of giving me the perfect shot.  He was aiming for the basset water walking speed record to get across as quickly as he could.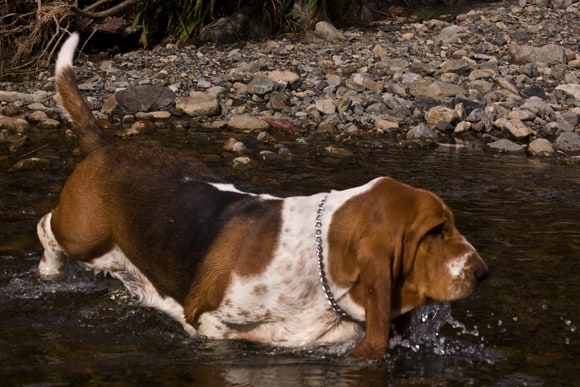 No on dry land Mason can be much cuter.  Much smarter.  You can see how wet he did get.  I cropped this shot from a picture that also had Fortnum in but he was pulling a gross face and it spoiled Mason's look!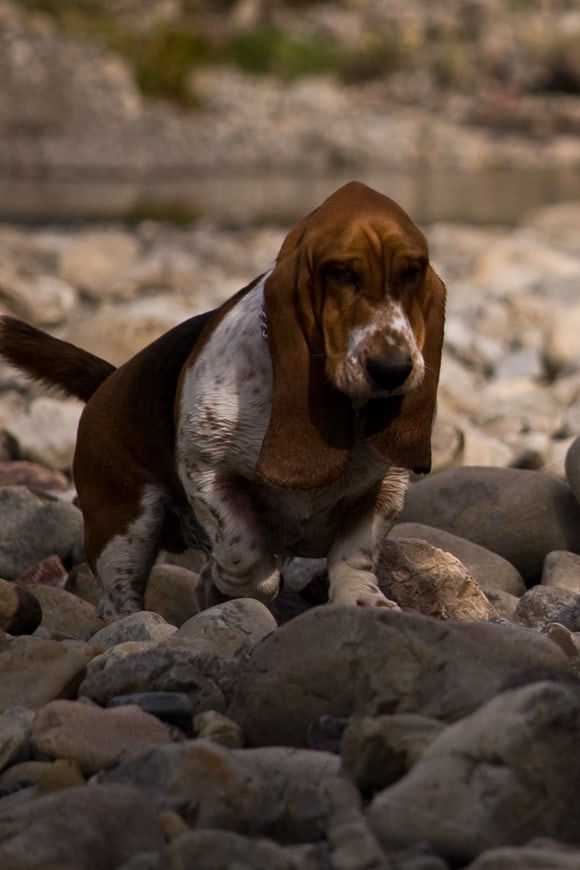 Fortnum as alway can show off his jowls to best effect.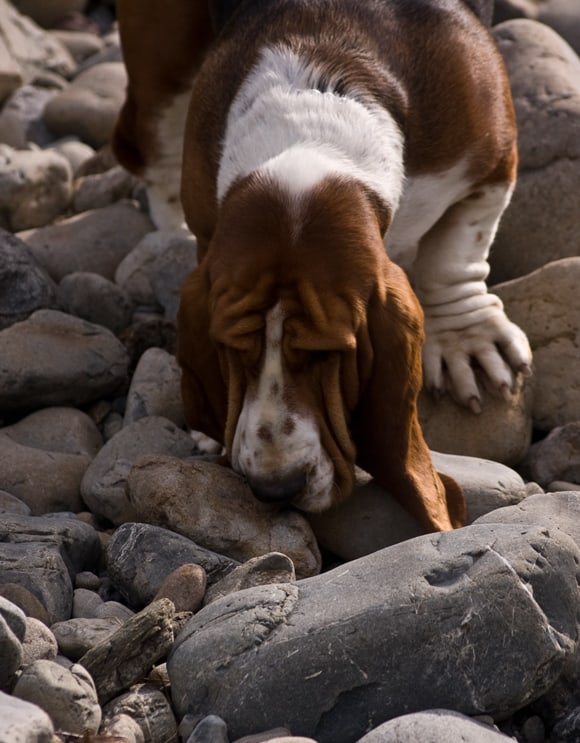 It was a great interlude on my birthday that I thoroughly enjoyed.  I was reading a book given to me by a client I've just finished work with as a thank you.  It was Marley and Me.  A nice read even if you're not a dog lover.  Although I admit that the inevitable end brought me to tears.  It reminds you that life for dogs is all but short and the wonder that they can bring to human life.
I can say wholeheartedly that despite their antics I wouldn't be without my bassets for anything in the world.