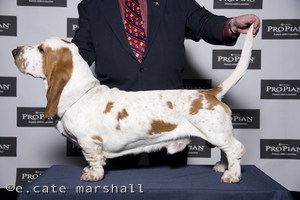 This is a special basset hound.  In fact, best of breed at the 2008 National Dog Show.  See the family resemblance?
This is Clyde – or rather Courtside Sean Connery – and the brother of Fortnum and Mason. You will have seen him last in this post or this post.  He's a cutey that's for sure.
I'm sorry to disappoint all those Fortnum and Mason fans out there that I'm not able to show you them in a show pose.  So you'll have to make do with the pose they are having right now whilst I write this post.
Born champions don't you think!