I never intended to step away from blogging for so long. Before I knew it, a few days of ambivalence stretched to weeks and then a month. The exciting prospect of talking about my daily exploits was gone and with it my inclination to take photographs and the stories that have so freely danced in my head simply dried up.  All of a sudden I found myself with nothing I wanted to say.
It was only the other day when I popped one of these lovely gooseberries into my mouth did it dawn on me that I'd lost my blogging confidence because I felt awkward reporting on the minutia of life.  I had come to be the metaphorical gooseberry on my own blog.  Like being at a crowded party with people speaking loudly and energetically but I was the shy bystander hovering at the edges waiting for the perfect moment to escape to the solace of my own company. So I did.
I'd like to pronounce I'm back!  But I'm not sure I am.
But with a long stretch of holiday in front of me I've decided it's a make or break experiment.  Get back blogging or admit that I've done my dash and it's time to move onto other things.  With time on my hands to embrace things I really enjoy I'm hoping it will kick start my blogging juices again.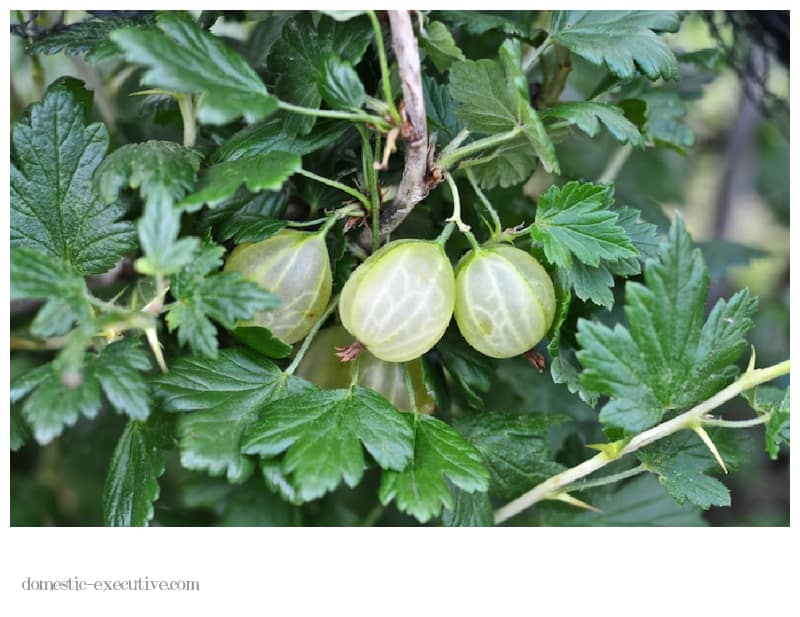 Away from blogging, things have been pretty busy here at Domestic Executive HQ.  The garden is blooming but behind all the glamour there are hours of back-breaking effort to keep the weeds at bay and maintain some semblance of order.  It didn't help that our new monster all terrain mower was doing wonders on our long grass banks but failing to trim our lawn.  Let me tell you there is no fun in pushing a mower up and down for over an hour even if the exercise is good for me.  After some smart re-engineering we're back in ride-on mowing business though which is a blessed relief.
I've extended the kitchen garden with two new beds and one of them is filling up fast with a wealth of salads.  The other is waiting to be filled with soil and compost which is neatly piled up by the barn and starting to sprout its own vegetation during the delay in moving it the 150m down the garden. I've fallen out of love with artichokes and will be digging them up this week and instead installing more root vegetables, pumpkins and winter greens.  As soon as the strawberries have done their dash this year they are destined for a move to one of the new beds and in their place I shall be building up our berry stock.  Maybe even couple more gooseberry bushes.
Our new conservatory is almost complete.  Just the flooring and lighting to be installed.  A stark reminder that New Zealand is a small country at the end of the earth with retailers who have "just-in-time" stock control systems that involve delayed reaction of 6-8 weeks.  This hasn't stopped us moving in and enjoying the wind free indoor-outdoor flow experience.  Even on a dull cloudy drizzly day like today, sitting in the conservatory is a light lovers haven.
Aside from major projects and keeping up with work, I've had some fun in smaller ways.