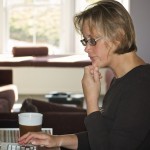 Hello, I'm Julie. Welcome to the longest letter I've ever written to my Dad.
In 2006, I ran away from the UK with my husband, Martin, to find a new life in New Zealand. The dream was to build a house in the country and run a business working from home. Since then, we're living the dream. Life in the slow lane
In April 2016 we became kiwis and we have the certificate to prove it. So technically we can call ourselves British and New Zealanders. Having two passports will give us a lot more choice when it comes to the immigration lines.
It's a wonderful life but we miss family and friends. This blog is really for them to tell them our tales of everyday life balancing work and life in our dream home in New Zealand. But whoever you are, you are most welcome to step into the world of the Domestic Executive. Here are a few things people often ask us about our dream life.
We: