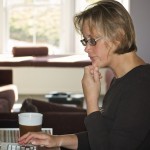 Hello, I'm Julie. Welcome to the longest letter I've ever written to my Dad.
In 2006, I ran away from the UK with my husband, Martin, to find a new life in New Zealand. The dream was to build a house in the country and run a business working from home.
Since then, we're living the dream. Life in the slow lane
In April 2016 we became kiwis and we have the certificate to prove it. So technically we can call ourselves British and New Zealanders. Having two passports will give us a lot more choice when it comes to the immigration lines.
It's a wonderful life but we miss family and friends. This blog is really for them to tell them our tales of everyday life balancing work and life in our dream home in New Zealand. But whoever you are, you are most welcome to step into the world of the Domestic Executive. Here are a few things people often ask us about our dream life.
We:
Live on 6 acres of land with beautiful views overlooking regional council forestry land in Kaitoke, Nr Wellington New Zealand
Built our house, a colonial style homestead complete with mod cons that went on to win a Master Builders Gold Award in 2009
I run a business from home – I'm a management consultant and professional coach. MT commutes to Wellington which is around 60km away.  He travels by train and has plenty of commuting woes which he tweets about on his Micro-blog, The Soapbox.
Have a menagerie of animals: one rooster,

3, 10, 9, 7, 8

7 6 two hens we're taking a rest from chicken rearing (I don't think I'm a natural chicken keeper!) and two one basset hounds.  On 12 February 2015 the biggest hole opened up on our sofa and our heart when our beloved big basset passed away. It hurts everyday. But we still have Mason and we love him as much as ever.
Have built a kitchen garden that's going to feed us in years to come -it's our backyard pantry
Are working our way through a to do list to manage our land that will last us at least 15 years!