New Zealand is quite a foodie place but it's often hard to access really good food stuffs.  The supermarkets carry much of the day to day but if you're looking for something a bit special – meat, fish or other fancies – it's not as easy.  I do realise that I was quite spoiled where I lived in the UK with a wonderful organic farm close by where you could get some really excellent meat and other foods for special occasions.
There are some farmers markets over here but for us we have to travel up to an hour to get there.  There has been a new City Market opened in Wellington on the Waterfront championed by a local foodie and restauranter Martin Bosley so we thought we take a trip out and visit and use it as an excuse to go out for brunch with some friends.
This new market is close to an existing market.  The really peculiar thing is that this rivals another market in town on Sundays in Wellington which is more of a traditional all and sundry type market I'm told (I've never actually been myself). We wrapped up warm as the wind chill was bringing temperatures today to around freezing.  You can tell from this picture we weren't the only ones wrapped up for the cold.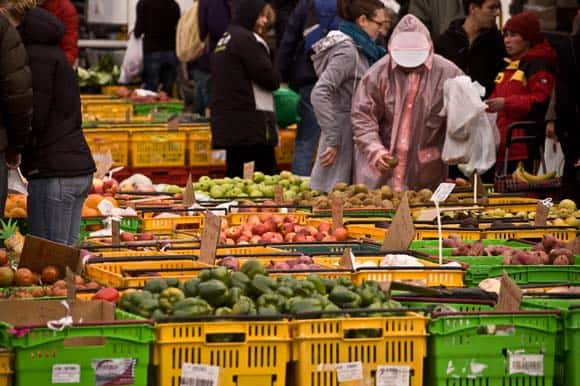 It was a lovely way to spend a couple of hours and we sampled some fantastic foods.  We also stocked up with some fine bread and pate for our carpet picnic this evening and the most amazing dry cured bacon.  There was quite a buzz in the market hall which is the atrium area of a new apartment block on the waterfront.  I was only able to take a few snaps as it was felt by my fellow market visitors that I might be drawing too much attention to myself if I were to really capture all the stalls and the the providores at work.  Here's a taste of what was on offer.
Some fine vegetables looked good but with massive vegetable stalls in the outdoor market I don't think they were doing great business.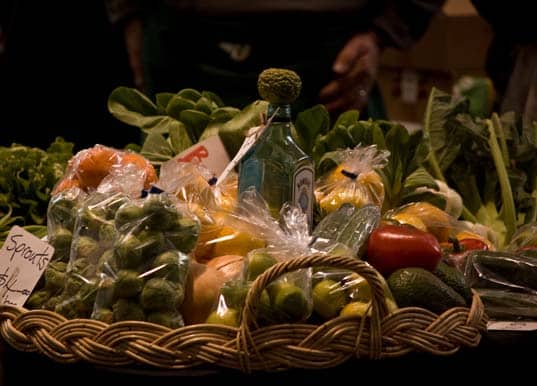 Interestingly a selection of fine Welsh Cheeses.  I know, I didn't get close enough to ask the story behind these cheeses as they were pretty swamped with would be tasters and buyers.
A selection of fine French tasties from the Wellington restaurant Le Canard.  I was taken there to be wined and dined before I joined Catapult and I'd go back time after time if my waistband allowed!
I can tell you we snaffled a couple of these pastries for Sunday afternoon tea.
But it wasn't all food, there were some wonderful sellers of chocolate, turkish delight, jams, pickles, olive oil, cordials and cookbooks from the wonderful bookshop Bookfeast in Petone.  There was also a colourful flower stall.  I was so tempted but worried that the heads would be whipped off the stalks in the blasting wind outside.
Outside there was a range of farmers market stalls selling, lamb, sausages, cakes, breads and these.
Yes, the noodle sellers were doing a roaring trade.
Much to my disappointment I also spoke to the Artisan Bakers that have their store in Upper Hutt.  They were able to confirm that they were shutting up shop and the market was their last trading day.  They do marvellous breads and cakes but seems that the rent rates have made their operations no longer viable.  I was so tempted to offer them some pro bono consultancy to get their business back on it's feed.  They seemed intent however on selling up and finding warmer winds in the pacific islands.  I am truly gutted – it was the one foodie place in Upper Hutt you could count on for something really special and our weekend supply of chelsea buns.
All in all it was a great way to spend a Sunday morning even if the weather was not that great.   I wish that this sort of market was available in Upper Hutt but I don't think that there the right demographic of residents that would find it's appeal.  There is another Farmers Market on a Saturday over in Porirua which is about 40 minutes drive away.  It's some time since I've been there as the last visit was slightly disappointing as it seemed to have a growing number of olive oil sellers and jam producers with hardly anything else.  I will however have to venture over again and see if things have improved.
Whilst I certainly have developed a taste for the fine things in life (I get that from my mother) it is not as readily available as in the UK. I am however starting to find out where the true foodies can be found even if it takes a lot more effort to seek out their wares.  Now if there was an on-line shop where you can pick and choose what you wanted and then get it delivered that would sort out my problem once and for all!