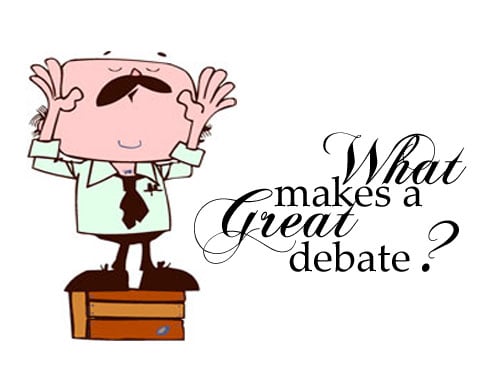 As voting day draws close, attention focuses on our leaders debating the vital issues of the day. In America this has seen millions of people tuning in to watch the presidential candidates arguing back and forth the challenges that await the next leader of the free world. Wars overseas, the economic crash, climate change, all finely argued with points made passionately and with intellectual rigour. Well, maybe not……..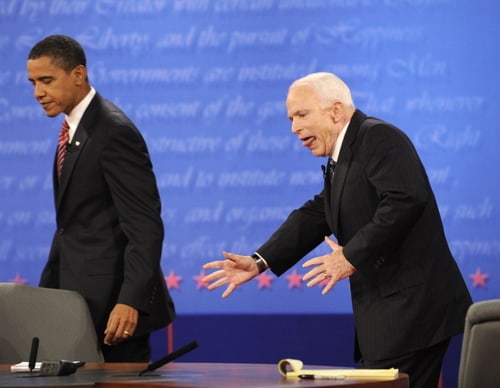 "I wants it…..IT'S MINE…….my precioussss……." John McCain has apparently been watching Lord of the Rings DVDs on the campaign bus.
However at this end of world, political debate tends to be a whole lot more pragmatic, partisan, and not to put too fine a point on it, earthy. Helen Clark and John Key recently debated on live TV, a spectacle thought to have been watched by literally thousands. To be fair, a level of decorum was maintained during the opening remarks.  But this was not a place for soaring oratory and soon enough, true to form, they were rowing like a pair of drunks at closing time. The ancient Greeks must somewhere be wondering what has happened to their democratic ideals. It all kicks off about 50 seconds into this clip……
I suspect part of the reason why political discussion in NZ is so down to earth and understated, is that it reflects the idealised Kiwi attributes of hard work, practicality and being a team player. After all the nation's founding myth is that the country was settled in the mid-19th century by doughty, laconic, rugged farmers, probably from the highlands of Scotland. This view has even survived recent academic research that has shown that the archetypal immigrant back then was more likely to have been, ahem, a shop keeper from Surrey.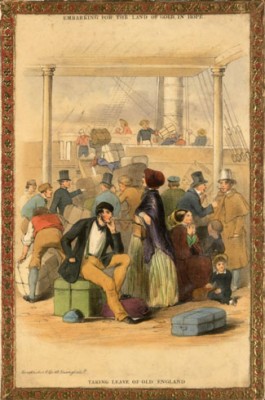 Guildford haberdashers depart for the New World.
Election fever has even reached Kaitoke and we were actually canvassed last week. Those of you know how remote we are will appreciate that this was candidate fighting for every vote. He even dealt reasonably well with that bane of a canvasser's life, being assault by two large over friendly hounds (I speak from personal experience).
But what really impressed me, given the candidate was in fact Ron Mark, a NZ First MP, was that he didn't whilst talking to us refer to his party's main policy being to limit immigration.
Now this on the surface appears to be a tough sell in NZ. Firstly, Kiwis are great travellers. There are more New Zealanders living in London than in Wellington. There are so many Kiwis living in Australia we've had to rename it the West Island.
Secondly, how to put this delicately, there are large open expanses in NZ where we could actually use a few more folk. NZ has a slightly greater land mass than the UK and there are only 4.2  million of us, 2.5 million of whom live in the three main cities.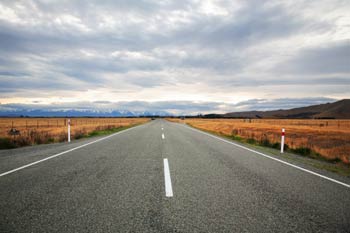 NZ: over-run by immigrants. Allegedly.
But NZ First are a small party who won't win any electorates, so their hope is to get over the magic 5% of party votes that lead to proportional seats being allocated. So they play on the fears of a small sector of the electorate, particularly older voters.  A downside of PR is that it can reward more extremist parties with undue influence. (I'm being generous here, I don't think NZ First have a problem with white, middle class, migrants. Much of their rhetoric is also about why free trade with China is a bad idea. )
Finally, to finish on an uplifting note, here's a demonstration that words really can still change the world. Here's why this man is going to be elected as POTUS next week – whether you agree with Obama's policies or not, this is oratory of a high order:
Poll watch: Kiwi opinion polling is still in it's infancy and polls are fluctuating wildly. The only conclusions to be drawn are that National still has a handy lead but Labour are closing, whilst the Greens are polling strongly (over 10% in most polls). I think it's still 50/50 whether we end up with a National or a Labour/Green led coalition. 10 days to polling day.