Last night was something of a watershed in our house building adventures.  We are now the proud owners of a Gold Award New Home as judged by the Master Builders Association. We were thrilled for our Architect and Build Company Moss Brothers  Wellington Wairarapa  Limited who deserve the accolade as a testament to their efforts to achieve a top notch home for us.
A little like Chelsea Flower Show houses are judged for an award and then there are category winners.  We of course feel we should have won the best in show but can understand it when the competition is so tough.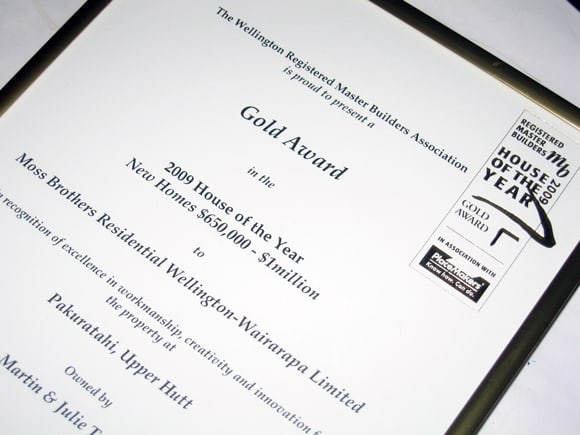 We were very excited when Mark (the architect) and Chris (the project manager) and co-owners of the business went up on stage to collect the award.  It was hard to get any decent photographs as I'd only put my wee compact camera in my bag for the evening but I think you'll get a sense of pleased as punch people.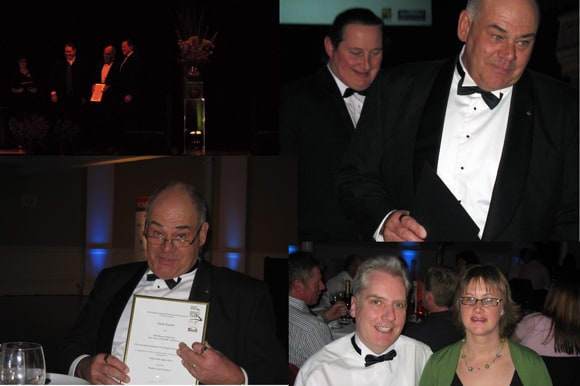 In case you're wondering, yes I do scrub up occasionally.  I don't think the Moss Brother crew will have recognised me though as they were used to seeing me in my civvies will a little less make up and not what you would call a hair do.  It was nice not to be worrying about the driving home either as MT volunteered for the chauffeur duties.
It was great to see the whole Moss Brother Team feeling the gold too.  They all play their part in making things happen.  Even almost two years after we took possession.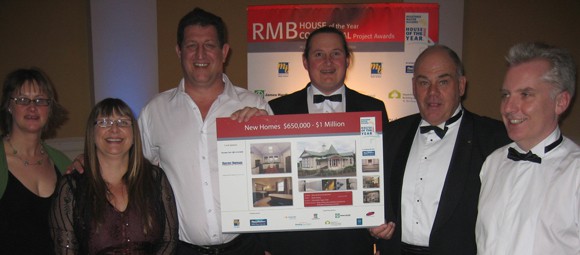 All in all, building your own home comes up there for stress value as bereavement,  divorce and moving to the other side of the world.  My reflections on this were that the stresses were almost always about money.  Building your own home always costs more than you ever imagine.  We drove our finances hard but it was quite something to bring the project almost in on budget – almost because 3% over is bang on really.  We have friends and neighbours who have had budget blow outs of 30-5o%.  It was hard to sleep at night as it was and if we'd had bigger financial worries I'm not sure how I would have survived.
There is a lot of fun in housebuilding too. That is if you have an almost obsessive like tendency for researching toilets, taps and tiles.  I loved the finishings and fittings side of home building.  There is very little I would change about our house we got exactly what we wanted.  Now all we need is to finish the interiors, like rugs and pictures that will bring the absolute finishing touches.  We've got slightly side tracked and invested more in the land but 2010 will be the year when we finally finish the house.
The thing about Moss Brothers is that you pay for what you get. They are definitely not the cheapest builders around but I'd say they are the best value.  The attention to detail by Mark Jerling, the architect has to be experienced to be believed.  Right down to designing tile layouts, coving (scotias to the kiwis) and hinges on doors.  Mark is determined for things to be just right for the money you have available to spend.
Chris Kingdom is the only person in the world to have ever got away with calling me "my dear".  Even during our most stressful moments he was able to draw breath, count to 10 (or at least 5) and then pick out his mobile phone from his pocket and call someone to fix up something.  There were only a couple of occasions we agreed to disagree!  The project managers job is a tough one and Chris mostly managed it with a smile and a joke.
If you're interested in our house building journey and you have a few spare hours you can read our story by catching up with our house blogging adventures.  I fully intend to write up a more succinct and easy to read account but that will have to wait for a few long plane journeys for me to make sense of the 1,500 photographs I took over the period of land hunting and building.
All in all the Gold Award goes to Moss Brothers for building us a beautiful home and being part of our New Zealand adventures.  I'd picked them out to build our house long before we even arrived in New Zealand, there are some things that are just meant to be!
Thanks Moss Brothers you deserve this award as much as we're going to enjoy it.